'9-1-1' Season 3 Spoilers: Episode 2 Promo, Synopsis; Meet Ronda Rousey's Lena Character
Fox's "9-1-1" started off Season 3 last night with an emotional premiere episode.
Not only did Buck (Oliver Stark) get his hopes up about returning to work after his injury last season just to get them crushed, but the ending of episode 1 also saw a lot of fear in Buck's eyes, as well as probably in the eyes of all the viewers at home.
At the end of the Season 3 premiere, Buck and Eddie's (Ryan Guzman) son, Christopher (Gavin McHugh), were having a nice day at the Santa Monica Pier when they saw a tsunami heading right for them.
In episode 2, viewers will see the massive wave actually hitting the shore, causing Hen to ask in the promo, "One wave did all of this?" Apparently, it ends up flooding the coastline, "placing Buck and Christopher's lives in danger," according to the synopsis.
That's where Ronda Rousey comes in.
The WWE star guest stars as Lena Bosco, a member of the Los Angeles Fire Department's Station 136, in Monday's episode, where she'll help a stranded Buck, TV Insider reports. Even with a new first responder in the mix, showrunner Tim Minear still teased to the outlet that during this latest "9-1-1" disaster, "Some will live; some will not."
Though it seems Rousey's Lena, who will appear in multiple episodes, will be busy with the tsunami and helping Buck and all, it appears she'll still get the chance to spend some time helping another character.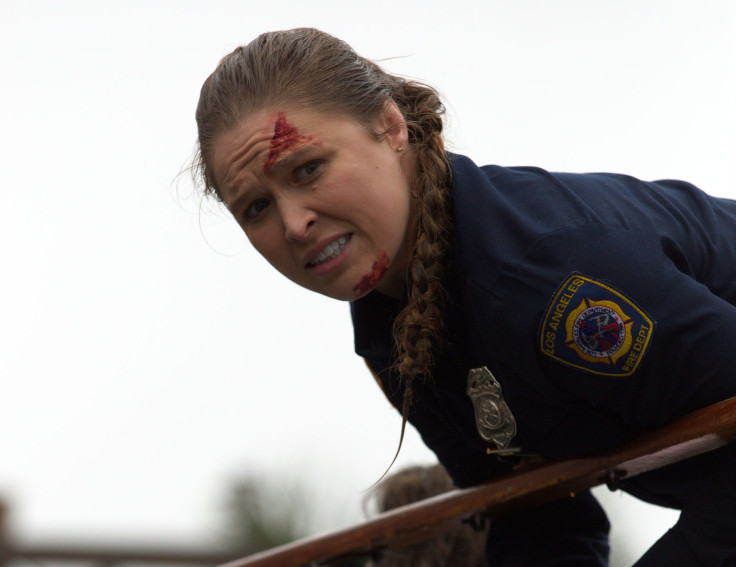 During her arc on the show, Lena will teach Eddie "different ways to express some of his pent-up frustration and rage," Minear tells TVLine. "He's such a Boy Scout and is wound up tighter than he realizes, so she introduces him to a world where he can let off some steam."
Whether that'll happen in episode 2 or saved for episode 3 remains to be seen, but fans can expect some Lena and Eddie scenes down the line.
Of what else is to come during the start of Season 3, Minear also revealed that Buck will continue to struggle with what to do next after quitting the LAFD, having "several victories and defeats in the first couple of episodes."
"9-1-1" Season 3, episode 2 (titled "Sink or Swim") airs on Fox on Monday at 8 p.m. EDT.
© Copyright IBTimes 2023. All rights reserved.