9-Month-Old Baby Denied Health Insurance Because Treatments Weren't 'Medically Necessary'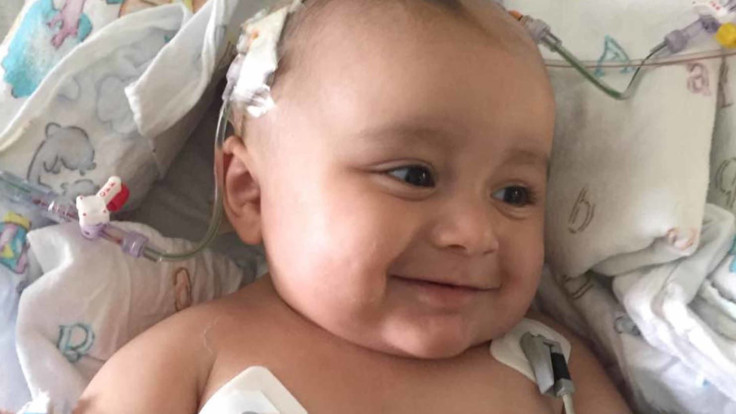 A 9-month-old baby boy was denied health insurance October 11 because the treatment for his aggressive brain tumor was deemed "not medically necessary," according to a Wednesday report by the Daily Beast.
Connor Richardson was diagnosed with Atypical Teratoid/Rhabdoid Tumor (ATRT), and in his short life has already undergone four major surgeries in efforts to remove the tumor.
ATRT is considered extremely rare and is found in fewer than 10 percent of children diagnosed with brain tumors, according to St. Jude's Children's Hospital. ATRT is a fast-growing cancerous tumor that attacks the brain and spinal cord and mainly begins in the cerebellum or brain stem.
A letter addressed directly to the infant from the family's health insurance revealed that the treatments used to save Richardson's life were considered "experimental," and thus not needed according to a report by the Daily Beast.
"This combination of medications ... is considered experimental and investigational at this time, as evidence-based guidelines do not exist to confirm its effectiveness for his brain tumor. Therefore, this request for clinical trial treatment at St. Jude's hospital is not medically necessary and is denied," the letter read. "If you decide to have this service, you may have to pay it yourself."
The infant's father, Wayne Richardson, does not see his baby's treatments as experimental, but life-saving and is willing to pay any price.
"He'll die if you don't do it," Wayne says to the Daily Beast regarding the treatment. "(As a concerned parent) You'll pay any cost."
Wayne set plans to appeal the denial, however, in the meantime baby Richardson still has plans to receive treatment. According to a GoFundMe page created by Donna Provenzano Maurer, on behalf of Wayne, Richardson received his chemo treatment on Thursday at St. Jude Tennessee.
The donation page raised over $4,000 since creation in September.
© Copyright IBTimes 2023. All rights reserved.