Is 'Adam Ruins Everything' True? What Viewers Should Know Before Season 3
On Tuesday, eight additional episodes of truTV's "Adam Ruins Everything" will be released. The television show centers around host Adam Conover taking different topics, such as sitcoms and nature, and "ruining" them by telling the true and sometimes untold story of each. However, the format may leave viewers wondering if the facts presented in each episode are actually correct.
According to Scientific American, every episode of the show "has educational facts about different topics" and "the show as a whole is a thesis statement on the process of learning."
The trailer for the second half of Season 3, which can be viewed below, indicates that music streaming services, the Constitution, and more will be discussed on the show in the upcoming 2019 episodes.
"Nothing goes into our scripts that our research staff doesn't fact check and review," Conover told Variety in 2017. That staff, which includes writers and researchers from academia, works in conjunction with world-class experts in order to share accurate information.
In the first year, the program obtained the assistance of eminent security expert Bruce Schneier and Elizabeth Loftus, a researcher in the field of false memories. Their appearance, says the host, "really helped give us legitimacy."
Continuing, he stated that one of his goals has been to inspire people to be a bit more skeptical of where they get their information and to check their news sources a bit more diligently.
"We're able to do our research and tell the truth, and do so in an honest and forthright way. We let the audience in on our process - here's how we do our research. It really is proof positive that honest, educational, informative, factual media can survive and thrive in a media ecosystem that everyone is so worried about," Conover added.
"Adam Ruins Everything" returns with new episodes on Tuesday, Aug. 13 at 10 p.m. EST on truTV.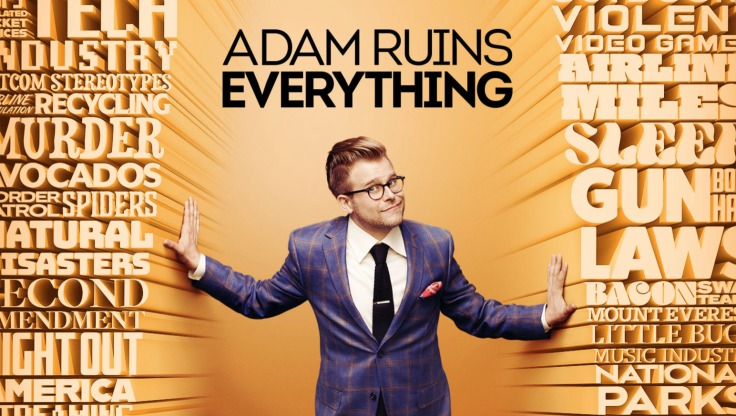 © Copyright IBTimes 2023. All rights reserved.