Adobe Flash Update: How To Download Critical November Security Patches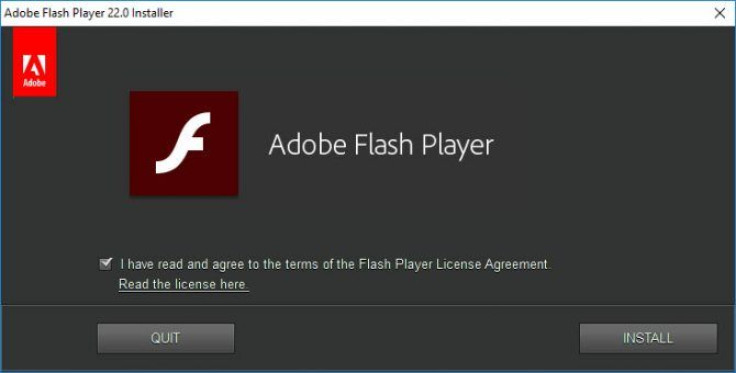 Need to Update Adobe Flash Player but aren't sure how? Check out details of this month's critical security patches and learn how to update your Flash Player on Windows, Mac and Linux computers, here.
On Tuesday, the latest batch on November software patches arrived bringing with it a wide array of security updates both Microsoft and Adobe software. While all the update updates are important, the Adobe Flash Player updates are of special importance to users with Adobe installed on their computers as they fix critical vulnerabilities in the software that can leave users open to viruses and malware attacks if they remain unpatched. We've put together an overview of all the software receiving patches this month, plus instructions on how to check if your software is up-to-date and update Adobe Flash Player.
About November 2017 Patch Tuesday
On Patch Tuesday, the second Tuesday of every month, Microsoft and Adobe software receive regular updates that fix newly discovered bugs in order to keep users as safe and malware-free as possible. In this month's Patch Tuesday release tons of updates were released both for Adobe and Microsoft software, some of which have been deemed critical.
Microsoft Updates
In terms of Microsoft updates, nearly 50 bugs were patched across its various Windows versions as well as its Office software. If you are using a Windows computer, most of these updates will install themselves automatically, or request your permission to do so. If you've seen update notifications show up on your computer, we advise you to install these right away as both Edge and Internet Explorer 11 contained critical bug fixes.
Adobe Updates
Several of Adobe's software received updates during patch Tuesday, including Adobe Flash Player, Photoshop. Adobe Reader and Shockwave, but the most critical of these updates appeared in Adobe Flash Player software.
"Adobe has nine total product updates this month, many of which are critical security vulnerabilities," Ivanti product manager Chris Goettl told International Business Times.
According to Goettl, several of the Adobe Flash Player updates have been labeled Priority 2 because they haven't been used yet in any known malware, but users shouldn't assume this means they are unimportant.
"While many of these updates are rated Priority 2, they are critical as Priority 2 simply indicates the vulnerabilities aren't yet actively being exploited or disclosed at this time," said Goettl.
It is recommended that users update all Adobe software on their computers including Flash, Acrobat, Reader and Shockwave, but with Flash being of greatest importance.
"All major browsers need updating this month," said Goettl. "IE, Edge, Mozilla Firefox, and Google Chrome all have released updates with many critical security vulnerabilities so make sure they are all on your priority list."
For those who are unsure how to perform the updates, we've included instructions for doing so, below.
How To Update Adobe Flash Player On Windows, Mac And Linux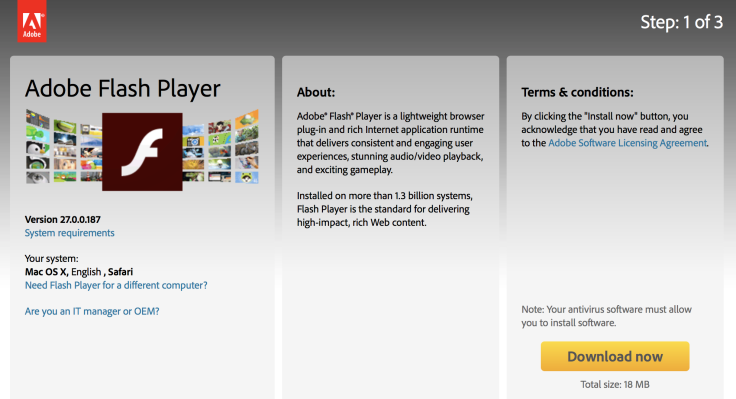 Check If Adobe Flash Player Is Installed - Adobe Flash Player has frequently been used as a tool for delivering malware to users and as a result, many modern browsers do not have Adobe Flash Player installed by default. The first thing you should do before trying to install an update is to check if your browser is even using Flash. You can do that by visiting Adobe's Help Center. Click on the "Check Now" button to see if Adobe Flash Player is installed in your browser. If Flash Player is NOT installed we recommend you not to download it. Most modern websites and browsers use other methods of delivering multimedia content and if you have gotten along without Adobe Flash Player so far, you are safest to leave it uninstalled. For those who do have Flash Player installed though, continue to the next step.

Download And Install Update - if you have Adobe Flash Player installed or you want to install it, you can find the latest update version at https://get.adobe.com/flashplayer/. Visit the link and click on the "Download Now" button. The download will start and once it is completed open the downloaded file to begin installing the update.
*IMPORTANT - Many people use more than one browser on their computers. If you use more than one browser, you need to complete the above steps in EACH browser you use. Some popular browsers are as follows:
Internet Explorer

Edge

Firefox

Safari

Google Chrome

Opera
© Copyright IBTimes 2023. All rights reserved.
FOLLOW MORE IBT NEWS ON THE BELOW CHANNELS