'The Affair' Season 2 Spoilers: Episode 3 Synopsis Released; Noah Admits He Wanted To Kill Scotty [VIDEOS]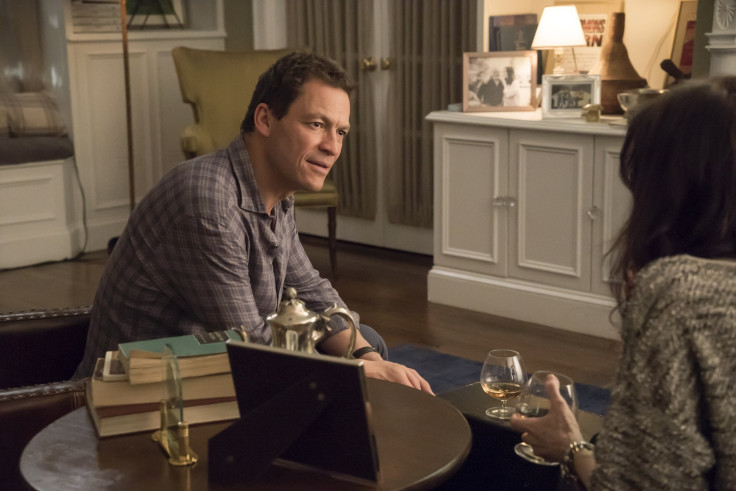 When you've been charged with vehicular homicide and other crimes, you might not want to admit that you wanted to kill the person you're being accused of murdering. However, that's exactly what Noah Solloway (Dominic West) will do in episode 3 of Showtime's "The Affair."
Sunday's episode ended with Noah being led out of a courtroom after a judge charged him with vehicular homicide, obstruction of justice and leaving the scene of an accident in the Scotty Lockhart (Colin Donnell) murder case. As fans will remember, Scotty was killed in a hit-and-run accident and his death has been pinned on Noah.
The author is adamant he's not responsible for Scotty's death, but in a sneak peek of the Oct. 18 episode Noah tells his lawyer he thought Scotty was a "low-life" and a "creep" for getting his underage daughter Whitney (Julia Goldani Telles) pregnant.
"Would I have liked to kill him? Of course I would," Noah says as Alison (Ruth Wilson) touches his arm. "But I didn't because I'm a civilized human being."
It looks like Scotty's death isn't the only hurdle Noah is going to have to deal with in the upcoming episode. In a second sneak peek released by Showtime Whitney unexpectedly pops up at Noah and Alison's cabin and it's clear she's still very angry at her father for leaving her mom Helen Solloway (Maura Tierney). The teen also lashes out at Alison and yells at her dad when she spots a possible engagement ring on Alison's finger.
In a final teaser, it's revealed Alison is starting to have doubts about her life with Noah.
According to TV Guide, the official synopsis hints that Noah and Alison's relationship "leads to serious consequences" and Alison "discovers a surprising truth about how to sustain a marriage."
"The Affair" airs Sunday nights at 10 p.m. EDT on Showtime.
© Copyright IBTimes 2023. All rights reserved.