Aging in America: Obama Administration Pledges To Update Nursing Home Regulations For First Time In 24 Years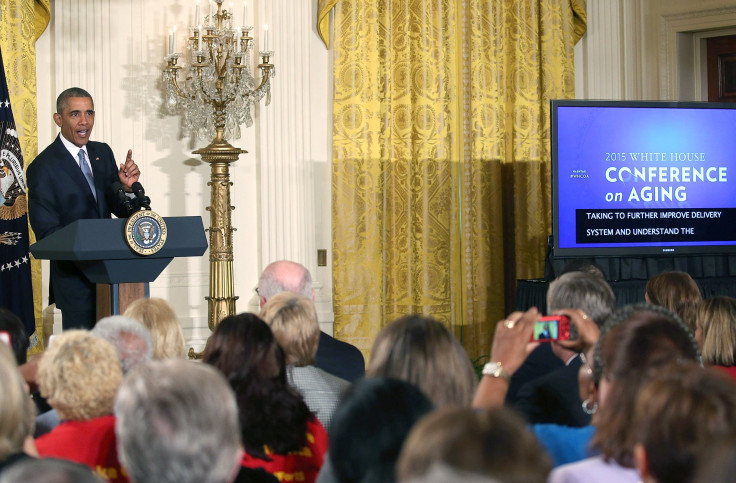 America is getting older quickly -- a fact that has not escaped the attention of major employers, pharmaceutical companies or the federal government. On Monday, the Obama administration announced a suite of programs and proposals at the White House National Conference on Aging that it says will improve the quality of life and care for elderly Americans.
"One of the best measures of a country is how it treats its older citizens," President Barack Obama said in opening remarks at the conference, which happens once per decade.
By 2050, an estimated 84 million Americans will be at least 65 years old, which is almost double the number of elderly residents that lived in the U.S. as recently as 2012. New measures unveiled at the conference are spread across a dozen agencies. The measures range from developing training with the Office of Women's Health aimed at improving the health of family caregivers to launching a free online course for healthcare professionals about how to prevent patient falls, which is being rolled out by the Centers for Disease Control and Prevention.
American Life Expectancy and Infant Mortality Over Time | FindTheData
The White House also launched a new website at aging.gov, meant to serve as a one-stop shop for information on government agencies that serve older Americans and their families. It highlights several examples of the best practices by major companies to extend benefits and ensure safe and secure retirement for older employees. Clorox offers a total company contribution of 10 percent to employee retirement plans, and Bank of America has debuted a new longevity training program for human resources employees to help them evaluate the needs of an aging workforce.
The Centers for Medicare and Medicaid Services pledged to improve the care received by more than one million nursing home residents nationwide by updating guidelines that dictate the standard of care that nursing homes must provide in order to qualify for government payments. Those guidelines were last updated in 1991. Currently, 1.5 million people live in more than 15,000 nursing homes and other long-term care facilities, according to a news release.
New rules would require all staff to be trained in caring for residents with dementia and in preventing elder abuse. Nursing homes would also be required to provide "greater food choices" for residents. Another measure would strengthen infection control programs in these facilities, which fits within the administration's broader attempt to curtail the overuse of antibiotics.
The Department of Health and Human Services also delivered a new national plan for Alzheimer's disease, revealing actions that the federal government would take in the coming year to address a form of dementia which affects 5.3 million Americans. These actions include launching a $4 million campaign to teach older adults about changes in their brains and expanding research to find an effective treatment for the disease by 2025.
© Copyright IBTimes 2023. All rights reserved.
FOLLOW MORE IBT NEWS ON THE BELOW CHANNELS