Ahead Of GOP Debate, Ben Carson Video Released Ridiculing Media Coverage Of His Past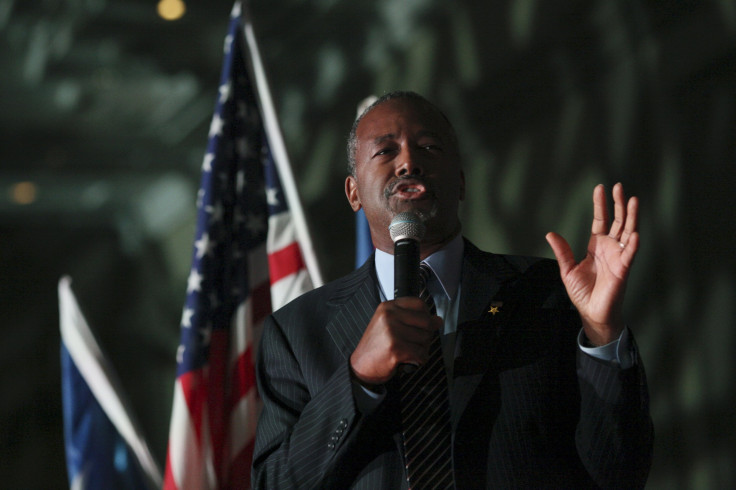 Looking to get ahead of the news cycle as the fourth Republican debate approaches Tuesday, Dr. Ben Carson released a satirical video produced by his campaign admitting to a litany of minor offenses, such as not replacing divots while golfing and calling a cupcake a muffin during his residency. The video, which serves as Carson's latest critique of the media, comes amid scrutiny of his defining biographical points detailed in his memoir, including an incident in which he claims to have attempted to stab a friend in the gut -- an offense that is generally viewed differently by the American judicial system than not understanding the difference between two similarly shaped foods, even if one has frosting.
Other offenses confessed in the Carson video include throwing a glass bottle into a paper-products-only receptacle and once getting caught passing a note he wrote with a non-No. 2 pencil in third grade. None of the incidents appear to be included in his bestselling autobiographies that detail his unlikely success story as a young man with a violent temper who rose out of poverty to be a well-respected neurosurgeon and, now, a presidential candidate.
Carson's tongue-in-cheek equivalence of attempted murder to turning a library book in two days late follows a different pattern from the media scrutiny he has undergone lately. Whereas Carson's video admits to past mistakes he may have learned from -- just as his books do -- the press has been questioning whether he once actually tried to commit a felony at all.
The presidential candidate has responded with frustration following the series of stories questioning his biography. During a press conference Friday, he went on the offensive, and said the media was inaccurately portraying moments in his memoirs and ridiculed the focus on events that took place decades ago.
The campaign staff wanted to make sure to stay ahead of any "breaking stories" in the news today. #BC2DC16
https://t.co/8taUFVAiYY

— Dr. Ben Carson (@RealBenCarson) November 10, 2015
Real estate mogul Donald Trump has seized on Carson's media scrutiny to criticize his leading opponent. Interviewed on CNN's "State of the Union" Sunday, Trump wondered aloud whether Carson could handle the spotlight that comes with being a top presidential candidate. Trump also questioned Carson's stabbing story, wondering how a belt buckle stopped his opponent from stabbing his friend.
Trump later used the incident to remark on the oddball nature of the race itself.
"A lot of weird things are happening. This is a strange election, isn't it? Man!" Trump said Monday. "You stab somebody and the newspapers say you didn't do it. And you say, 'Yes, I did. I did it.' 'No, you didn't.' 'Yes, I did! I stabbed him and it hit the belt'!"
Trump maintains a very slight lead over Carson in averages of national polls produced by Real Clear Politics. He leads the doctor by less than a half of a percentage point, taking in 24.8 percent to Carson's 24.4.
© Copyright IBTimes 2023. All rights reserved.