Alicia Keys Reveals Name Of Singer She Wants To Play Her In Biopic
Alicia Keys named the singer she would like to play her should she come up with a biopic in the future.
The "If I Ain't Got You" singer told ET Canada that Grammy-winning singer and songwriter H.E.R. is "the first person that comes to my head" when she thinks about the matter.
"Just because, you know, we both play. There are some similar background vibes there," Keys was quoted as saying by the outlet Tuesday. "I think that we understand each other a lot."
Keys is a classically-trained pianist, while H.E.R. is skilled in playing the guitar, drums and piano. She added, "She's a dear friend to me and I think that she's unbelievably incredible, so something."
The "Girl on Fire" singer said that "it would be kind of cool" to have her own biopic one day.
In the interview, Keys also reflected on what it was like to work with the late musical superstar Whitney Houston on her final album in 2009, "I Look To You."
"Oh, she's so great," Keys said. She also mentioned late pop singer Prince as among the legendary singers she was able to work with before they died. "Her, Prince. I mean, there's been a lot of people, man. So grateful."
Houston, who died 10 years ago in February 2012, is being featured in a biopic, "I Wanna Dance With Somebody", which will be released in theaters on Dec. 23.
The upcoming film stars Naomi Acki as the "Where Do Broken Hearts Go" singer alongside Stanley Tucci, Nafessa Williams, Clarke Peters, Tamara Tumie, Ashton Sanders and Bria Danielle Singleton, among others.
The movie is a "powerful and triumphant celebration of the incomparable Whitney Houston," Sony Pictures said. It tells the story of a choir girl from New Jersey who becomes one of the best-selling and most-awarded recording artists of all time. The movie is filled with "show-stopping performances" from the cast and also boasts of a soundtrack compiling the musical icon's greatest hits.
Asked whether she will be watching the new film, Keys told ET, "Of course I'm watching. I love her."
Keys said she is certain the movie honored Houston for "the way she actually was."
"I'm sure that's what they did. So I'm excited to watch," she added.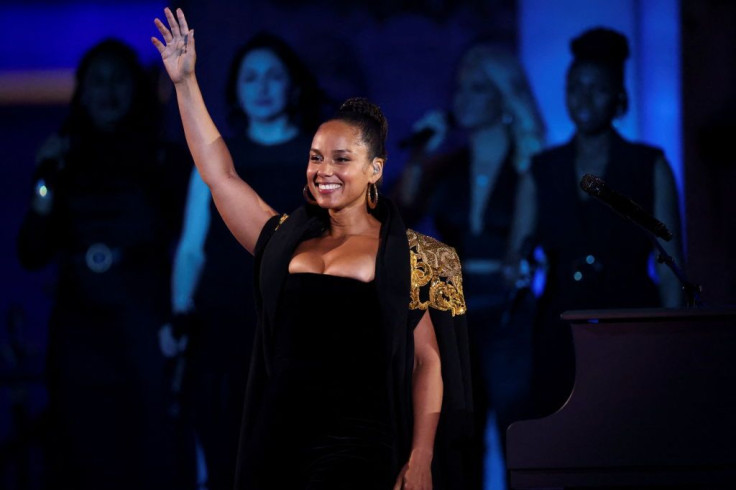 © Copyright IBTimes 2023. All rights reserved.