All Of Hallmark Channel's 2017 Christmas Movies Ranked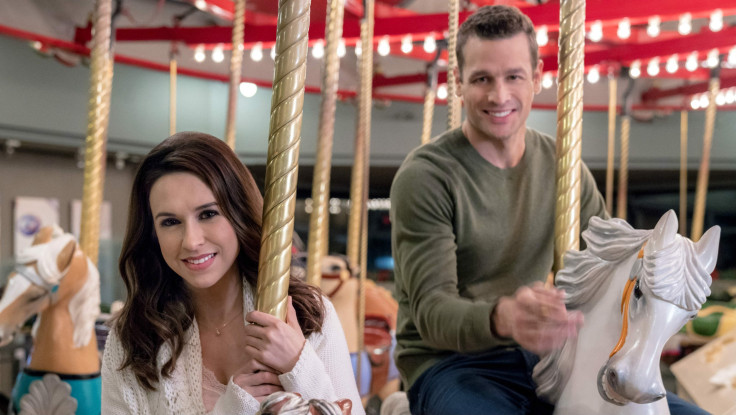 Missed all of, or quite a few of, Hallmark Channel's Countdown to Christmas movie premieres in 2017? No worries, here's a ranking of all of them (minus the "When Calls the Heart" special and Hall of Fame film "The Christmas Train") to help you prioritize which ones to watch first.
19. Christmas at Holly Lodge
In Hallmark movies, you almost always know what storyline you're going to get and that's a good thing, but it's also why having the right cast is the most important part. When it comes down to it, the lead actors and their chemistry is what these TV romance films are all about and stars Alison Sweeney and Jordan Bridges just didn't have it in this one, at all.
18. Christmas Festival Of Ice
This movie is the exception to the aforementioned rule about storyline not mattering in Hallmark movies. This story was just awful. A woman named Emma (Taylor Cole) goes through all the schooling to become a lawyer, is working at her mom's law office and is just waiting on the results of her Bar Exam when she decides that it's not what she wants to do and she wants to be an ice sculptor. No, not just for Christmas and for the town competition, but year-round. If that wasn't bad enough, there was also the fact that it felt like she and her love interest, Nick (Damon Runyan), had almost no time together, not allowing any real connection to be showcased. This was all unfortunate because Cole's Hallmark movies are usually pretty great.
17. Christmas Connection
Once again, the romantic chemistry was lacking between the lead characters, played by Brooke Burns and Tom Everett Scott, which is a pity because this was a bit of a different storyline for the network, with Burns' character being a flight attendant stranded and being taken in essentially by a father and his daughter in, not a town, but a big city.
16. Christmas in Evergreen
The film was a bit too repetitive, both in story and in dialogue, with the lead female Allie (Ashley Williams) feeling the need to exclaim "I have an idea," and always with the largest smile, every time there was a problem and she found the solution one second later. It was too cheesy, even for Hallmark. A movie can be cheerful and fun without its lead having a permanent smile. But mainly, there wasn't much attraction felt between her and her love interest Ryan (Teddy Sears). And, what was the job she got in D.C. and was moving there for? They mentioned it so many times but never said exactly what it was.
The best parts of the movie were the scenes with Holly Robinson Peete, who is luckily getting her own Hallmark movies this year, the scenes with "Chesapeake Shores" star Barbara Niven, and the fact that the guy Allie broke up with wasn't a total jerk like they normally are. He was just a normal guy with both good and bad qualities.
15. With Love, Christmas
Emilie Ullerup's Melanie was cute and fun, but Aaron O'Connell's Donovan was too stiff throughout the whole film. His character was supposed to be uptight and not all that friendly, but then it's supposed to seem like he lightens up around Melanie eventually or with his secret pen pal, but that's never the case. Because of that, you can't feel any emotion radiating from him, meaning you can't feel any love building between him and Melanie or the pen pal throughout the movie.
14. Sharing Christmas
Bobby Campo, who plays Michael, is the best part of this movie. It was great when Hallmark finally promoted him to romantic lead in last year's "My Christmas Love" because he's the perfect Hallmark actor and has all the right facial expressions for a rom-com. Where this movie goes wrong is making the female character, Stephanie (Ellen Hollman), be a business woman who doesn't understand how other businesses work. She ran a Christmas store that was being kicked out of a building by its new owner, who Michael worked for, which is upsetting, understandably, but she kept blaming him. Not just in the beginning when she was frustrated, but she kept asking him to end it, to make it stop and to save her place, as if it was his decision. They spent a lot of time together and were cute, but it was her inability to understand, even by the end, that he wasn't the one that needed to be convinced of anything, his boss was, that was the most troublesome.
13. Enchanted Christmas
Alexa PenaVega had been in a couple Hallmark movies prior to this and they were always very enjoyable, so it was fun when it was announced that her real-life husband, Carlos PenaVega, would be joining her in the Hallmark family. This was their first Hallmark movie together and their off-screen chemistry shone through, nice and clear. It was easy to see how comfortable they were with each other, which made everything much come across as more real. The movie would've been a bit better, though, had their characters had more time with each other since viewers didn't get to see their previous history, meaning their scenes together had to really bring across a great past love, as well as the rebuilding of that love.
12. A Gift to Remember
The first and second time Darcy (Ali Liebert) and Aiden (Peter Porte) "met" were both very sweet, with them spotting each other through the window of a bookstore and both having the biggest smiles on their faces. Both times, those watching probably found themselves smiling at the TV. From there, it was a fun tale of girl helping boy recover his memory, the usual. The characters could've had a lot more chemistry as the movie went on, but the story was fun. The ending was satisfying because she wasn't the one to have to move or switch her job, she instead got to stay put and get a promotion. He, on the other hand, just recovered from amnesia and just met this woman and decided to move states.
11. The Christmas Cottage
Throw two perfect Hallmark actors together and you're most likely to end up with a good Hallmark movie at the very least, and that's what happened with this one, which featured Merritt Patterson and Steve Lund. The exes are thrown back together during the events of a Christmastime wedding, leading to their romance being rekindled after a couple nights stranded in a magical cottage and a few heartfelt conversations.
10. Miss Christmas
The film as a whole was only so-so, which is how it found itself in the middle of this list. Brooke D'Orsay and Marc Blucas were nice as the leads, but nothing too wowing. They did spend a lot of time together, both alone and with his family, which helped move things along, even though the movie only spanned a few days. Though everything did happen over a short amount of time, at least Blucas' Sam realized this and told his dad about how he couldn't believe that he fell for D'Orsay's Holly so fast. The film also got more emotional than Hallmark Channel movies normally do, with D'Orsay's acting being very believable and heartbreaking when she has Holly saying, "I don't think I want to be Miss Christmas anymore." The emotion helped add another layer to the movie.
9. Switched For Christmas
A Candace Cameron Bure Christmas movie is always a must and always good, but it was fun that they switched it up, all the puns intended, and had two lead romances. It was the first real try at this and it was pretty successful, though the city co-worker story felt more natural and less forced compared to the school romance. I'm sure Hallmark will reuse this storyline a few times, so they'll find a way to balance both romances eventually.
8. The Mistletoe Inn
Come on, what's better than a romance movie set at a convention for romance writers? Okay, about seven other movies apparently, but this one was still fun and sweet and perfect for Christmas. It was great how much time the two leads, Alicia Witt's Kim and David Alpay's Zeke, spent with each other, as well as how supportive they were of one another the whole time. It really lent to the natural progression of their relationship. What made the movie even better was the fact that Kim's jerk of an ex-boyfriend was present throughout the movie, as he was at the convention, too, which gave an added element to the Hallmark flick that isn't normally there.
7. Finding Santa
This was the first time that either Jodie Sweetin or Eric Winter had lead a Hallmark movie and it was a great way to kick off their entrance to the the genre. Not only did their characters have plenty of time together, but they had time to simply talk and get to know each other as a lot of their time was spent in a car, driving. This allowed for them to fall for each other after really learning about one another, making it all seem natural.
6. Royal New Year's Eve
Aside from holiday movies, one of the main thing Hallmark does best is its royal movies. Combine the two and the movie is set to be almost unstoppable. This flick was a little Christmas, a lot New Year's Eve and quite a bit royal with a dash backstabbing. While the whole movie took place over a short amount of time, the characters finally realized this, with Jessy Schram's Caitlyn saying, "I've known him for four days, I'm not telling him I'm in love with him" while deciding what to say to Prince Jeffrey (Sam Page). This is very unusual for Hallmark characters to realize. It was refreshing.
This only continued when in the end, there was no quick engagement or "I love yous," simply the two of them getting together with the promise of a possible future. Plus, they didn't get the chance to talk about how they would make it work with him in a different country, or where they would be for the next New Year's even, making for a perfect set-up for a possible sequel.
5. Christmas Getaway
Both leads, Bridget Regan's Emory and Travis Van Winkle's Scott, were very cute and sweet with each other, always being sarcastic and joking around instead of having dialogue that's too rigid, as is often the case in some of these films. The rom-com was heavier on the comedy aspect than usual, with quite a few jokes actually landing, thanks to some good comedic timing from the cast.
The movie also tried to be a bit younger and more current, but not in a forced way, luckily. When Emory told Scott she'd never had a s'more before, he jokingly said, "Say whaaa?" And when Emory was told by her friend to tell Scott how she felt about him, she said, "What, no one does that." Overall, it was a sweet, refreshing flick with lead actors who need to be in more Hallmark movies.
4. The Sweetest Christmas
It doesn't get any more basic Hallmark Christmas movie than this one, and that's a good thing. It stars a lead character played by Lacey Chabert in a gingerbread competition and her rekindling a love with an ex-boyfriend. There's not really much more to say other than Hallmark knows what it's good at.
3. Marry Me At Christmas
Another Hallmark staple that's always fun is the "star heads to small town and falls in love" storyline. Whether it's a big actor or musician, the story always works well, especially with Trevor Donovan headlining. He played the big-time musician in Hallmark's 2012 flick "Stawberry Summer" and now he played the famous actor in this one, which are both essentially other versions of a royal movie, except they're about Hollywood royalty.
In this movie, specifically, Donovan's Johnny and Rachel Skarsten's Madeline had great chemistry and the audience could really feel their relationship grow from just acquaintances to so much more.
2. Coming Home for Christmas
This movie held the No. 1 spot for a while, but was bumped at the very end, though it was a very close call because this was a pretty perfect Hallmark movie. Danica McKellar dazzled as the lead, like she always does, and played a woman named Lizzie who found her footing both with a new job, as well as with two romantic relationships that were beginning. Neither of her suitors were rude and neither was blatantly a wrong choice, and though the viewer knew which one she would eventually be with in the end, it was still nice to see relationships blossom all around with none encompassing all-out wrongdoings. The movie was filled with love and Lizzie's bond with Neal Bledsoe's Robert grew one step at a time, with all the sweet glances and jealous looks, included.
1. Christmas Next Door
This was not only the best Countdown to Christmas movie from 2017, but one of the best Hallmark movies, ever. It was so smooth, real and organic the way the leads, played by Jesse Metcalfe and Fiona Gubelmann, met each other and got to know one another. Nothing about this movie seemed forced, with the dialogue and the physical acting all seeming true to life.
The jokes between the two of them, as well as the sarcasm coming from the kids in the movie, were great. The perfect amount of jealousy Metcalfe's Eric showed when he saw Gubelmann's April get back from a date was great. Plus, at the end, there was no confession of love, there was no one having to move to be with someone and there was no quitting of jobs. All in all, it was just a wonderful movie with exceptional writing and a lovely cast that had great chemistry.
FOR FREE to continue reading
✔️ Unlock the full content of International Business Times UK for free
offer available for a limited time only
✔️ Easily manage your Newsletters subscriptions and save your favourite articles
✔️ No payment method required
Already have an account? Log in
© Copyright IBTimes 2023. All rights reserved.