Amal Clooney Reportedly Receives Death Threats, Husband George Beefs Up Security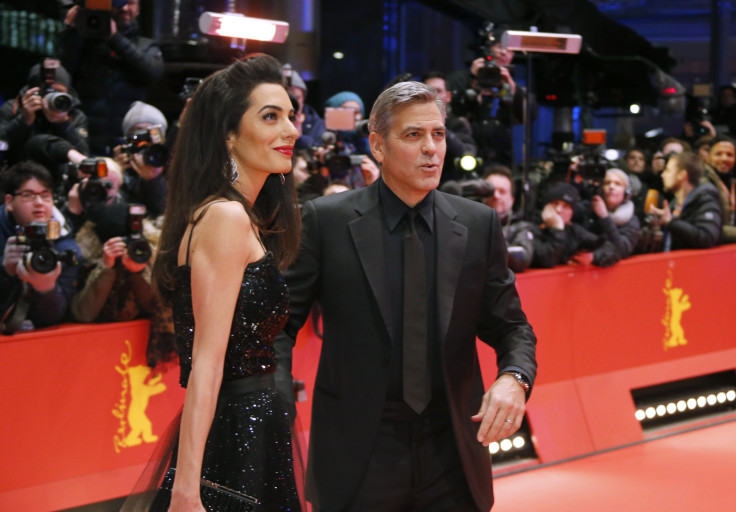 George Clooney has reportedly been forced to step up security after his human rights lawyer wife Amal received death threats. She is currently receiving death threats for defending jailed former Maldives president Mohamed Nasheed. The Clooneys have taken drastic measures to protect their mansion in Berkshire, U.K.
The couple has been advised not to travel without bodyguards and are being driven to restaurants. South Oxfordshire district councillor Paul Harrison, who has been involved in negotiations to beef up surveillance at the Clooneys' home, said the security was for Amal rather than George. "From George's point of view, the high-level legal work she does and the death threats she gets, it's quite serious," Harrison said.
The 54-year-old actor's massive security plan for his Berkshire home has been rejected as it was thought to infringe the privacy of neighbors. The "Tomorrowland" actor had planned to set up six cameras but now it has been reduced to three. Also, the coverage of the cameras has now been reduced from 19.7 feet to 9.8 feet, which locals are reportedly happy with.
George's concern for his 38-year-old wife is very valid in the wake of Amal's co-counsel, Mahfooz Saeed being stabbed in the head outside his hotel in Male in September. The incident happened just before Amal Clooney visited Nasheed in the Maafushi prison.
Amal is part of the high-profile legal team representing Nasheed including her Washington-based co-counsel Jared Gesner. She visited the honeymoon islands to press for the release of the former leader, who was sentenced to a 13-year imprisonment in March. Nasheed was Malvides' first democratically elected president in 2008 and was sentenced in March 2012 under a tough anti-terror law.
His trial was criticized by the United Nations which termed it as "deeply flawed." Nasheed's jail sentence was later commuted to house arrest. However, in August police took him back to prison in a surprise move that drew fresh criticism from the U.N. and the U.S. Meanwhile, in January the government gave him permission to visit London for spinal surgery.
© Copyright IBTimes 2023. All rights reserved.