Amazon, Microsoft Partnership To Make Cortana, Alexa Work Together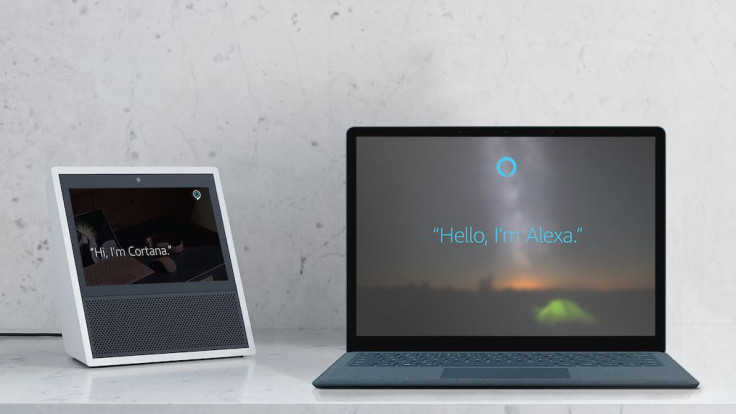 Amazon and Microsoft have announced they will collaborate with each other to make their respective digital assistants talk to each other. Soon, Amazon's Alexa and Microsoft's Cortana will be able to work side-by-side on on Echo smart home speakers.
"Ensuring Cortana is available for our customers everywhere and across any device is a key priority for us," Microsoft CEO Satya Nadella said. "Bringing Cortana's knowledge, Office 365 integration, commitments, and reminders to Alexa is a great step toward that goal."
Amazon Echo users will soon be able to access Cortana's set of features by simply asking Alexa. Likewise, users will be able to use Alexa features like controlling smart home devices and shop at amazon.com by simply asking Cortana on Windows 10.
On an Amazon Echo device, users will be able to simply say "Alexa, open Cortana," while on a Windows 10 device, users can say "Cortana, open Alexa." If Windows 10 users open Alexa by asking Cortana, they will have access to more than 20,000 skills that have already been built by third-party developers. Amazon Echo users that use Cortana will be able to access Windows 10 functions like reading out loud emails and reminders.
"The world is big and so multifaceted. There are going to be multiple successful intelligent agents, each with access to different sets of data and with different specialized skill areas. Together, their strengths will complement each other and provide customers with a richer and even more helpful experience," Amazon founder and CEO Jeff Bezos said. "It's great for Echo owners to get easy access to Cortana."
Amazon and Microsoft didn't give out a specific date on when Alexa and Cortana will be able to talk to each, but did say that it will be available "later this year." Access to Alexa via Cortana will first be available on Windows 10 PCs, followed by Android and iOS device sometime in the future, as explained by Cortana Engineering corporate VP Andrew Sherman.
Cortana will also be accessible across all of Amazon's Alexa-powered devices like the Echo, the Echo Dot and the Echo Show.
The New York Times revealed on its report that Microsoft and Amazon have actually been quietly coordinating behind the scenes for this collaboration since May 2016. The partnership was only made public today.
Bezos revealed in an interview that he believes that people should have access to as many artificial intelligence (AI) assistants as possible. Both Bezos and Nadella also share the belief that Cortana and Alexa have each of their own unique set of features that could be beneficial for both.
For example, Cortana is deeply integrated with Microsoft's Outlook email/calendar app. With Amazon's Alexa having access to Cortana, Alexa would be capable of making tasks on Outlook. Also, since Alexa and Cortana can now talk to each other, Alexa will be able to answer some of the same questions that Cortana can answer.
A collaboration of this sort is rare, especially for big-name companies like Microsoft and Amazon. It seems as though the two are doing this to bring in more features to their users.
"The personality and expertise of each one will be such that if they interoperated, the user will get more out of it," Nadella said. "That resonated for me and for [Bezos] him , and then that's what led to the teams working."
The AI race is now becoming more competitive with Apple already expected to release its own Siri-powered speaker, the HomePod, later this December. Meanwhile, Google's Assistant is now in smartphones and in its Home smart speaker.
With Amazon and Microsoft already collaborating, does it mean that Apple and Google will join in? That is highly unlikely at this point since Apple's Siri and Google Assistant are deeply rooted in their respective proprietary mobile operating systems, iOS and Android. However, Nedella did say that he'll welcome the companies if they do decode to join Microsoft and Amazon.
© Copyright IBTimes 2023. All rights reserved.