Amazon Reveals Exclusive 'Star Wars Battlefront' Deluxe Edition For PS4 And Xbox One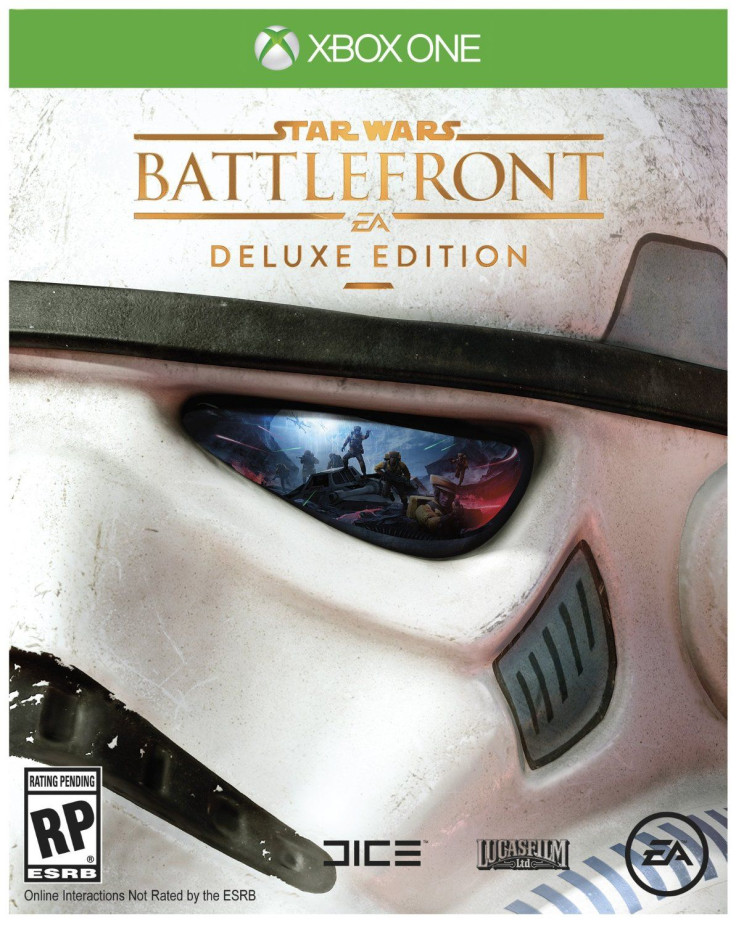 Few games have fans more excited than the upcoming "Star Wars Battlefront" from Electronic Arts (EA) and DICE game development studio, thanks to both the saga's massive fan-base and hype from the eagerly anticipated "The Force Awakens" coming to cinemas. Now, fans have discovered that there will be a 'Star Wars Battlefront" Deluxe Edition, which will come with new box art and a slew of in-game items for the player to use.
The "deluxe edition" of the game is a pre-order exclusive on Amazon and is available for the PlayStation 4 and Xbox One. The cover art for the deluxe edition is very different from the regular retail version of the game. It will feature a downed Storm Trooper, along with the reflection of the rebels who took him down on the visor of his helmet.
There's one particular weapon that will excite fans: the DL-44 made famous by Han Solo. According to the game, it's the weapon of choice for "scoundrels across the universe," which makes a lot of sense to the fans who believe that Han shot first (thought that's always going to be up for debate).
Joining the DL-44 are three ion weapons that are purported to deal major damage to enemies in the battleground of "Battlefront." These include an ion grenade and an ion torpedo.
Polygon has also confirmed that the "Battlefront" deluxe edition will give players access to the two maps on Jakku – a new planet that will debut in "Star Wars: The Force Awakens." While the maps will be available for everyone on December 8, those who pre-order the game will get the maps one week ahead of schedule on Dec. 1.
"Star Wars Battlefront" will be available for purchase on Nov. 15 and will be available for PlayStation 4, Xbox One and PC. It will be a multiplayer-centric shooter, similar to previous "Battlefront" games from 2004, but with the added benefit of next-generation graphics and access to a slew of maps that will appear in the new movie.
"Star Wars: The Force Awakens" will be released in cinemas this December.
Star Wars Battlefront Reveal Trailer (Credit: YouTube/EAStarWars)
© Copyright IBTimes 2023. All rights reserved.