Amber Vinson Update: Free Of Ebola, Texas Nurse Is Discharged From Emory University Hospital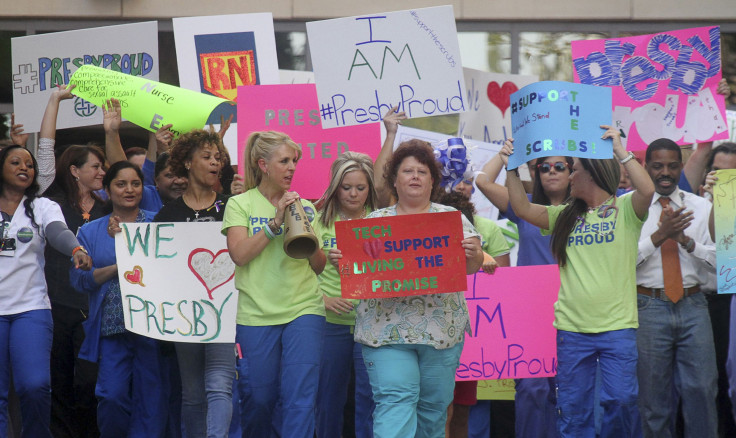 Amber Vinson, 29, a nurse who contracted Ebola at Texas Health Presbyterian Hospital following the treatment of Thomas Eric Duncan, tested negative for the virus last week and will be released from Emory University Hospital on Tuesday, Reuters reported. Vinson reported a fever on Oct. 14 and the Centers for Disease Control and Prevention confirmed the preliminary test results later that day. She and fellow nurse Nina Pham contracted the virus after treating Duncan, a Liberian national who was the first person to die of Ebola in the U.S. on Oct. 8.
"We all know that further treatment will be necessary as Amber continues to regain strength, but these latest developments have truly answered prayers and bring our family one step closer to reuniting with her at home," Debra Berry, Vinson's mother, said in a statement on Oct. 22.
Prior to developing a fever, Vinson traveled on commercial flights between Cleveland and Dallas. The nurse said the CDC gave her permission to fly back to Dallas after she heard Pham contracted Ebola. Vinson was self-monitoring and reported a low-grade fever that did not meet the "100.4 degree Fahrenheit threshold." A government official later said Vinson was not given permission to fly.
"Officials assured Amber that her concerns were unfounded because her temperatures were within the appropriate measures and asymptomatic in all other areas. Amber then asked if, after returning to Dallas, she would be allowed to reside at the hospital until the end of her 21-day monitoring period. She was told that this was the first request of its kind, but that the agency would consider the option. Once again, Amber was assured that she should not be alarmed and prompted to continue self-monitoring," Vinson's family said in a statement. The nurse's family also hired celebrity lawyer Billy Martin, who has handled cases for Michael Vick, Monica Lewinksy's mother and Wesley Snipes.
As part of the CDC guidelines, any individual who may have been in contact with Vinson was monitored and the Ohio Department of Health said there were no reported cases on Ebola but three people remain under quarantine, Fox8 reported.
Pham was declared Ebola-free and released from the National Institutes of Health facility in Maryland on Oct. 24. There is currently only one confirmed Ebola patient, Craig Spencer, being treated in the U.S.
© Copyright IBTimes 2022. All rights reserved.
FOLLOW MORE IBT NEWS ON THE BELOW CHANNELS