AMD Reveals $199 Radeon RX 480 Graphics Card To Make Cheaper VR A Reality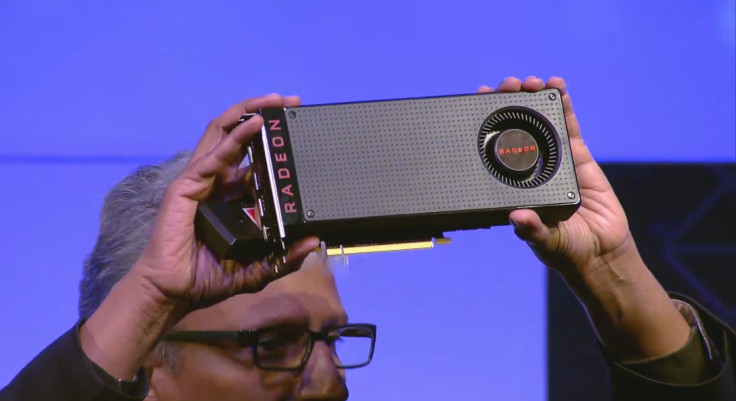 Advanced Micro Devices unveiled its Radeon RX lineup of graphics cards Tuesday at Computex Taipei 2016. The Radeon RX 480 graphics card will be available in 4GB or 8GB editions, with the former priced at $199. AMD's cheaper Radeon RX 480 graphics card will compete with more expensive offerings from Nvidia, with performance that rivals the high-end GTX 1080 for under $500. The new graphics card will also make VR-ready desktops much cheaper.
"As we look to fully connect and immerse humanity through VR, cost remains the daylight between VR being only for the select few and universal access for everyone," Raja Koduri, senior vice president and chief architect, Radeon Technologies Group, AMD, said in a statement.
Virtual reality has arrived, sort of. By the end of 2016, there will be a slate of VR headsets to choose from, from the low-end Samsung Gear VR to the console-only PlayStation VR to the Oculus Rift or HTC Vive. But with Rift priced at $599 and the HTC Vive at $799, VR is already an expensive proposition even before accounting for the computing needs of creating a virtual experience.
Chances are, the desktop you use daily does not meet the specs recommended by Oculus or HTC. For the Rift, it's recommended a PC have at least 8GB of RAM, an Nvidia GTX 870 or AMD R9 290 graphics card and an Intel i5-4590 CPU. If tinkering around a PC rig is not an option, there are Oculus-ready PCs with bundles that include the Rift starting at $1,499. Cheaper VR creates a ripple effect that will lead to increased VR development as more consumers have a PC or laptop capable of such an experience.
During the presentation at Computex 2016, AMD compared the performance of Nvidia's GTX 1080 graphics card to two 4GB Radeon RX 480 graphics cards. For under $500, compared to the $700 price of the GTX 1080, AMD's new graphics card used less computing power than Nvidia's and offered more frames per second.
The AMD RX 480 will be available June 29.
© Copyright IBTimes 2023. All rights reserved.
FOLLOW MORE IBT NEWS ON THE BELOW CHANNELS