Amelia Earhart Quotes: 10 Sayings By Champion Aviator On Her 120th Birthday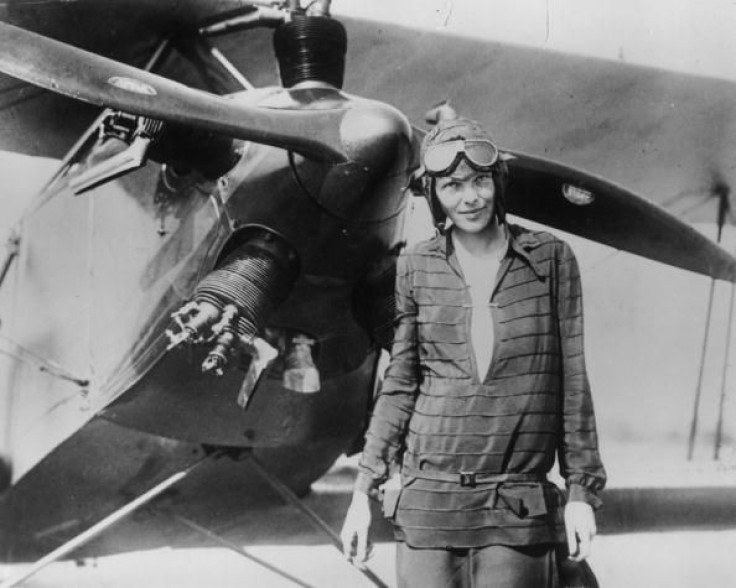 Monday marks the 120th birthday of American aviator Amelia Earhart. The first woman to fly solo across the Atlantic Ocean, and the first person ever to fly solo from Hawaii to the U.S. mainland, Earhart championed the advancement of women in aviation.
After her disappearance during an attempt to fly around the globe in 1937, the search for her and her partner Fred Noonan yielded no results. Theories about their disappearance persist till today, making Earhart's life something of an enigma.
Recently, History Channel announced it would debut a TV special called "Amelia Earhart: The Lost Evidence," featuring a newly discovered photo showing Earhart just after she disappeared. The channel revealed that experts had found an old photo labeled "Jaluit Atoll" and showing figures on a dock they believed to be Earhart and Noonan.
However, A Japanese military history blogger identified as Kota Yamano claimed to have found the photo in a 1935 book. That meant it was taken before Earhart started her trip—and therefore probably didn't show what the History Channel producers thought it did. The channel later said the documentary will not being re-aired.
This July marked the 80th anniversary of her disappearance. On her 120th birthday, here are some quotes from the legendary aviator, courtesy Ameliaearhart.com and Brainyquotes.
The most difficult thing is the decision to act, the rest is merely tenacity. The fears are paper tigers. You can do anything you decide to do. You can act to change and control your life; and the procedure, the process is its own reward.
My ambition is to have this wonderful gift produce practical results for the future of commercial flying and for the women who may want to fly tomorrow's planes.
One of my favorite phobias is that girls, especially those whose tastes aren't routine, often don't get a fair break… It has come down through the generations, an inheritance of age-old customs, which produced the corollary that women are bred to timidity.
The woman who can create her own job is the woman who will win fame and fortune.
Please know that I am aware of the hazards. I want to do it because I want to do it. Women must try to do things as men have tried. When they fail, their failure must be a challenge to others.
Never interrupt someone doing something you said couldn't be done.
The soul's dominion? Each time we make a choice, we pay with courage to behold restless day and count it fair.
I lay no claim to advancing scientific data other than advancing flying knowledge. I can only say that I do it because I want to.
In my life, I had come to realize that, when things were going very well, indeed, it was just the time to anticipate trouble. And, conversely, I learned from pleasant experience that at the most despairing crisis, when all looked sour beyond words, some delightful "break" was apt to lurk just around the corner.
The most effective way to do it is to do it.
© Copyright IBTimes 2023. All rights reserved.