'American Horror Story' Season 5 Spoilers: 'Hotel' Opening Credits And Title Sequence Revealed [VIDEO]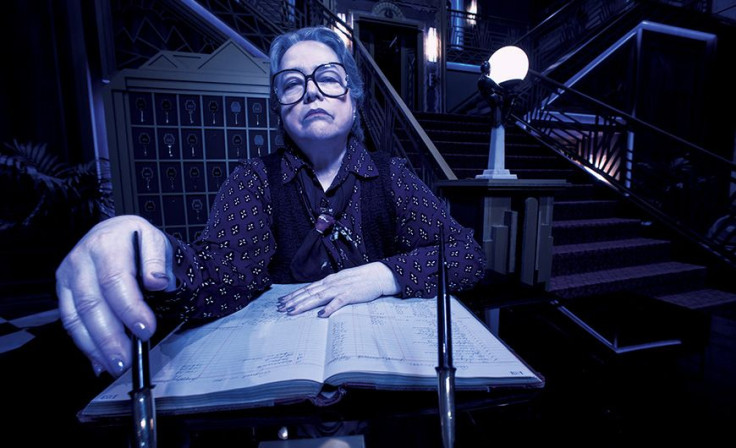 Ryan Murphy's Hotel Cortez is definitely a place no one wants to check into. Murphy gave "American Horror Story" fans an early Halloween present Thursday and released the minute-long opening credits for Season 5 of his anthology series, titled "Hotel."
It's known among "AHS" fans that the opening credits and title sequences typically holds lots of clues for what's to come throughout the season, and in the new video fans are shown glimpses of blood soaked walls and floors, creepy creatures stuck inside mattresses and spooky shadows forming across the hotel's dimly lighted walls. There are also flashes on the 10 Commandments like "Remember the Sabbath day to keep it holy" and "Thou shalt not take the lord's name in vain."
As previously reported, the first episode of "American Horror Story: Hotel" is appropriately titled "Checking In." Wes Bentley will play a detective named John Lowe who is investigating a string of murders when his investigation leads him to Hotel Cortez in Los Angeles.
Lady Gaga has been tapped to play the hotel's owner, Countess Elizabeth, who's keeping a deep dark secret from her guests. Gaga's character has an "ancient blood virus" and craves human blood. That could only spell trouble for those brave enough to check into the hotel.
A previous spoiler also teased hotel resident Donovan (Matt Bomer) and male model Tristan (Finn Wittrock) have the same blood virus as Gaga.
Other stars on "American Horror Story: Hotel" are Kathy Bates, Sarah Paulson, Evan Peters, Wes Bentley, Chloe Sevigny, Denis O'Hare, Cheyenne Jackson, Angela Bassett and Max Greenfield.
Season 5 of "American Horror Story: Hotel" premieres Wednesday, Oct. 7, at 10 p.m. EDT on FX. Check out the show's opening credits below:
© Copyright IBTimes 2023. All rights reserved.