'American Idol' 2015 Spoilers: The Top 9 Perform As David Hasselhoff And Boy George Usher In '80s Night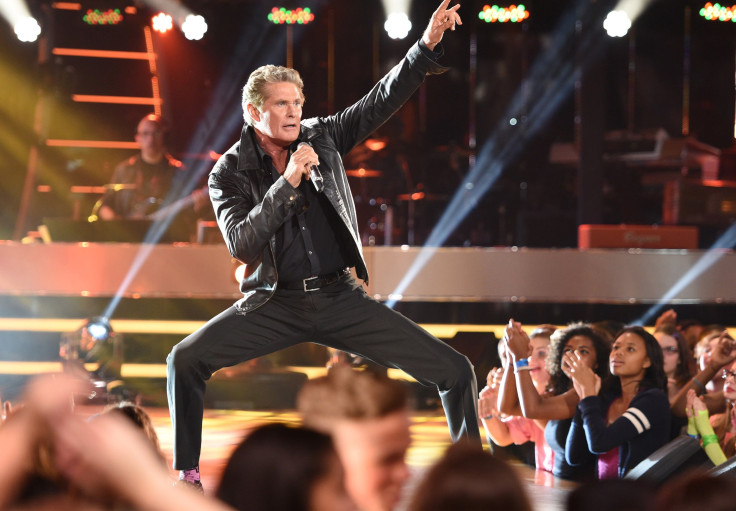 "American Idol" got a little weird last night as the Top 9 performers channeled a finer decade with guest mentor Boy George and guest performers David Hasselhoff and Salt-N-Pepa. That's right, it was '80s night on stage as nine of the remaining 11 advanced to the next round.
Perhaps the best moment of the Season 14 episode was a cringeworthy medley of '80s songs like "Crazy Little Thing Called Love" by Queen, "Walking on Sunshine" by Katrina and the Waves and "I Love Rock 'n' Roll" by Joan Jett & the Blackhearts performed by "Baywatch" star David Hasselhoff. Admittedly the medley of songs was meant to be more of a comedy bit than a real musical performance - but still, it was jarring to see such a parody on a stage where real singers are supposed to be competing for supremacy.
"I wanted to put a little humor in it and a little fun," Hasselhoff later told People Magazine. "Sometimes people just get up there and sing and they've got a great voice, but who cares, you've got to entertain people. I wanted to do a little of the Freddie Mercury. I like to put humor and fun into everything that I do."
Hasselhoff was only present to help Ryan Seacrest deliver the results to the eagerly awaiting Top 11 2015 contestants. This week, each performer got a little advanced coaching from celebrity mentor Boy George, because who better to represent the music of the 1980's? The show announced the results one at a time as those who advanced took the stage to sing, once again, to win the affection of the country and move forward to the next round.
First to advance was Daniel Seavey, who Entertainment Weekly notes is one of the youngest performers to grace the "Idol" stage this year. Something about his rendition of "You Make My Dreams Come True" by Hall & Oates really made the whole audience aware of just how old they really are. Seriously, a 1999 baby singing Hall & Oates? In addition to reminding us all of our mortality, it was a pretty middle of the road performance that really should make people question whether or not Seavey made it to the Top 9 on talent or charm.
Following him was fan-favorite Quentin Alexander, who advanced forward to the surprise of absolutely no one. To move forward in the competition, he sang a haunting cover of Phil Collins "In The Air Tonight." He really channeled the theme of the evening, and not just because of his outfit. His vocals were tight and he made sure to bring proficiency to the song that the judges have been asking for. Overall he made a strong case for the Top 9 last night.
Next up was Joey Cook singing Cyndi Lauper's "Girls Just Want To Have Fun." George gave her a bit of straight talk when he told her to find a way to make the song more interesting in rehearsal. Her answer to this on stage was to simply move around as much as possible. Unfortunately, this didn't make the song that much more interesting, but did have a negative impact on the tightness of her singing. While she does have a good enough voice to deserve her place in the Top 9, she may have shot herself in the foot last night.
However, a bad performance one week doesn't necessarily seal one's fate as Tyanna Jones proved last night. According to The Hollywood Reporter, Jones had her worst performance of the season last week but squeaked into the Top 9 anyway. Luckily she managed to bounce back with her bold choice to take on Whitney Houston's "I Want To Dance With Somebody." After overcoming a bad performance, she's a definite contender to bring the whole thing home in Season 14.
Jax Cole took the stage next singing "You Give Love A Bad Name" by Bon Jovi. Once again, she sang from behind a piano and it proved to be a perfect choice for her. The cover of the song was passionate and soulful and she managed to put on a good show even while being confined to her instrument's bench. Although the judges thought her voice got a little lost in the middle -- as noted by THR -- she's got an originality to her song choices and performances that makes her too unique to send home just yet.
Next to the stage was the enigmatic performer Nick Fradiani. He bit off more than most performers would want to chew with Michael Jackson's "Man In The Mirror." As always, his singing was tight and worthy of an album recording. Where he falters in the competition is in his abilities as a performer as he doesn't connect with the music nearly as much as the other performers on "American Idol" Season 14. He belongs in the Top 9, but perhaps, that's as far as he can go.
It was at this point in the night that Salt-N-Pepa took the stage to sing their timeless hit "Push It" before sending Clark Beckham forward. He sang "Every Breath You Take" by The Police. Similar to Fradiani, he stayed behind his piano the whole time and gave a performance that can only be described as "technically proficient." Not exactly the moving words you want to hear after a live performance.
Last week's controversial save, Qaasim Middleton, took the stage singing "Addicted To Love" by Robert Palmer. After coming so close to elimination last week, Middleton clearly didn't want to tempt fate by taking any big risks. He sang his song and gave a great performance – better than a lot of his competition. He didn't turn any heads last night but he also didn't illicit any groans either.
With eight performers in the can, the remaining three contestants were Rayvon Owen, Adanna Duru and Maddie Walker. It was known that the fun of '80s night would be undercut by a double elimination, which sent Duru and Walker home in favor of Owen. He sang "Everybody Wants To Rule The World" by Tears for Fears. It's actually a good thing that Owens is moving forward because the judges keep saying that he's got some untapped potential that he really just needs more time to showcase it. Perhaps that will come up next Wednesday when the Top 8 take the stage to perform. This time around they'll have Season 1 winner Kelly Clarkson as their celebrity mentor.
"American Idol" airs Wednesdays at 8 p.m. EDT on FOX.
FOR FREE to continue reading
✔️ Unlock the full content of International Business Times UK for free
offer available for a limited time only
✔️ Easily manage your Newsletters subscriptions and save your favourite articles
✔️ No payment method required
Already have an account?
Log in
© Copyright IBTimes 2023. All rights reserved.