'American Idol:' Jennifer Lopez, Keith Urban And Harry Connick Jr. To Return As Judges For Season 14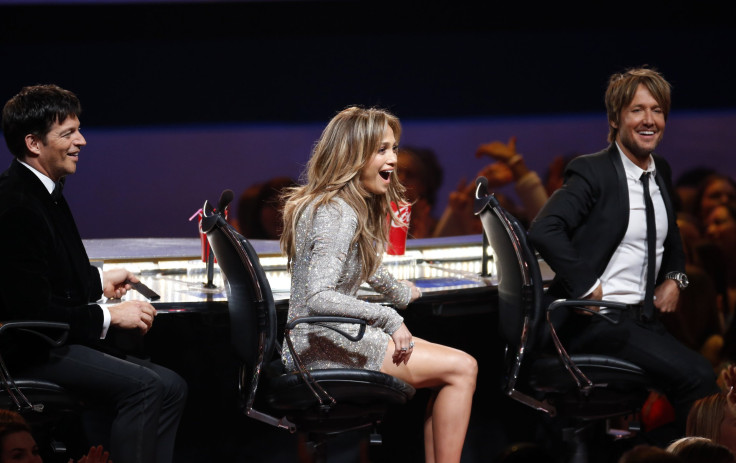 Jennifer Lopez, Keith Urban and Harry Connick Jr., the judges of "American Idol" Season 13, will be returning for the next edition of Fox's singing competition series, the network announced Monday.
Ryan Seacrest too will return as host for the 14th season, and his new deal with the network will reportedly keep him on the show for the next two years at least, if the series is renewed for another season. This will be the fourth time that pop-singer Lopez will be a judge on the show and the third time for New Zealand-born Australian country music singer Urban, while American singer and actor Connick will make his second appearance on the judges' panel.
"Jennifer, Keith, Harry and Ryan are the very best in the business at what they do, and I'm thrilled that they are returning to American Idol for another season," David Hill, senior executive vice-president for 21st Century Fox, reportedly said. "Each brings unique qualities and expertise to the team, but they all share the same passion for helping undiscovered singers achieve the American dream."
Executive producer and creator Simon Fuller also reportedly said: "I am thrilled our consummate host, Mr. Ryan Seacrest, is returning for Season 14, together with Jennifer, Harry and Keith. Their interaction, warmth and experience made them an absolute joy to watch. I can't wait to see their evolution together continue next season."
Trish Kinane, the executive producer of the show, reportedly called the current judges' panel as "one of Idol's strongest-ever" because of their experience and passion for discovering new artists. Kinane also reportedly praised Seacrest and added that the entire team was ready "to get out there to find the best talent in America."
According to reports, the new season of "American Idol" will have 37 episodes, while the previous one had 50.
Auditions for the upcoming season will begin Wednesday in New Orleans and later move to Long Island, N.Y., Nashville, Tenn., and San Francisco. The show's last season concluded in May and the next season is scheduled to premiere sometime in early 2015.
© Copyright IBTimes 2023. All rights reserved.