'America's Got Talent' Season 12 Spoilers: Magicians Les French Twins Stun Simon Cowell, Mel B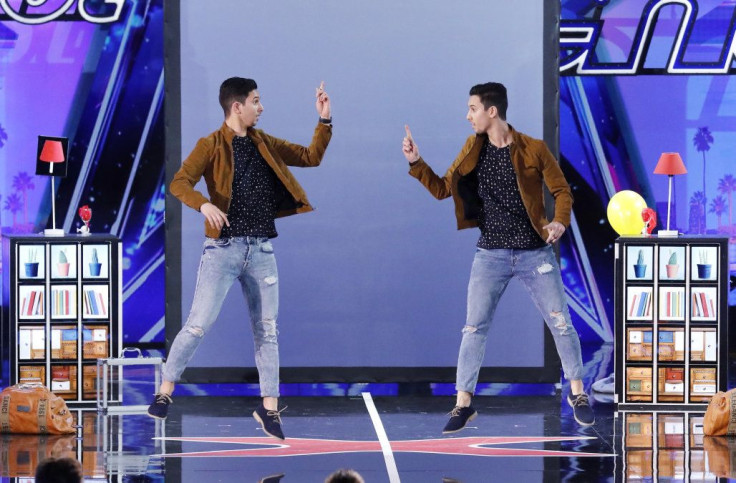 "America's Got Talent" Season 12 will introduce two magicians who make up the Les French Twins tandem.
In the teaser released by NBC for Tuesday night's episode, the 21-year-old twins shocked judges Simon Cowell, Mel B, Howie Mandel and Heidi Klum with their jaw-dropping performance. The siblings made use of props and a huge interactive screen to grab the attention of the crowd.
Read: Daniel Ferguson makes Simon Cowell laugh in "America's Got Talent" Season 12
As of late, it is still unclear whether or not the Les French Twins will make it to the next round or if they will receive the golden buzzer from Klum or Mendel. But the two are no strangers to reality TV competitions. In 2016, the duo also auditioned for "France's Got Talent" and made it to the finals.
For those who want to know more about them, the Les French Twins have their own website, where their performance videos and magic shop information are all posted. The brothers are also available for bookings.
Meanwhile, several other acts will be taking the "America's Got Talent" stage on Tuesday night. Plane crash survivor Kechi Okwunchi will be singing a heartfelt rendition of Ed Sheeran's "Thinking Out Loud." A singing impressionist named Daniel Ferguson will also surprise the judges with his performance of "Cake by the Ocean" with a twist.
Two golden buzzer recipients may also be named on Tuesday night's episode of the hit NBC reality TV competition. As of late, Cowell has already given his golden buzzer to 29-year-old deaf singer Mandy Harvey. Mel B, on the other hand, gave her golden buzzer to 12-year-old ventriloquist Darci Lynne Farmer. Both contestants will no longer be in danger of being eliminated since they will automatically advance to the live shows.
Other contestants who have made it through to the next round include 9-year-old singer Angelica Hale, dancers Diavolo, danger act performers Azeri Brothers, escape artist Demian Aditya, mind reader Colin Cloud, magician Will Tsai and more.
According to NBC, the auditions will continue to air on "America's Got Talent" until July 4, to be followed by the judge cuts.
"America's Got Talent" Season 12 airs Tuesdays at 8 p.m. EDT on NBC.
© Copyright IBTimes 2023. All rights reserved.