Amitabh Bachchan: Bollywood Star Back Home After Surgery [VIDEO]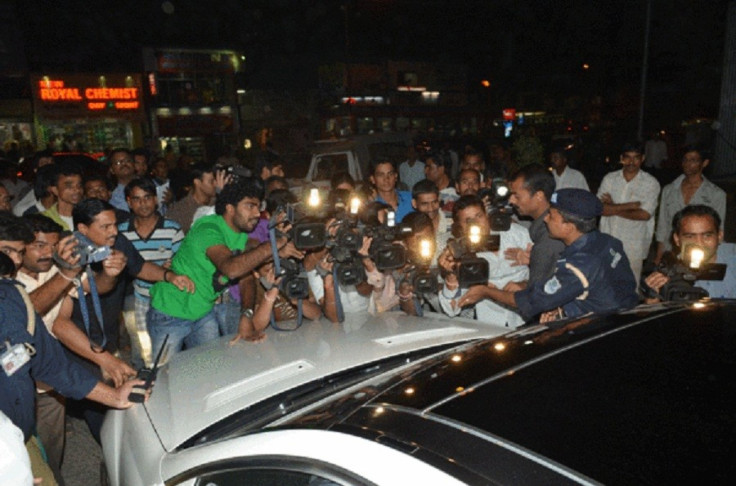 Actor Amitabh Bachchan was finally discharged on Thursday from Mumbai's Seven Hills Hospital after a nearly two-week stay in hospital post abdominal surgery.
"A joy to be back in familiar surroundings .. thank you all for your blessings and prayers .. I made it again !!" the actor tweeted on the micro-blogging site Twitter Friday morning.
Amitabh, who has a history of abdominal ailments, underwent a hernia operation on Saturday, Feb. 11, in the western city of Mumbai.
The 69-year-old veteran Bollywood actor showed signs of improvement after the surgery, but the acute pain delayed his discharge from the hospital.
"Just discharged from hospital and am back home in familiar surroundings, gently taking in all that now engulfs me. The surgery discomfort and soreness persists, but will take a while to finally erase itself from the pain glands, but in all, apart from a sluggish movement, Gods grace and prayers of the Ef have put me back on track again. My most gracious thanks to all," the actor wrote on his blog early Friday.
Local TV channels showed the video of the actor, who had a shawl wrapped around his shoulders, walking out of the hospital late Thursday. Before sitting in the car, he waved at onlookers and fans.
However, the actor also complained that the media blocked his car not allowing it to move, insensitive to need of ailing occupant to get securely home."
"A patient just released from hospital needs to get back to his home and secure from the travel, to it, as soon as possible, but I guess they would rather get their exclusive photograph than have such consideration. A pleasant request falls on dumb ears and anything stronger than that shall be legitimate invitation to their wrath, of being manhandled, the actor wrote on his blog.
Media blocked Bachchan's car not allowing it to move (Twitpic/Amitabh Bachchan)
Doctors treating Amitabh said that he was "doing well" and after taking rest for few days he should be back on his feet, The Times of India reported.
The actor had been continuously tweeting and blogging from the hospital after the surgery.
He was accompanied by son Abhishek Bachchan and wife Jaya Bachchan on his way home. Abhishek Bachchan, who was shooting for his next film Bol Bachchan in Wai, had driven down 5 hours to accompany dad on his way home.
"Abhishek drives down 5 hrs from location Wai just to see me home ... drives back early tomorrow to join crew .. !! So touched !!" the actor tweeted.
Last week, daughter-in-law Aishwarya Rai Bachchan and 3-month-old granddaughter Beti B visited the hospital to meet Amitabh Bachchan.
Watch the video here:
© Copyright IBTimes 2023. All rights reserved.