Amtrak Crash Compensation: Victims Subject To $200 Million Limit On Damages Sought, But Is That Enough Money?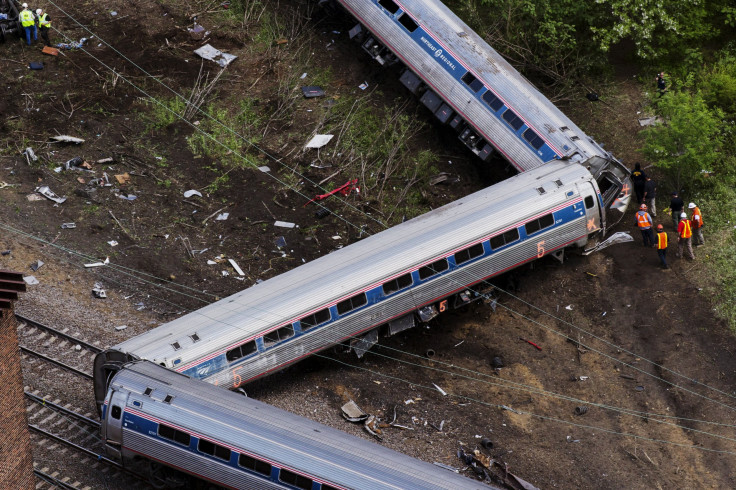 Hundreds of people are expected to file claims for damages after Tuesday's Amtrak crash in Philadelphia, but they might get an unpleasant surprise in the courtroom. Thanks to a rather obscure law from the 1990s, Amtrak can pay out only a maximum of $200 million in damages to all victims of a single accident.
The cap might seem high, especially compared to damages awarded to victims of accidents in European countries, but legal experts said it may not be enough. Without a strong social safety net in the United States, those injured, as well as the families of victims killed, may be hard-pressed to find other sources of support to make up for any lost income and to cover medical expenses. Yet if history offers any indication, those seeking damages will have little choice but to take what they are given.
"$200 million is not enough to compensate all the people involved in this crash," said Joanne Doroshow, executive director of the Center for Justice and Democracy at New York Law School. Those who were severely injured in the crash could need tens of millions of dollars apiece in medical care, she said, while others might demand tens of millions more in lost income for family members killed or disabled.
The 1997 law capping total compensation at $200 million, called the Amtrak Reform and Accountability Act, was passed to prevent the long-suffering, cash-strapped Amtrak and other public transport systems from going bankrupt in the event of a major crash where victims would inevitably seek compensation. "The aggregate allowable awards to all rail passengers, against all defendants, for all claims, including claims for punitive damages, arising from a single accident or incident, shall not exceed $200,000,000," the law reads.
Dividing Up $200 Million
Of the more than 200 people who ended up in the hospital after the crash Tuesday night, the majority are likely to sue, based on similar incidents in the past with mass casualties, experts said. "It's the only way you can get compensation," Doroshow pointed out.
Compared to rewards in European countries, where in one instance a train company spent $5.6 million compensating families of victims of a crash, a $200 million cap may seem a princely sum. But the social safety net in the United States is far less extensive than in Europe, meaning that when American victims seek high compensation, one of the reasons they do so is because of a lack of support from elsewhere.
The sheer number of people seeking damages wouldn't be the only factor stressing the $200 million limit, however. The demographics of the passengers on Amtrak's Northeast Regional Train 188 that crashed Tuesday – primarily white-collar people with high incomes that normally would be reflected in the compensation they or their families receive – would also strain the limited fund.
"That route has a lot of high-earning professionals on it," said Anthony Sebok, a professor at Cardozo Law School in New York and an expert on tort law. When people with high incomes are injured or killed, compensation demands will generally be higher.
"Under our system of justice, those lost earnings are a very important part of someone's injury claim," Doroshow said. While it remained unknown Friday who all the passengers were and their earning power, she said, "I think it's safe to assume that there were probably some people on the train who were earning substantial incomes."
Two Different Systems
In October 1999, 31 people died and hundreds more were injured when two trains collided outside a station in west London. Their families eventually got up to 750,000 pounds each, or roughly $1,050,000 at the time, for a total of 4 million pounds, or $5.6 million, the Telegraph reported.
The morning of June 3, 1998, a high-speed train in Germany skidded off the rails in the town of Eschede, killing about 100 people. In the immediate aftermath of the crash, Germany's Deutsche Bahn, the private company that operated the train, offered to pay about $15,000 to the families of the deceased. It later offered about $500,000 per victim to their families.
By comparison, compensation for deaths in the United States could range anywhere from about $3 million to $10 million per person, Sebok estimated, although he said those numbers could still vary further, depending on the victims. One reason the amounts are so much higher is that the United States follows a different approach from European nations in calculating the worth of a person's life.
"Economic losses in the U.S. will often include medical expenses, and medical expenses in the U.S. can be quite high," Sebok pointed out. "Sometimes permanent injuries can cost more than fatalities," he added, because they require a lifetime of medical care. He said that $200 million may not be sufficient to cover damages of those who were injured, but if that was the limit, then it would have to be enough.
When trains crash in European countries, victims are less dependent on compensation to cover medical costs, Doroshow suggested. "Every other civilized country has a decent healthcare system for people, part of the social safety net for their citizens that doesn't exist in this country," she said. "So people here who have been hurt depend on litigation and lawsuits to get properly compensated."
'Sophie's Choice'
In the afternoon of Sept. 12, 2008, a Metrolink commuter train carrying 225 people crashed head-on with a Union Pacific freight train around a sharp bend in the tracks in Chatsworth, California. Twenty-five people ultimately died, and 135 were injured. As victims sought compensation, their requests hit the $200 million cap. Los Angeles County Superior Court Judge Peter Lichtman was forced to decide how to divvy it up.
"A 'Sophie's Choice' had to be made on a daily basis," Lichtman said in describing the wrenching process, the Los Angeles Times reported. "The list of woes, financial needs and emotional devastation is simply inexplicable," he wrote in his judgment. Initially Lichtman awarded $264 million in damages, but was forced to reduce that amount to $200 million.
Rachael Mofya, a Zambian exchange student who suffered burns, broken bones and internal cuts in the crash, received the highest amount, $9 million. After the crash, Mofya spent four months in the hospital, more than two of which were spent in a near coma. Doctors said she might never fully recover.
FOR FREE to continue reading
✔️ Unlock the full content of International Business Times UK for free
offer available for a limited time only
✔️ Easily manage your Newsletters subscriptions and save your favourite articles
✔️ No payment method required
Already have an account? Log in
© Copyright IBTimes 2023. All rights reserved.