Android 4.3 Jelly Bean Update: Custom ROM Leaks Pre-Release Version, Untouched Firmware To Release Aug. 28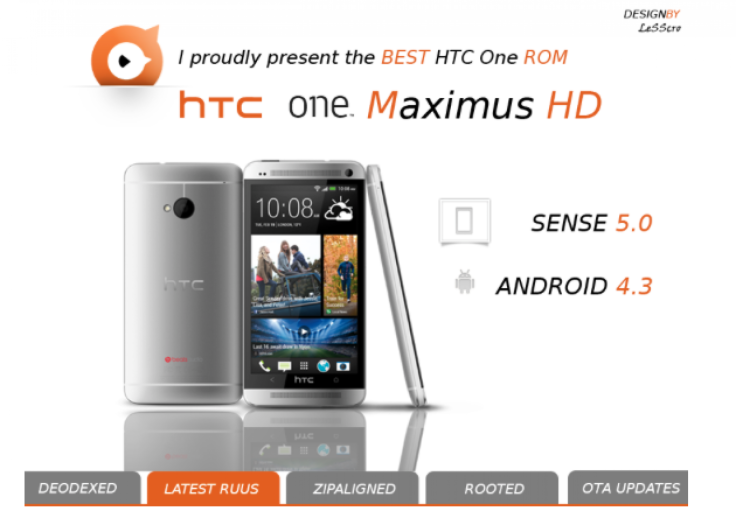 Savvy HTC One handset owners waiting for the Android 4.3 Jelly Bean update need not wait any longer as a well-known developer has leaked a prerelease version of the mobile operating system in the form of a custom ROM download.
Developer LlabTooFeR is providing a taste of the new Jelly Bean OS to U.S. smartphone users by way of his MaximusHD 12.1.0 ROM download, which features Android 4.3 and HTC Sense 5 based on the unreleased firmware version 3.09.401.1 from the international HTC One. The developer recently shared his ROM download on the XDA-Developers ROM thread and said he will release the untouched firmware on Aug. 28 at 10 a.m. GMT.
Although Jason Mackenzie, president of global sales at the HTC Corp. (TPE:2498), has confirmed all models of the HTC One would receive Android 4.3 updates by the end of next month, many American customers remain anxious as users in a number of other countries, including several in Europe, have already seen the HTC One update to Android 4.3.
As noted by Android and Me, a few of the main features of the 3.09.401.1 update are a new task manager, a data manager shortcut in the app drawer and Wi-Fi-based location services, even when Wi-Fi is turned off. Keep in mind that LlabTooFeR's ROM download is based on a prerelease build, which indicates that HTC may have features to add or tweak in the final build. The ROM download is described as fast and stable, but those wishing to try it out should proceed with caution and back up their devices before installing the software.
The MaximusHD 12.1.0 ROM download encompasses the following:
New Base 3.09.401.1
Android 4.3 Jelly Bean
Added Bluetooth 4.0 LE Support
Added OpenGL ES 3.0 Support
Added Google Wi-Fi Scanning Feature
Added Google Games
Added Ability to Wipe Device Remotely
Added Ability to Use HTC TV in Countries Without TV Programs Available
Updated Kernel
Updated AppDrawer
Updated System Fonts
Updated OEM Apps
Will you be testing the MaximusHD 12.1.0 ROM download for Android 4.3 Jelly Bean and HTC Sense 5? Let us know in the comments below.
Follow me on Twitter @FionnaatIBT.
© Copyright IBTimes 2023. All rights reserved.