Android 5.0 Lollipop Update Released For Second-Generation 2014 Moto G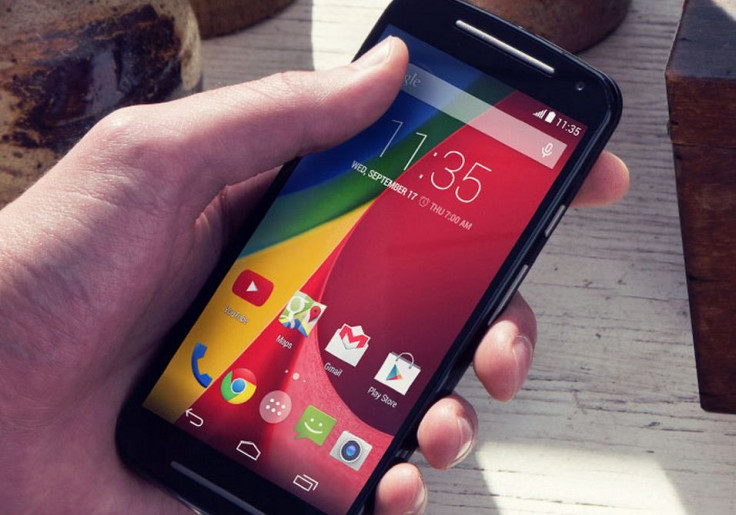 The second-generation 2014 Moto G becomes the first phone to receive the Android 5.0 Lollipop firmware update, a report said Wednesday, adding that Google's latest flagship devices, such as Nexus 6 and Nexus 9, have lagged behind the device in getting a final version of the update.
According to Ars Technica, the unlocked U.S. version of the $179 second-generation Moto G has begun receiving a 386.7MB Android 5.0 Lollipop over-the-air update, while other handsets, such as the second-generation Moto X and the LG G3, are also nearing a similar update.
"We are excited to announce a new software update for Moto G (2nd Generation) by Motorola. This update brings Android 5.0 Lollipop to your phone along with other improvements," according to the official release notes for the Moto G's Lollipop update.
The release notes highlight features that are expected to be included in all Moto and Nexus phones set to get the Lollipop update. Some of the key features and improvements include the new "Material Design" user interface, lock screen notifications and the "Project Volta" battery life enhancements.
Here are some of the significant changes, as listed out by Motorola, which will be visible in the device after installing the software update.
According to the Ars Technica report, the Lollipop update appears to be rolling out to the larger, second-generation Moto G, while there are no updates available for the first-generation model of the device. The report also suggested that other Moto handsets and new Nexus devices could get the firmware update in coming days.
Some earlier reports had suggested that the Moto X (2014) would receive the Android 5.0 Lollipop update before any other device, and that the first Moto X model to receive Android L would be Motorola's unlocked "Pure Edition."
LG Electronics announced last week that it would begin updating its G3 handsets with the new Android 5.0 Lollipop in Poland this week, while users in other markets should expect the update to arrive in coming months.
Some reports also said that the Samsung Galaxy S4 is expected to receive the Lollipop update by early next year, with the Exynos variant of the handset (GT-I9500) likely to become the first model to receive the update.
© Copyright IBTimes 2023. All rights reserved.