Android N: How To Download Android 7.0 Preview And Everything Else You Need To Know About Google's Next OS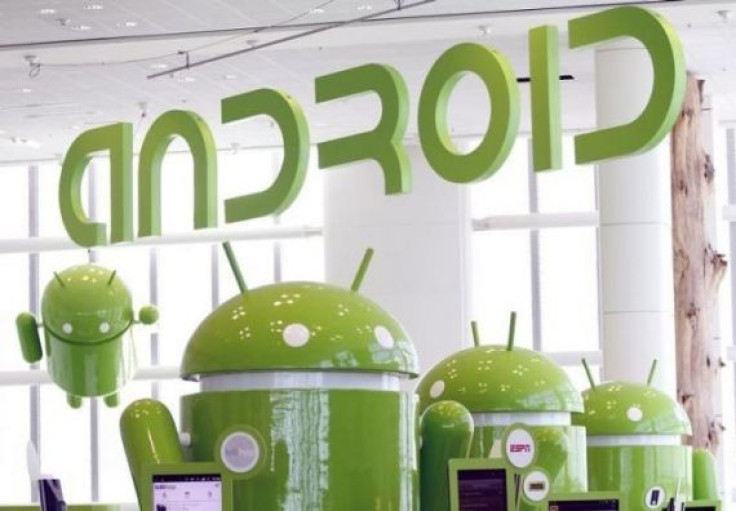 Android is the world's biggest smartphone and tablet operating system with somewhere north of 1.4 billion devices in use around the globe. Therefore, any update to Android is a major development and unexpectedly Google launched a preview of Android N, the latest version, on Wednesday. It provides a glimpse at what features users can expect in the coming 12 months.
Google is following in Apple's footsteps by launching an Android Beta Program. It lets those interested install early versions of the software and provide feedback on new features. Google said there will be five preview builds before the final version of Android N is released in the third quarter of 2016.
The move is also designed to get Android N to manufacturers like Samsung, LG and Sony faster and speed up the update cycle, something which has plagued the operating system for years.
What Devices Can Run the Android N Preview?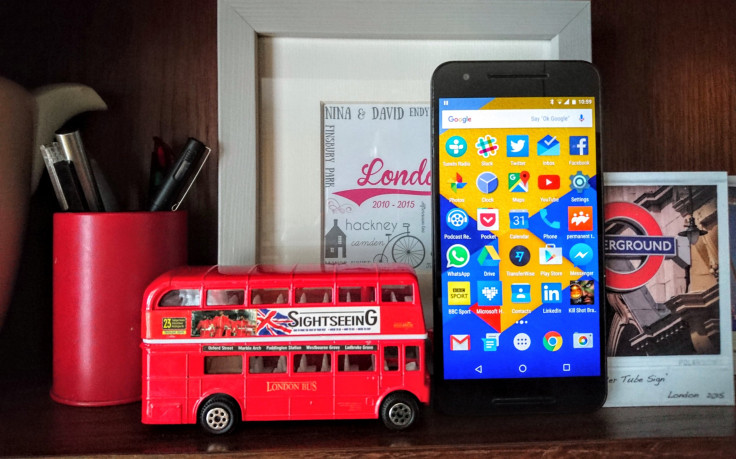 Google is limiting the developer preview to a very small set of devices and it's no surprise that they are (almost) all part of Google's own Nexus program. The list includes: Nexus 6, Nexus 6P, Nexus 5X, Nexus 9, Nexus 9G, and Nexus Player (Google's set-top box). The only non-Nexus device on the list is Google's own Pixel C tablet, which is an iPad Pro competitor. Google is offering a $150 discount to developers who want to buy the Pixel C to test out Android N.
How to Download Android N
Google is offering two ways to download the Android N preview. The first is to download and manually install Android N images from Google's servers. This is a pretty involved process and requires you to back-up your device before installing a completely new build of Android. For those who want to take this route here is a list of Android N images for the supported devices:
However, there is a much easier way to update to Android N if you have one of the devices. Simply sign-in to the Android Beta Program website and the system will let users download an over-the-air (OTA) update on a compatible device. The process can take less than 30 minutes, depending on how long it takes to download the update, which is over 1.1GB in size. As well as being much easier, those who use this system will get all the other Android N previews automatically in the coming months.
A word of warning: Google makes it very clear on its Android N page that this is beta software and is aimed at developers and not the general public. Should those who want to get an early look at the software still want to do so, it is advised you install the update on a device you don't use every day.
Why Android N?
Google has codenamed its major Android updates after desserts and sweet treats in alphabetical order (Cupcake, Donut, Eclair, Froyo, Gingerbread, Honeycomb, Ice-Cream Sandwich, Jelly Bean, KitKat, Lollipop, Marshmallow) and so now we have Android N — though Google hasn't revealed what the N stands for as of yet. Some suggestions include Nutella, Nougat and Nectar.
Along with the codenames, versions of Android also have numerical listings, with Android N likely to be listed as Android 7.0.
What Are Android N's Biggest Features?
Here are five of Android N's biggest updates.
Google is playing catch-up here with Apple. In iOS 9 Apple added support to allow users open two apps on the screen at once, but Apple restricted this feature to its iPad range, meaning iPhone users couldn't take advantage of it. Google is not setting any such restrictions, meaning any smartphone or tablet running Android N will be able to have side-by-side apps running.
To open apps in split-screen mode, simply tap the overview button to see all your open apps, and when you find the one you want to open in split-screen mode, tap and hold the top of the window. This places it at the top of the screen and tapping on a second app will place that on the bottom section. A slider bar in the middle allows you to resize how much of each app you see.
Split-screen works in both portrait and landscape modes and works automatically with all the apps tested, but none are really optimized for the feature yet. Tested on a Nexus 6P, the benefits of split-screen mode on a smartphone are hard to see, and companies like Samsung have been including the ability to do this for some years already.
On a tablet the feature is likely to be much more useful, especially in enterprise, where much of the growth in the tablet market is expected to come over the coming years. Microsoft has offered this feature on tablets and convertible laptops starting with Windows 8.
As well as allowing you to jump into split screen mode, the overview button is now more useful as double tapping it allows you to jump between your two most recent apps (which arguably is a better solution to multitasking on a smartphone) while continuously tapping the button will let you cycle through recently opened apps without having to touch the screen. A countdown bar at the top of each app window shows you when the highlighted app will jump to full screen mode.
2. Notifications
Google has given the notification menu a major overhaul, adding multiple new features and design tweaks.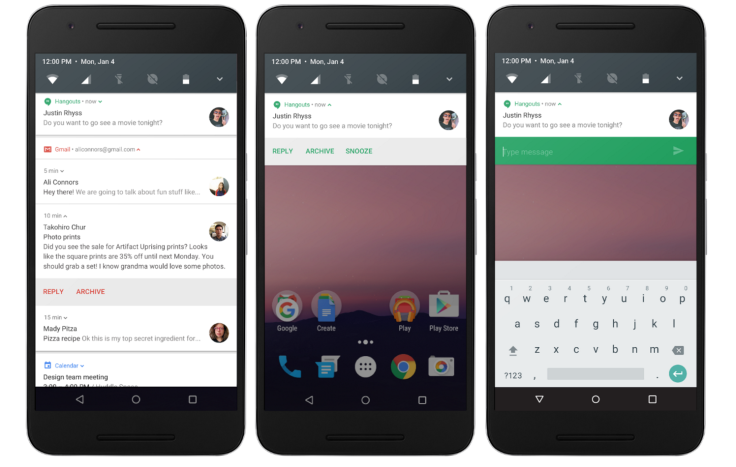 The first thing you notice when you swipe down from the top of the screen is that Google has placed a row of icons along the top of the notification menu (or notification shade as Google refers to it). This is again something Google appears to have borrowed from Samsung, and it allows you to quickly turn on and off Wi-Fi or mobile data, check your battery status and turn on the flashlight.
Slide down further and the full Quick Settings menu appears with a really slick transition animation. This menu is editable for the first time, something which OnePlus's own Oxygen skin for Android introduced last year. It means users can add the quick settings which they use most so they don't have to go hunting through long menu lists.
Moving onto the notifications themselves, Google has added the ability to reply to messages and updates directly from the notification menu, without having to open the app the notification comes from. If developers add this feature to their apps, users will be offered the option to send a response directly in the notification menu.
The notifications themselves are also more information-dense and they will be bundled together so you can dismiss all your Twitter or Facebook updates in a single swipe. Tap on the parent notification panel and the individual notifications will expand, showing you images and content from the notification. The system will not revolutionize the way smartphones work, but it is a slick update to Android's already impressive way of handling notifications.
3. Data Saver
With data costs a major worry for a lot of smartphone users, Google is introducing Data Saver in Android N. This setting, available within the main Settings menu, will allow you to limit or restrict the amount of background data any app installed on your system (even Google's own apps) can use.
Android already lets users set a data usage limit, at which point they will be prompted with a warning alert. But Data Saver offers more granular controls. With Data Saver on, the system blocks background data usage and signals apps to use less data in the foreground wherever possible. Within the Data Saver menu users can whitelist any of their installed apps to allow background data usage even when Data Saver is turned on.
4. Number Blocking And Call Screening
With nuisance or cold calls continuing to be a major problem for smartphone users, Google is introducing a number of features in Android N to address this.
While Android users have been able to block a specific number for a while, Android N takes that list of numbers system-wide. The blocked number list will be accessible to the default SMS app, the default phone app, and provider apps — allowing them to read from and write to the list, however it will not be accessible to other apps.
"By making number-blocking a standard feature of the platform, Android provides a consistent way for apps to support number-blocking across a wide range of devices," Google said.
Even more importantly is the ability for your carrier to read your blocked number list and and perform service-side blocking for the user in order to stop unwanted calls and texts from any medium, such as a VOIP endpoint or forwarding phones. Block lists will also be backed up to your account meaning you can transfer them between devices.
If blocking numbers seems too extreme, Android N has also updated its call screening features. Devices will be better at recognizing numbers and give users a variety of options when a call comes in, such as simply rejecting a specific call, not recording the call in the call log or stopping them from showing up in the notification area.
5. Night Mode
Google introduced a night mode (essentially a dark version of its settings menu) in the preview build of last year's Android Marshmallow update. The feature got pulled before the consumer release but it's back in Android N.
It is not immediately obvious however as you have to turn on a feature called System UI Tuner. To do this, long-press the Settings gear icon in the Quick Settings menu. Once you have access to the option, turning on Night Mode will automatically adjust the the look and feel of the system based on the time the sun sets at a users location. You can also add a tint to the screen and get it to automatically adjust the brightness.
The system is very customizable, meaning you can have light or dark themes together with higher or lower brightness and the tint turned on or off.
What's Next for Android N?
Of course as Google itself points out, the features included in the first Android N preview are far from everything Google is going to roll out as part of Android N, with new features set to be added each month and much more detail likely to be revealed at the company's developer conference, Google I/O, in May.
© Copyright IBTimes 2023. All rights reserved.
FOLLOW MORE IBT NEWS ON THE BELOW CHANNELS