Angelina Jolie Trying To Take Down Brad Pitt? Sources Claims She's 'Running A Smear Campaign'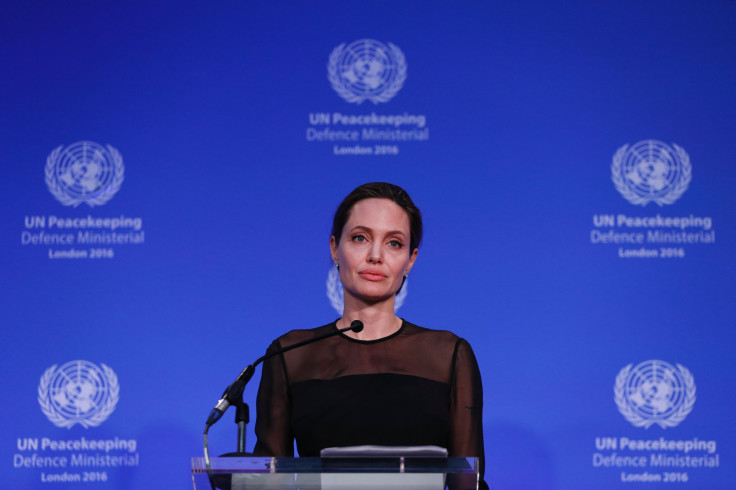 Things are getting ugly between estranged husband and wife Angelina Jolie and Brad Pitt. The pair are believed to be preparing to battle it out over custody of their six children and now, sources claim that may just be the tip of the iceberg.
Unnamed members of the "Malificent" star's social circle are suggesting that Jolie, 41, has an arsenal of attacks to launch on Pitt. Those close to her are said to be "running a smear campaign" against him. According to Us Weekly, all negative claims in the media about the Oklahoma native were intentional. Jolie reportedly hopes the stories will discredit Pitt, 52.
The publication was also able to touch base with a source close to the "War Machine" actor who addressed the controversy. Pitt's anonymous friend told Us that Pitt did go off on son Maddox, 15, on a plane, adding that the incident may have served as the last straw in an already broken relationship. Although the source claims the actor did publicly scold one of his children, he is not thought to have been abusive. Jolie is believed to be using the situation as leverage in their custody battle.
"Angie says she is going to destroy him," one source told the publication. "If something is broken she just throws it away."
Jolie and Pitt's divorce has drawn the eyes of nearly every major publication. With so much buzz, the public's focus has been taken away from the extensive acting careers of both celebrities involved. Pitt addressed this issue in a statement released to Access Hollywood on Tuesday. In it, he announced that he would be skipping the premiere of his latest movie, "Voyage of Time," to allow him to focus on his family and avoid taking any shine away from the project.
"[Filmmaker] Terrence [Malick]'s 'Voyage of Time' is an incredibly beautiful and unique experimental IMAX film for children and families chronicling the birth of time," Pitt said. "I'm very grateful to be part of such a fascinating and educational project, but I'm currently focused on my family situation and don't want to distract attention away from this extraordinary film, which I encourage everyone to see."
Pitt did not touch on allegations that he was abusive toward his six children during his marriage to Jolie. In a statement released last week, the FBI announced that it planned on "continuing to gather facts and will evaluate whether an investigation at the federal level will be pursued." The aforementioned plane incident is currently the only instance of alleged abuse that has been made public.
© Copyright IBTimes 2022. All rights reserved.
FOLLOW MORE IBT NEWS ON THE BELOW CHANNELS