'Aoashi' Episode 5 Live Stream Details: How To Watch Online, Spoilers
KEY POINTS
"Aoashi" Episode 5 is airing Saturday
The episode will be out on Crunchyroll
The anime is based on Yugo Kobayashi's original work
Noriko feels her son Ashito is moving away from her because of soccer. The new episode is titled "Orange Scenery."
The official website has released the spoiler stills and synopsis of "Aoashi" Episode 5. Ashito is waiting for the letter that will confirm his selection after the trials. Meanwhile, he stays in his hometown of Ehime.
His friends are happy for him, but Noriko is feeling lonely. Hana talks to Ashito and the latter wants Hana to have a word with his mother before he comes to Tokyo.
In the previous episode, Ashito managed to score a goal against the Esperion youth team. After the match, Fukuda and the other coaches interviewed him.
They wanted to know what was going on in Ashito's mind when he scored the last goal of the match.
"While the candidates are overwhelmed by the youth team, Fukuda rubs salt into the wound by telling them a piece of information. Unable to recover from the shock, the candidate team allows more goals to the youth team, making it a one-sided match," the synopsis of "Aoashi" Episode 4 read, as per Crunchyroll.
"While his teammates feel completely beaten and lose their fighting spirit, Ashito, still feeling the pain from Akutsu's attack, starts to lose his will to fight," the summary continued.
The cast of the anime includes Junya Enoki as Yuma Motoki, Kentaro Kumagai as Ryuichi Takeshima, Kouki Ohsuzu as Ashito Aoi, Seiichiro Yamashita as Soichiro Tachibana, Shun Horie as Kanpei Kuroda, Taku Yashiro as Keiji Togashi, Tatsumaru Tachibana as Eisaku Ōtomo, Wataru Katō as Martis Jun Asari, Makoto Furukawa as Eita Takasugi, Mie Sonozaki as Noriko Aoi, Mikako Komatsu as Aoi Kaneko, Reina Ueda as Anri Kaidō, Shunsuke Takeuchi as Nagisa Akutsu, Yoshiki Nakajima as Shun Aoi and Yuichiro Umehara as Haruhisa Kuribayashi.
"Aoashi" anime is based on the original work by Yugo Kobayashi.
The opening theme of the anime, "Mushin Hakusu," is performed by Alexandros. The closing theme song, titled "Blue Diary," is by Rinne.
"Aoashi" Episode 5 is set to air Saturday. Fans in the U.S. can watch the episode on Crunchyroll. The episode will stream in Japanese with English subtitles.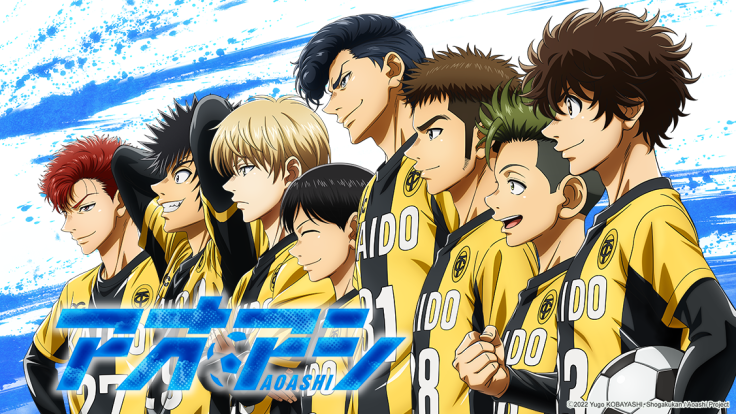 © Copyright IBTimes 2023. All rights reserved.