'Aoashi' Episode 7 Live Stream Details: How To Watch Online [Spoilers]
KEY POINTS
"Aoashi" Episode 7 is airing Saturday
The episode will stream on Crunchyroll
The anime is based on Yugo Kobayashi's original story
Fukuda makes a special announcement on the day of the Tokyo City Esperion FC youth joining ceremony in "Aoashi" Episode 7. The new episode is titled "The First Youth Match."
The official synopsis, promo trailer and spoiler stills of "Aoashi" Episode 7 are out now. Fukuda announces that a player who will showcase great promise has the chance of getting promoted to Youth Team A immediately.
Ashito is excited and aims to get a spot in Youth Team A in order to become a professional footballer as soon as possible. He is in a good position and shape but it remains to be seen if he can make a mark and grab the spot.
In the previous episode, Ashito was touched by Noriko's support. He headed back to Tokyo to join Tokyo City Esperion. He was selected as one of the players who will be part of the prestigious club.
"Heartened by Noriko's support, Ashito sets his foot in Tokyo City Esperion once again. A couple of Esperion fans speak to him before he is reunited with Ohtomo and Tachibana. Yuma and Asari, who are promoted from the junior youth, join them at the dorm, but one new member hasn't shown up," read the official synopsis of "Aoashi" Episode 6, according to Crunchyroll.
The cast of the anime includes Junya Enoki as Yuma Motoki, Kentaro Kumagai as Ryuichi Takeshima, Kouki Ohsuzu as Ashito Aoi, Seiichiro Yamashita as Soichiro Tachibana, Shun Horie as Kanpei Kuroda, Taku Yashiro as Keiji Togashi, Tatsumaru Tachibana as Eisaku Ōtomo, Wataru Katō as Martis Jun Asari, Makoto Furukawa as Eita Takasugi, Mie Sonozaki as Noriko Aoi, Mikako Komatsu as Aoi Kaneko, Reina Ueda as Anri Kaidō, Shunsuke Takeuchi as Nagisa Akutsu, Yoshiki Nakajima as Shun Aoi and Yuichiro Umehara as Haruhisa Kuribayashi.
"Aoashi" anime is based on the original work by Yugo Kobayashi.
The opening theme of the anime, "Mushin Hakusu," is performed by Alexandros. The closing theme song, titled "Blue Diary," is by Rinne.
"Aoashi" Episode 7 is set to air Saturday. Fans in the U.S. can watch the episode on Crunchyroll. The episode will stream in Japanese with English subtitles.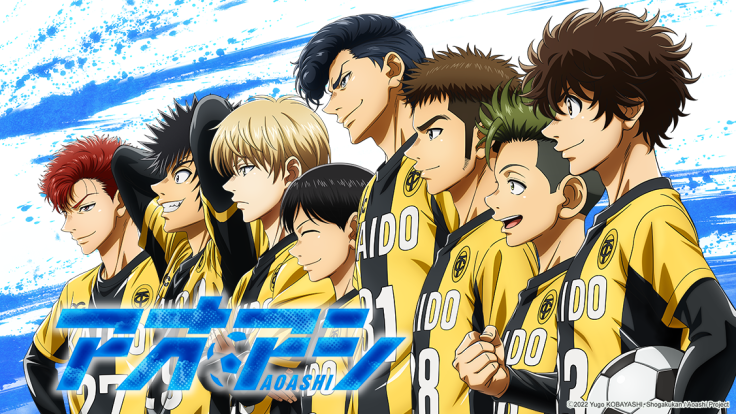 © Copyright IBTimes 2023. All rights reserved.