'Apex Legends' Leak: New Legend Named Crypto Could Be Coming In Season 2
Respawn Entertainment, the developer of "Apex Legends," has already confirmed that Wattson, a character who wields electric barriers, will be the new Legend to arrive once Season 2 rolls in, however, recent leaks hint that a second hero named Crypto could also be on the way.
Earlier this month, Reddit user /FrozenFroh shared a popular theory on the "Apex Legends" subreddit about how the start of Season 2 may include a teaser for Crypto, and that the character's actions could have a huge impact on the game's overall story. /FrozenFroh is the same Reddit user who accurately predicted L-STAR, Wattson, and the present of Flyers and Leviathans in his March post.
/FrozenFroh referenced leaked information from "Apex Legends" data-miner, @That1MiningGuy or /Dremurer and said that "Crypto's teaser file was added in the Legendary Hunt update" that was released in early June. The going theory, as of the moment, is that Crypto is the character featured in the Pathfinder concept art for the game. In the concept art, it looks like Crypto is set to be a sword-wielding hacker. His hacking abilities will include jamming enemy abilities.
If the details surrounding his abilities are true, then Crypto's abilities would probably function like a fusion between Sombra and Genji from "Overwatch," meaning a sword-wielding legend who also happens to be an elite hacker capable of disrupting his enemies.
The teaser in the game files looks to be related to a laptop found near the repulser, leading /FrozenFroh to conclude that come the start of "Apex Legends" Season 3, Crypto will use his hacking skills to shut down the repulser on the island, therefore allowing giant Leviathans and the Flyers to attack the island directly.
Here is some background on Crypto:
He is the Korean guy that shows up in Pathfinder's background art
Also, the guy whose sword is in the S2 Logo
And the guy whose other data-mined abilities involve JAMMING from stopping Pathfinder's maphacks to stopping Bloodhound's Sonar ability. (While also warning himself that BH just tried to use it)
The Reddit user wrote in his post: "This man is basically a tech geek. So what is the point of explaining his JAM ability? Well duh, why else would he have his laptop in Front of Repulsor?? He is gonna JAM the Repulsor, and in fact, we think we found his Laptop Screen. which is a lot of numbers I'm yet to figure out and translate (Chinese worked somewhat?)."
"And with that, Flyers and Leviathans will finally enter the map, it won't be a bomb or a cannon to take down the Repulsor, it'll be Leviathan 002 because it simply isn't working anymore and the big space cow doesn't give a [expletive] about what is in her way," he continued.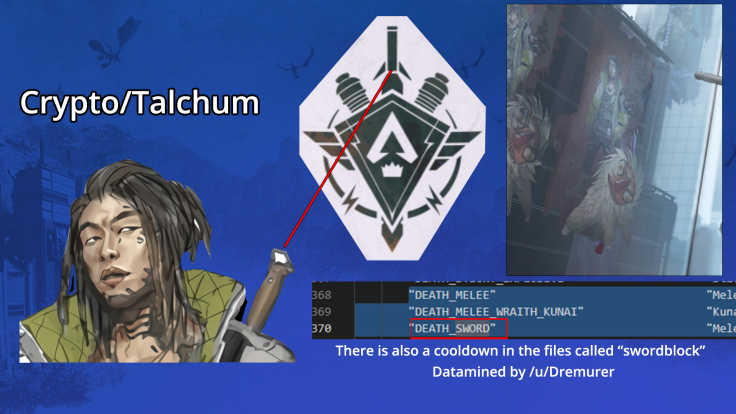 © Copyright IBTimes 2023. All rights reserved.