Apple Is Buying Fewer Samsung Chips For iPhone 6 And That's A Problem For Samsung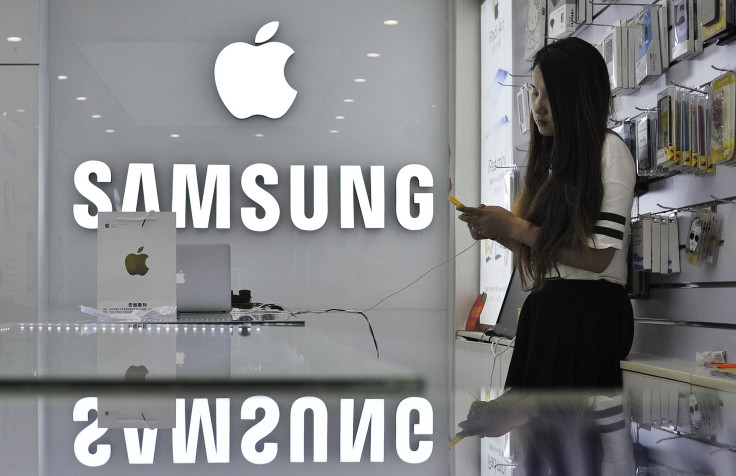 Apple's iPhone 6 and 6 Plus are sure to have a big impact on Samsung Electronics Co. Ltd., but not in the way you might think. That's because Samsung not only competes against Apple with its Galaxy S5 and Note 3 but also produces the A-series chips that make Apple smartphones run.
But teardowns performed on Apple's iPhone 6 and 6 Plus revealed that Apple is tapping a much wider number of chipmakers for its smartphones, which is bad news for Samsung. "Will it hurt Samsung? No doubt about it," Roger Entner, mobile analyst at Recon Analytics, said.
In Ottawa, Ontario-based Chipworks' initial findings, there were fewer Samsung components to be found in the iPhone 6 and 6 Plus units torn down by the company.
"The only Samsung device so far was the DRAM module on one of the many 6 and 6 plus units we purchased," Jim Morrison, Chipworks' vice president of competitive technical intelligence, said. "All other phones had DRAM from Micron and Hynix." That's not entirely surprising since Apple tends to multi-source its parts where possible.
But unlike previous iPhone models where Samsung was tasked with manufacturing A-series processors, Taiwan Semiconductor Manufacturing Co. (TSMC) has reportedly taken lead with the A8's production. "IHS believes that Apple now is splitting its orders for the A8 processor between semiconductor foundry Taiwan Semiconductor Manufacturing Co. Ltd. (TSMC) and Samsung," IHS wrote.
The shift at Apple helps explain a series of lackluster quarters in part due to weakening demand for Samsung-manufactured chips. In past years, a 10 million-iPhone order from iPhone would mean 10 million chips from Samsung, but that won't be the case this time. Samsung acknowledged weakness in its chip business in July. "System LSI business is expected to remain weak due to continued low demand from customers," Samsung head of investor relations, Robert Yi, said.
Analysts are forecasting another tough quarter ahead for Samsung, with firms dropping their profit estimates to an average of 4 trillion won ($3.85 billion), down from the 7.5 trillion won estimates in August, according to Yonhap news.
Samsung's semiconductor business consisted of 18.6 percent (9.78 trillion won) of sales last quarter, up 5 percent from the previous year. The division accounted for 25.8 percent of Samsung's operating profit.
While Apple is unlikely to drop Samsung completely as a part supplier, at least for its RAM modules, the company's profits could continue to suffer as Apple diversifies its supply chain.
"I think Apple is hedging like they should," Morrison said. "Apple always wants to multi-source when they can. It helps them drive prices down."
Fortunately for Samsung, it has taken time for Apple to diversify its chip suppliers because the components themselves are highly specialized. Diversification takes some time, and that's what we're seeing. "It's for the good of Samsung that [diversification] hasn't happened as quickly," Entner said. "It gives them a buffer."
But Samsung has the potential to make up some lost ground while Apple continues to wait for government approval for iPhone 6 sales in China. Prompted by Apple's 10 million iPhone 6 and iPhone 6 Plus sales in the first week after launch, Samsung has accelerated its launch plans for the Galaxy Note 4 phablet in the country by several weeks.
© Copyright IBTimes 2023. All rights reserved.