Apple Goes Red For Black Friday: App And Product Sales Raise Money For World AIDS Day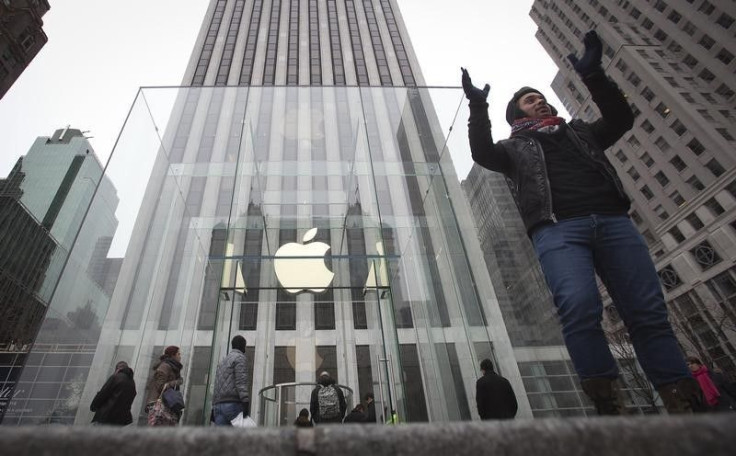 Apple's going red for Black Friday again. As part of its promotion for World AIDS Day, the tech giant will donate a portion of its Black Friday and Cyber Monday sales to the Global Fund to Fight AIDS.
App developers have also joined in the promotion this year by turning their respective apps (RED) in the App Store. Every time a user purchases one of the participating apps or a special in-app item between Nov. 24 and Dec. 7, the proceeds from that purchase will directly support the Global Fund. World AIDS Day this year is Dec. 1.
Among the 25 apps participating in Apple's (RED) promotion are "Threes," "Puzzles & Dragons," Djay 2, Garageband, "Angry Birds" and Bubble Witch Saga 2. In-app purchases that go toward the promotion include a bag of red gems from "Clash of Clans," a special RED-themed "Monument Valley" expansion, Garageband audio samples, and many more.
On Black Friday, Apple customers shopping at its online and retail stores will receive a special-edition RED iTunes gift card, and a portion of the sales will also go to the fund.
"For eight years, our customers have been helping fight AIDS in Africa by funding life-saving treatments that are having a profoundly positive impact," Apple CEO Tim Cook said in a press release. "This year we are launching our biggest fundraising push yet with the participation of Apple's retail and online stores, and some of the brightest minds in the App Store are lending their talents to the effort as well."
Here's a list of the 25 apps participating in Apple's RED promotion, as well as their special features:
Angry Birds ($0.99): Users can purchase special-edition RED Mighty Feathers and play a bonus golden egg level.
Bubble Witch 2 Saga (Free): New Product RED levels were added to 17 episodes of the game and gold bar currency purchases will be donated to the Global Fund.
CSR Racing (Free): Users can purchase and drive a virtual Mercedes-Benz-AMG GT.
Clash of Clans (Free): Special RED edition gems can be purchased and a special Product RED badge can be displayed on a user's Town Hall.
Clear ($4.99): Purchases of the productivity and reminder app will include a new Product RED theme.
Cut the Rope 2 ($2.99): Users can purchase a number of Product RED items, including a new red hat, red touch print, red balloons and a red ginger cookie.
Despicable Me: Minion Rush (Free): A new lifeguard minion can help players boost their banana-collecting ability by 200 percent.
DJay 2 ($2.99): Red turntables and a special sound pack are included with purchase.
FarmVille 2: Country Escape (Free): Players can roll out a RED carpet and purchase limited items such as the Cozy Cow and St. Bernard.
FIFA 15 Ultimate Team (Free): Players can compete in a RED Tournament and Team of the Week event and all winners will be awarded soccer superstar Rafa Marquez.
Frozen Free Fall (Free): The update includes a new RED Challenge and offers a bundle of 1 power-up, 1 snowball and 3 lives.
GarageBand ($4.99): Users can purchase a collection of 300 guitar, synth, bass and drum loops.
Kim Kardashian: Hollywood (Free): Users can purchases special in-app items such as virtual Beats headphones.
Heads Up! (Free): A new deck featuring (RED) words has been added to the guessing game.
The Human Body ($2.99): A new Immune System feature educates users on how the body fights pathogens. And an accompanying handbook features a section on HIV/AIDS.
Kitchen Stories Recipes (Free): The virtual cookbook is offering a special-edition holiday recipe pack, featuring dishes from chefs Mario Batali, Martha Stewart, Luke Holden and Michael Lomonaco.
Monument Valley ($3.99): A new chapter has been included the game as its final new feature.
Over (Free): Customers have access to special Product RED fonts and artwork. Users can share photos with the (RED) brackets overlay to help spread awareness.
Paper by FiftyThree (Free): Users can purchase a special essentials pack, which includes Sketch, Outline, Write, Color and Mixer tools.
Puzzle & Dragons (Free): Players can purchase special Product RED magic stones.
Rayman Fiesta Run ($2.99): Players can play the special RED edition of the game and purchase three new costumes for Rayman, Globox and Teensy characters.
Star Walk 2 ($2.99): Following the RED theme, users can learn more about Mars with a new RED Planet feature.
Sims FreePlay (Free): A special community challenge can unlock various rewards. Players can purchase limited-edition Product RED items such as a swimming pool, party plane and piñata.
Threes! ($2.99): The numbers game has turned red with a new Product RED theme.
Toca Boca ($0.99): Toca Town goes red with special diamonds, red ice cream and other features.
The promotion will conclude Dec. 1.
© Copyright IBTimes 2023. All rights reserved.
FOLLOW MORE IBT NEWS ON THE BELOW CHANNELS