Apple Inc. Targets China With iOS 9, But How Closely Is It Cooperating With Chinese Authorities?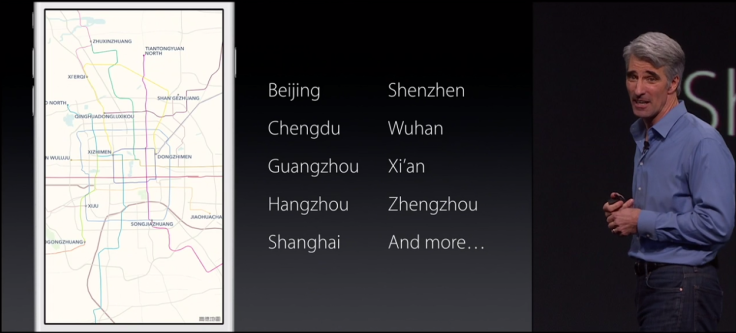 Blink and you'll miss it: Apple's upcoming software releases are set to make a serious play for China as the company looks to solidify its position as the country's most popular smartphone manufacturer.
Starting with iOS 9 and OS X El Capitan, Chinese characters will render better on-screen. On the Mac, Apple is replacing the system font with newly developed PingFang, 50,000 characters that the company says have been designed for "a modern appearance and crisp onscreen readability in both Traditional and Simplified Chinese."
In addition, Apple's new operating systems will do a better job auto-completing Chinese words with constantly-improving vocabulary lists. Users with trackpads have been able to write individual characters since 2009's OS X Snow Leopard, but now users can write more naturally with multiple characters.
With iOS 9, Apple is including transit maps that will tell users which subway exit to use and how stations are laid out. Outside of China, the service will launch in 10 cities, but inside China over 300 cities will supported from day one. Chengdu, Guangzhou, Shanghai and Beijing join an unreleased list of cities whose iPhone owners will be able to ask Siri, in Cantonese or Mandarin, to map out their journey on-the-go.
The detail of the maps indicate Apple is cooperating on some level with the Chinese government, said Xiao Qiang, director of the China Internet Project. "They apparently work very closely with the government agencies to extend their Chinese market, and that particular access to databases and information is part of the co-operation," he said.
An Apple rep wasn't able to comment at the time of publication.
The New No. 1
The new features follow a series of successes for Apple in China. Research firm IDC showed that in the first quarter of 2015, Apple shipped 14.5 million iPhones, beating competitors Xiaomi and Huawei. China is now Apple's largest iPhone market, and in second quarter 2015 Apple reported $16.8 billion in revenue from China iPhone sales, a 71 percent revenue growth year over year.
Apple aims to have 40 stores operating in China by the end of the year. Its first Hangzhou store, which opened in January, has a 15-meter high glass front and is one of Apple's largest stores in Asia. A second store in Hangzhou opened in April. Indeed, Apple CEO Tim Cook has long predicted that China would become Apple's largest market.
Privacy Fears
But Xiao sees this expansion as not without its issues. While Apple prizes its security features like FileVault and Activation Lock, Apple is no doubt being asked to comply with local laws. "China has drafted a law that demands all the foreign companies give their encryption key to the government," he said. "That law has not been passed yet, but if it does, that means Apple has to turn over its encryption keys."
"They are actively extending their Chinese market, working with the Chinese government on the commercial side, but it's the same government on the political side that's suppressing their potential customers," Xiao said. "That is their dilemma, and that is the reality of their Chinese market."
© Copyright IBTimes 2022. All rights reserved.
FOLLOW MORE IBT NEWS ON THE BELOW CHANNELS