Apple Inc.'s iPhone 6 Bumps Xiaomi To Second Place In China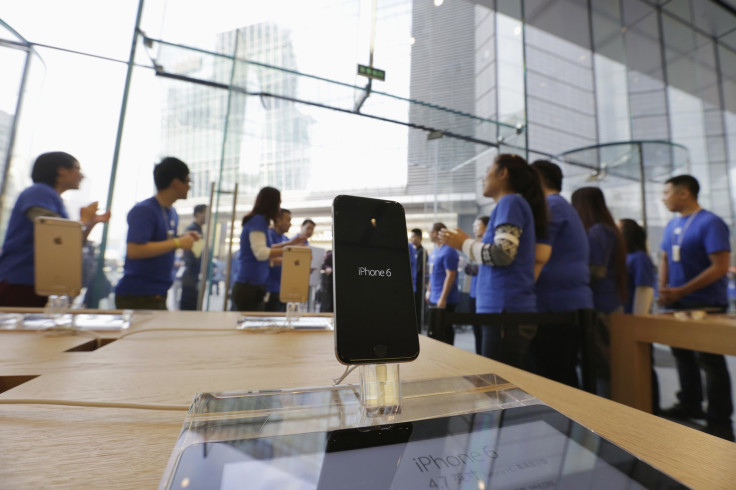 Sales of Apple's latest iPhones in China are showing no sign of slowing down. Riding a wave of strong demand from customers through Chinese New Year, Apple's iOS has continued its streak, accounting for over a quarter of smartphones recently shipped in the country, according to data released Thursday by Kantar WorldPanel ComTech.
Behind Apple's success in the People's Republic is strong demand for its iPhone 6 and 6 Plus, the largest-screen smartphones ever released by Apple. It's a strategy that has paid off, as iOS continued to eat away share from Android manufacturers such as Xiaomi, Huawei and Samsung in the three months ended Feb. 28.
For the period, Apple's iPhone 6 and 6 Plus helped bring iOS' share in China to 27.6 percent, up 9.7 percent from the same period in the previous year. Most of those gains came at the expense of Android's manufacturer share, which fell 9.4 percent to 70.9 percent.
In China, Apple's iPhone 6 remained the top-selling phone, carrying 10.2 percent of smartphone share, followed by the Xiaomi RedMi Note in second place and the iPhone 6 Plus in third. The demand for Apple's larger iPhones as well as some of its older models in China has resulted in Apple's taking the No. 1 spot among smartphone manufacturers in the country, bumping Xiaomi down to the No. 2 spot.
As for Samsung, the South Korean company has fallen down to the No. 4 slot -- down one position year-on-year -- with Huawei taking third place. That's largely due to the increased competition from Android manufacturers at the low end. "China-specific, Samsung in reality has been struggling in that market compared to others," said Carolina Milanesi, chief of research at Kantar Worldpanel ComTech. "It's difficult for them to compete with white box vendors."
It's a trend that has cost Samsung in 2014, with falling smartphone sales and declining profits. Going into 2015, Samsung is taking a different approach with its Galaxy S6. It hopes the new device will attract customers, with its focus on high-end features such as a metal casing and glass back.
Across Europe, Android's share continued its slide, falling 2.9 percent to 67.6 percent year-on-year, with iOS gaining the same amount of share.
For the most part, Apple's iOS continued to see gains in most countries, with the exception of two. In the U.S., iOS saw a slight dip of half a percent, dropping to 38.8 percent. In Japan it saw a bigger dip, falling 5.1 percent, cutting its share to just under half of the Japanese smartphone sales.
The Chinese market has continued to be of big interest to Apple, accounting for $16.1 billion of its $74.6 billion in total revenue for its fiscal 2015 first quarter.
The company has rapidly expanded its retail presence in the country to 21 stores, and it plans to have 40 by mid-2016, Apple CEO Tim Cook said in March. Apple's marketing reach in the country has grown in preparation for the April 24 launch of its Apple Watch, which has been featured in numerous Chinese fashion publications, including Vogue China, YOHO magazine and East Touch.
The company also is expected to expand the Apple Pay mobile payment system to China later this month, after Apple and China UnionPay were able to strike a deal, according to market research firm Kapron Asia.
© Copyright IBTimes 2023. All rights reserved.
FOLLOW MORE IBT NEWS ON THE BELOW CHANNELS