Apple iOS 5 stole the WWDC show (and ideas from Android, BlackBerry and Windows Phone 7)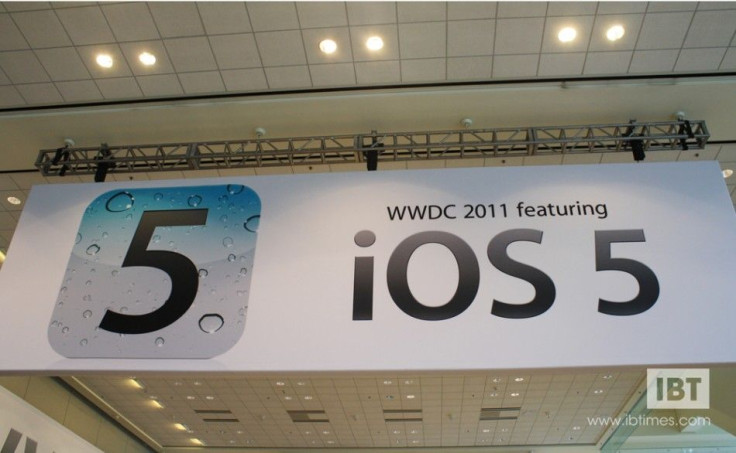 Apple, well-known for creating proprietary software, is probably running out of ideas these days as people have pointed out that many features in the new version of its mobile operating system - iOS 5 - launched earlier this month at the Worldwide Developers Conference (WWDC) 2011 were borrowed from other mobile OS such as Android, BlackBerry and even Windows Phone 7.
iOS 5 has been hailed by Apple as a major and "incredible" release for developers and customers alike. Apple boasted that it comes with 1500 new APIs and 200 new features and walked the audience through the top 10 features, some of which are:
Improved Notifications System - Scaled beautifully, the new push notifications system is no longer annoying or obtrusive and will be displayed on the lock screen together with stock and weather alerts.
News Stand - Similar to iBooks, News Stand will be dedicated to magazines and newspapers.
Improved Mobile Safari - The mobile web browser now comes with tabbed browsing feature even as the Safari Reader allows users to quickly save stories for later reading in the Reading List.
Reminders - The new Reminders app in iOS 5 now makes it possible to maintain multiple list and save them with dates to alert you. The Reminders has geolocation capabilities i.e. it can send reminders to user based on user location.
Camera – The camera can now be accessed faster as it gets a shortcut on the lock screen. To access, double tap the home button and then tap the camera icon. For taking photos, simply tap the volume up button. Other new camera features include crop and rotate, edit, red eye reduction, auto focus and auto exposure, and auto enhance (using iPhoto).
Mail – The new Mail feature in iOS 5 has seen some significant changes. It now comes with rich text formatting message flagging and draggable addresses. Now entire messages can also be searched.
There are also keyboard enhancements: Now it is possible to drag the keyboard up, split the keyboard (to make it more ergonomic). The size of the keyboard can also be reduced to facilitate thumb-typing.
PC Free Function – iOS 5 is "PC free" i.e. now there is no need to hook up mobile Apple devices with PC to access iTunes. iOS updates are now possible over the air. iTunes library can also be synced wirelessly via Wi-Fi. iTunes sync is now automatic and possible even while an iOS device is being charged.
Delta updates are also available i.e. software updates are now over the air and you can download only the necessary update and not the entire app/software.
iMessage – iMessage is perhaps the most important feature in iOS 5. The iMessage, which is only available to iOS users allows sending text and multimedia messages over Wi-Fi and 3G. It comes with read and delivery receipts and real time typing indication. The iMessages can be pushed out to all iOS devices a user owns, thereby allowing, for instance, the user to start a conversation in iPhone and continue the same on an iPad right where it was left off.
Unique features? Some of them, yes. But not all. Embarrassing as it may sound, Apple did not think twice before borrowing (or stealing?) the idea from rivals like Google, Research in Motion and Microsoft, and even individual app developers!!
Take for instance the iMessage feature in iOS 5. Though Research in Motion may have taken a hammering in recent days, it will be happy to know that the iMessage feature has been borrowed from BlackBerry Messenger (BBM). Besides the high encrypted BlackBerry email feature that is made available to BlackBerry users, BBM is another feature that have made BlackBerry fans swear by their device. Why? Because BBM gives its users a private messaging app that is exclusive only to BlackBerry users. BBM allows unlimited characters in its messages, shows the user when the recipient has received and viewed the messages and even shows whether the reader is responding to the messages. And, wonder of wonders, iMessage does the same!!
As for the split (ergonomic) keyboard feature, well, it may be new to Apple users but customization of the touchscreen keyboard is a feature which Android users have come to live with over the past several years. Maybe Apple finally realized how crampy the onscreen keyboard can be, especially in portrait mode?
And, perish the thought, Apple even didn't hesitate to borrow the idea of lockscreen camera function from Windows Phone 7. Windows Phone 7 OS not only has the same feature but also some extra ones. For instance, Windows Phone 7-based smartphone has a dedicated camera button that can wake up the smartphone from sleep mode and takes you directly to the camera. Wonder whether Apple will introduce that feature too very soon?
Meanwhile, Radu Tyrsina of nextiphonenews.com has also pointed out that Apple's iOS 5 could go down in history as the only mobile OS, many of whose features were borrowed from jailbroken apps.
Take, for instance, the 'new' Notification Center. The features on it are strikingly similar to Peter Hajas' MobileNotifier and with Android's notification system, Radu wrote. The new Notifications Center will collect missed calls, voicemails and text messages. It will also display notifications from the App Store. Hajas is well known as an app developer for jailbroken smartphones.
The lockscreen notification feature in iOS 5 is also similar to LockInfo or Smartscreen, which too was available in Cydia for a long time, he said.
Another idea Apple has borrowed (or stolen) is the use of volume control buttons to take photos when the iPhone is in lockscreen mode. Snappy is one of the first tweaks that offered this function and Apple realized its importance, therefore decided to integrate the feature in its iOS, Radu said.
What do you think? Is Apple running out of ideas? Do you know of any other similarity between iOS 5 and Android OS? Leave your comments below.
© Copyright IBTimes 2023. All rights reserved.