Apple iOS 7 Release: 21 New Features Explained In Photos
Apple introduced its latest mobile operating system at its keynote for the 2013 Worldwide Developers Conference on Monday, but even though rumors predicted iOS 7 would be a big visual change, nobody outside of Cupertino, Calif., was prepared for the massive makeover given to iOS 7 in both visuals and functional features. During the unveiling, the WWDC crowd cheered at various moments, and even offered a standing ovation at the end of the introductory video.
"True simplicity is derived from so much more than just the absence of clutter and ornamentation. It's about bringing order to complexity," Apple lead designer Jony Ive said in the iOS 7 video. "iOS 7 is a clear representation of these goals. It has a new structure that's coherent and applied across the entire system. We've considered the tiniest details, like refining the typography, like much larger ones to redefining all new icons, and creating a grid system to create a much more harmonious relationship between individual apps. We've also included a whole new palette of colors. Distinct, functional layers help create hierarchy and order, and the user of translucency gives you a sense of your context. These planes combined with new approaches to animation and motion, create a sense of depth and vitality."
While we've explained how some of the new features work, it's best to see iOS 7 in action. Check out these iOS 7 screenshots, which show off many of the system's new-look features and applications, and let us know what you think in the comments section at the bottom of the page.
1. iOS 7 - New Lock Screen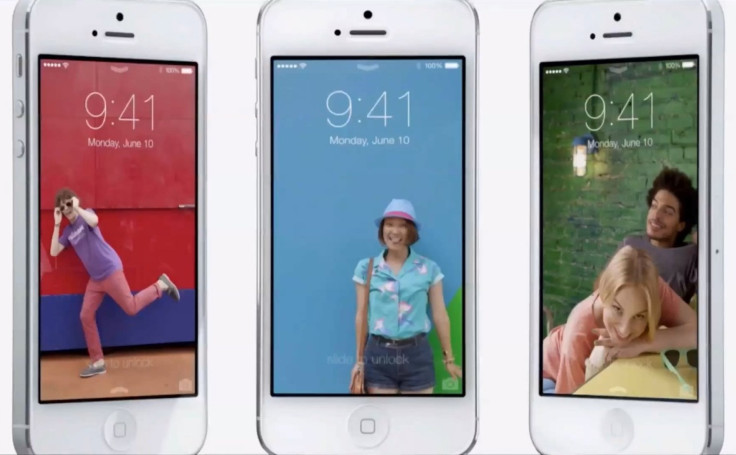 As Apple explains, the lock screens in iOS 7 take on the personality of your wallpaper.
2. iOS 7 - New Passcode Screen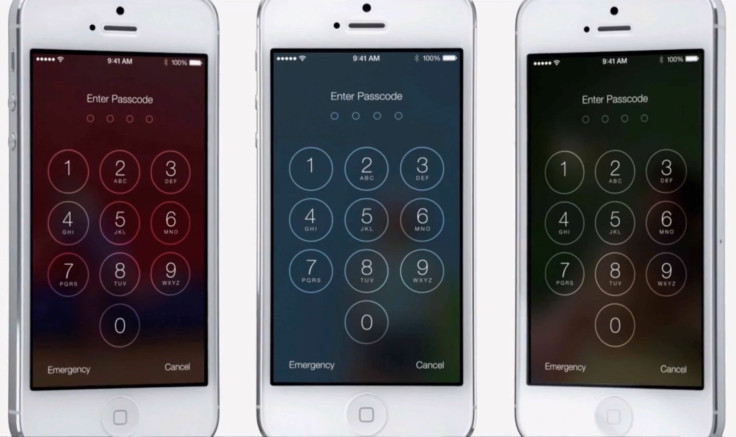 Similarly, the semi-translucent passcode screens in iOS 7 take on the personality of your wallpaper.
3. iOS 7 - New Home Screen with Redesigned Icons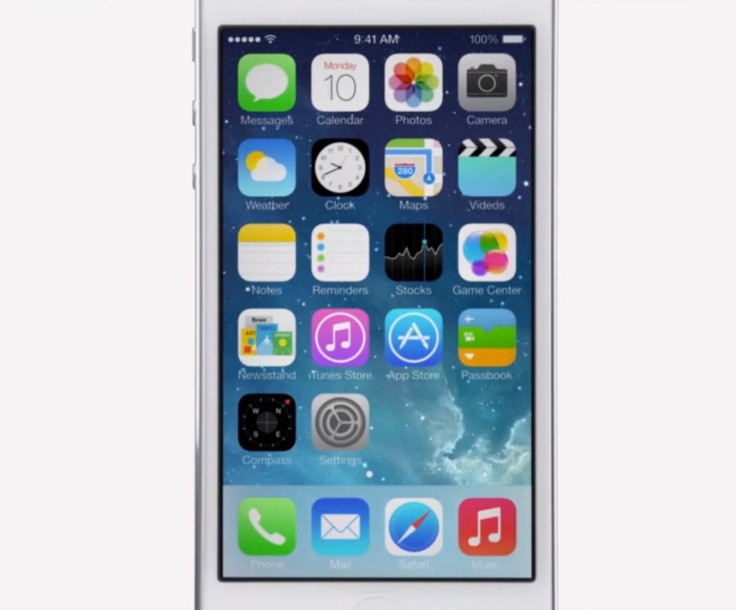 This is the new home screen in iOS 7. Apple redesigned all of its icons for this major update, including Mail, Settings, iTunes, Game Center, Photos, Safari and more.
4. iOS 7 - New Notification Center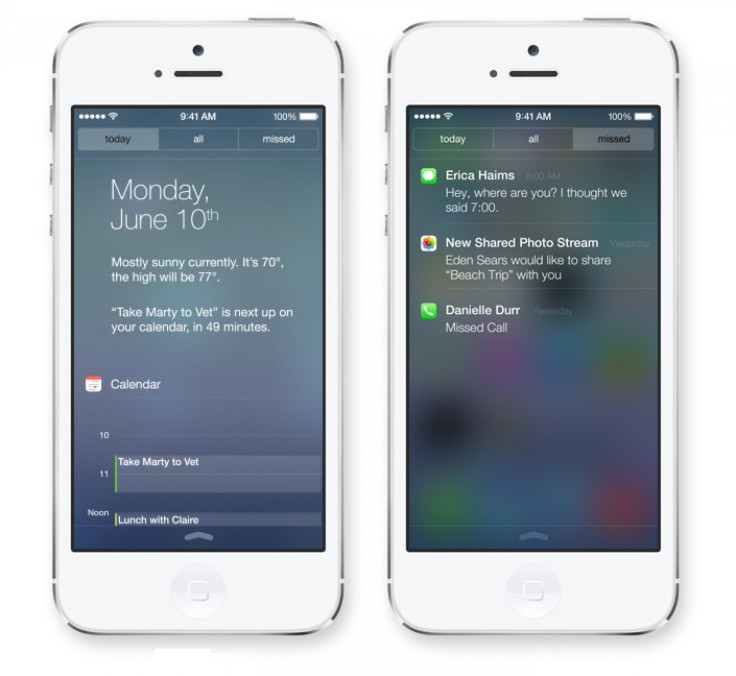 The new Notification Center in iOS 7, activated by swiping down from the top, shows all your missed notifications from all your applications, as well as a general digest of your day at the top.
5. iOS 7 - The Control Center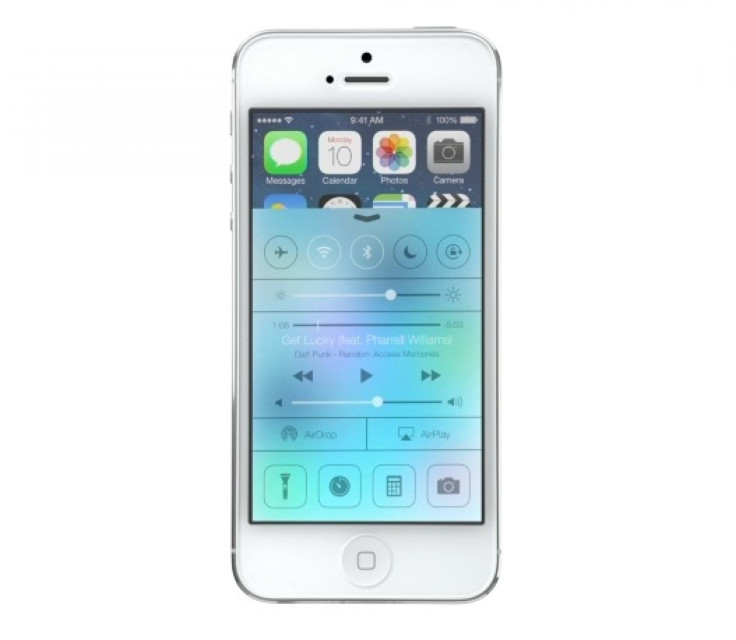 The Control Center, a new feature in iOS 7, gives users easy access to some of their primary settings, including Airplane Mode, WiFi, brightness, music, and more.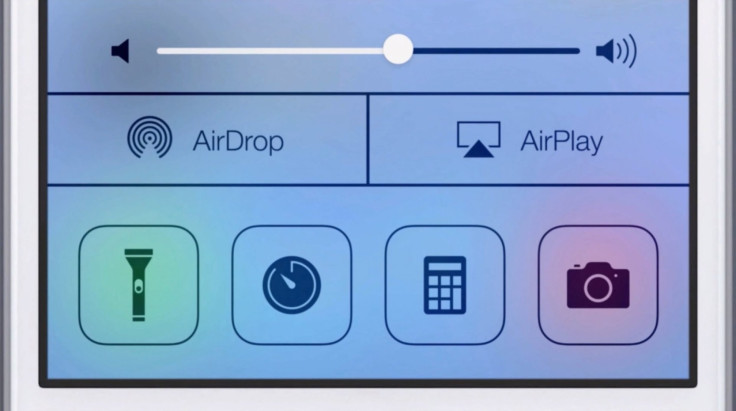 The Control Center in iOS 7 also gives the user control over the camera, calculator, AirPlay and AirDrop.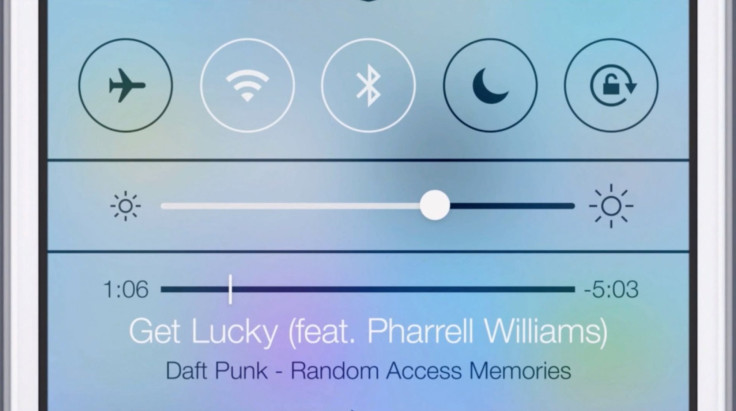 The top of the Control Center has easy toggle options for Bluetooth, WiFi, Airplane Mode and more.
6. iOS 7 - New Folder Design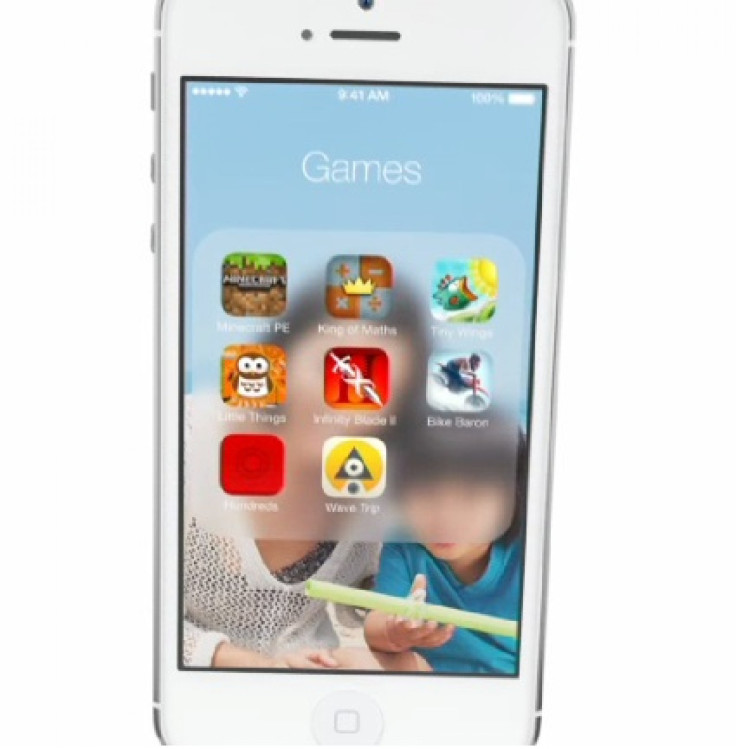 The new transparent folders in iOS 7 let users store as many apps as they'd like, so there's no need for multiple games folders, for example.
7. iOS 7 - New Phone App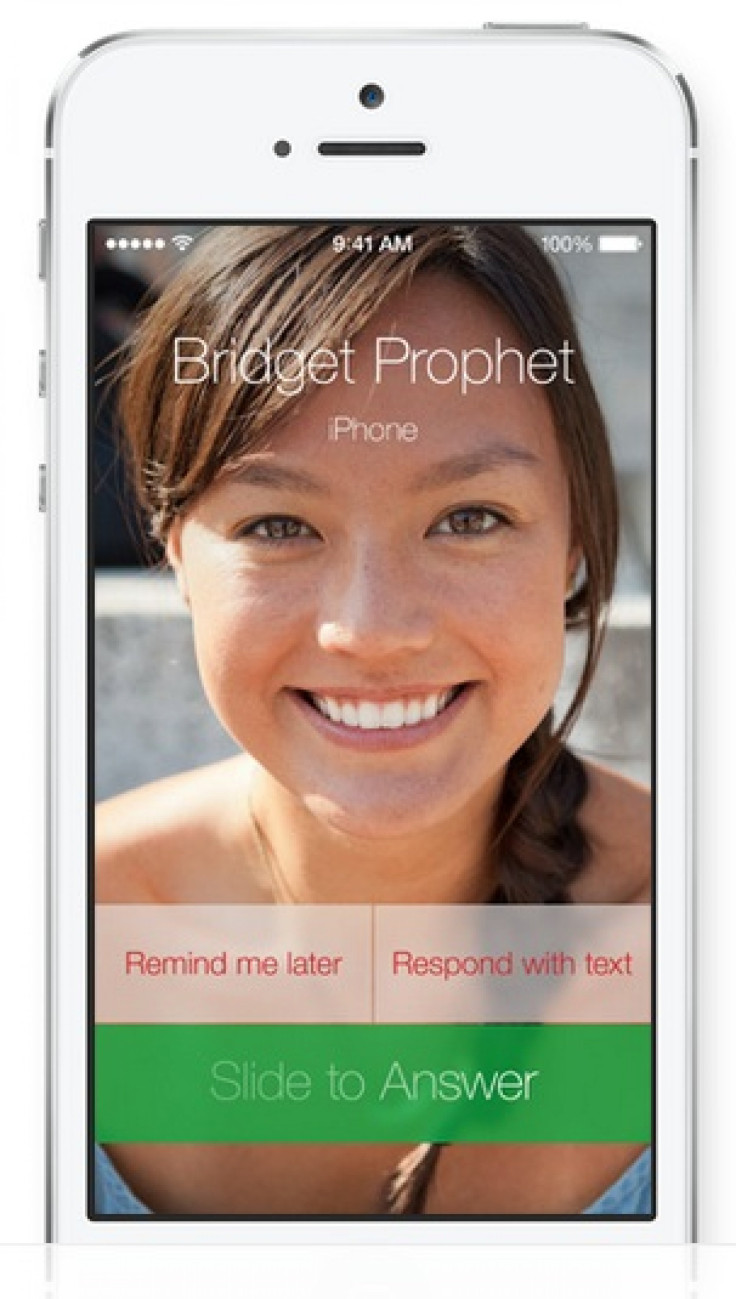 The phone app in iOS 7 has been simplified and redesigned with flatter colors and larger photos of your contacts that take up the whole screen, which could be scary when your boss calls.
8. iOS 7 - New Mail App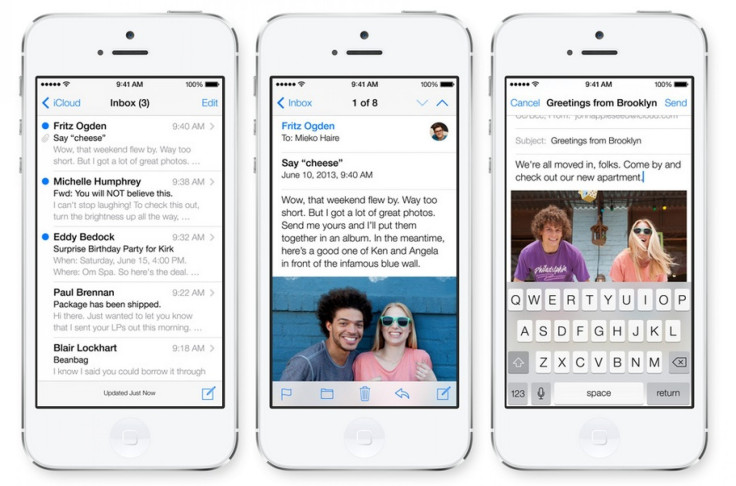 Mail in iOS 7 has been simplified and slightly redesigned. Users can swipe from the side of the screen to get to their full email folders, text has been refined and photos now reach the edges of the screen.
9. iOS 7 - New Calendar App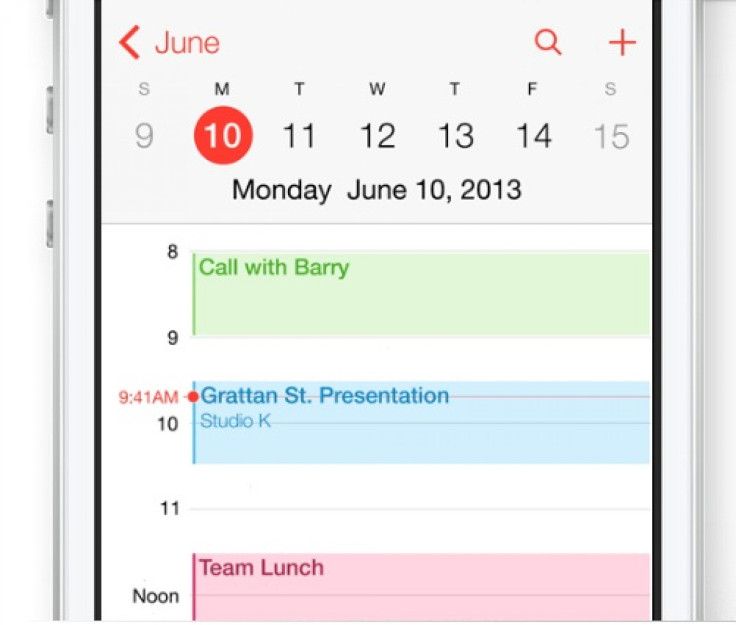 The calendar in Apple iOS 7 is much simpler than before. With a full month view, users can click on a day to see all of their appointments for that day, and edit them right on the spot.
10. iOS 7 - New Weather App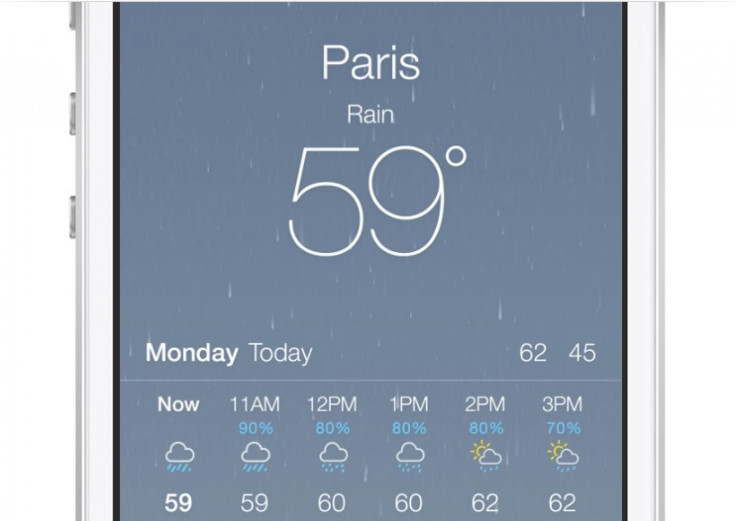 Weather has been completely redesigned for iOS 7. Gone are the static icons; iOS 7 features new weather animations that match the day, time, temperature and degree of precipitation. The Weather app in iOS 7 also gives you more information about the weather, including humidity.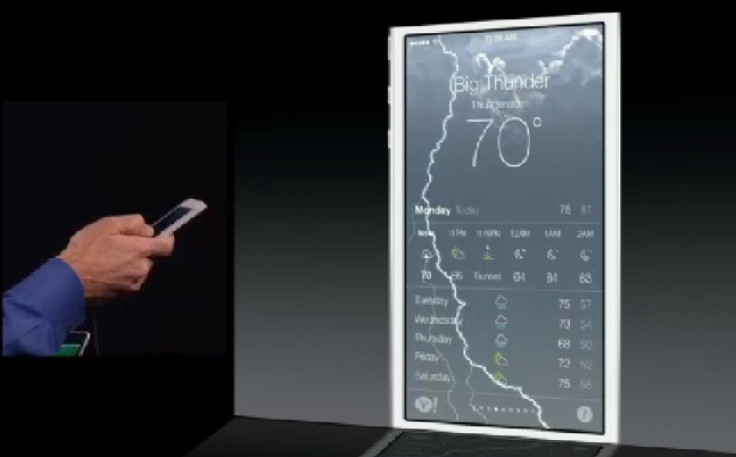 The Weather app fills the full screen of iOS 7, and the animations constantly change, which makes it very exciting in stormy weather.
11. iOS 7 - New Safari Browser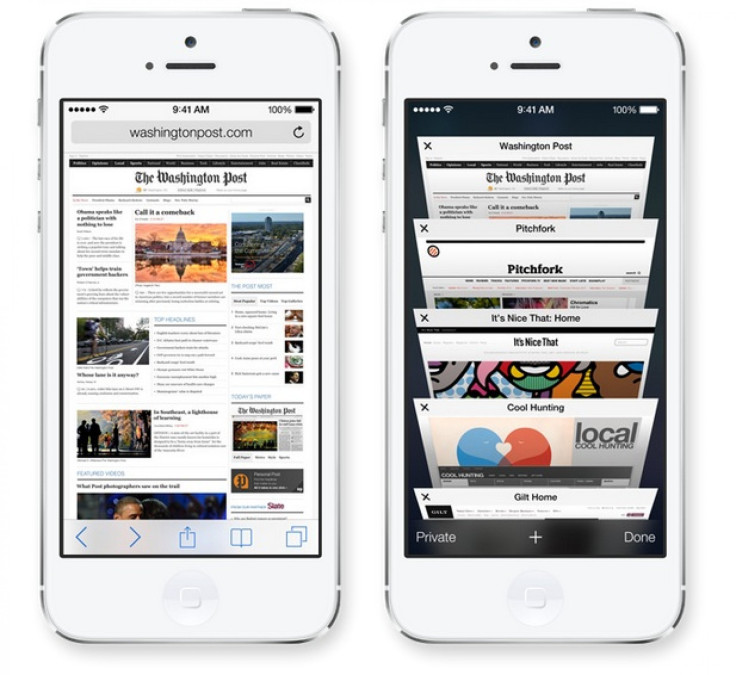 Apple's Safari web browser has been completely redesigned in iOS 7. The URL and search boxes have been unified into an omnibar for search, which was also redesigned, and users can now have unlimited tabs; in iOS 6 and prior versions, users could only keep up to 8 tabs.
12. iOS 7 - New, Better Multitasking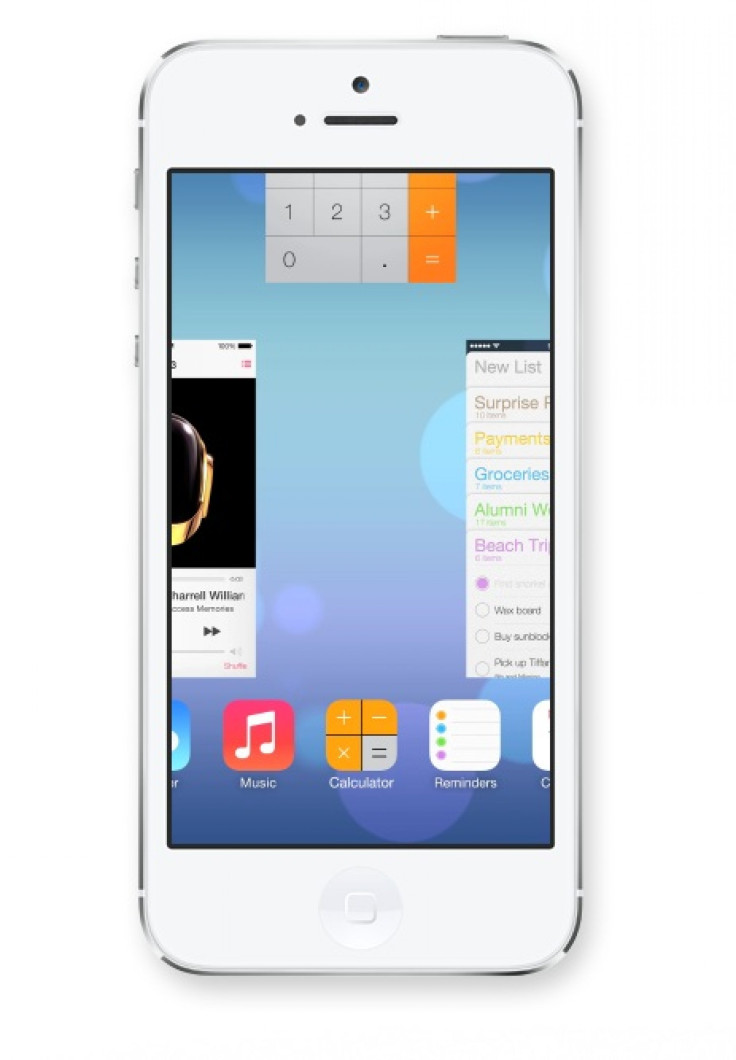 Apple made multitasking much better in iOS 7. Taking a cue from the jailbroken iOS 6, Apple has decided to let users see full previews of their open applications, and simply swipe up to close them.
13. iOS 7 - New iOS App Store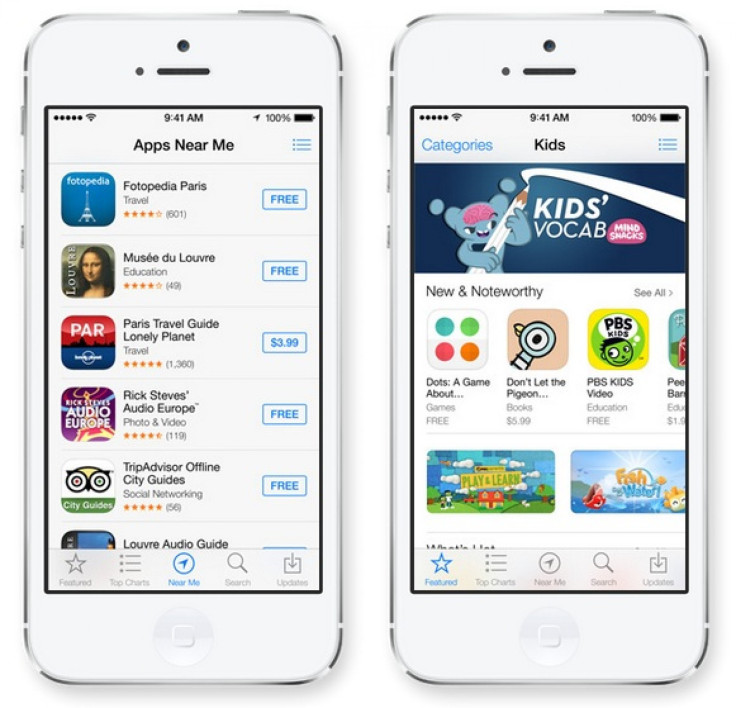 The iOS App Store is much cleaner in iOS 7, and Apple has even introduced new categories for age ranges, as well as a new category that changes dynamically based on your location, offering you apps for services around you.
14. iOS 7 - New Photos App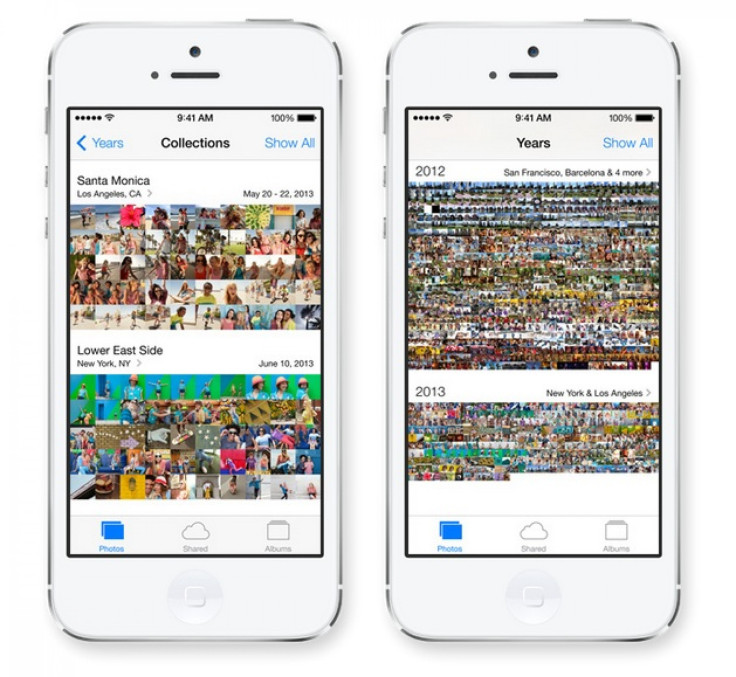 Photos in iOS 7 is now much better than before. Apple knows that users have tons of photos they don't want to scroll through, so iOS 7 organizes those photos based on date and location, and groups them together into moments. It's much easier to find and view individual photos, or see them all from afar.
15. iOS 7 - AirDrop on iOS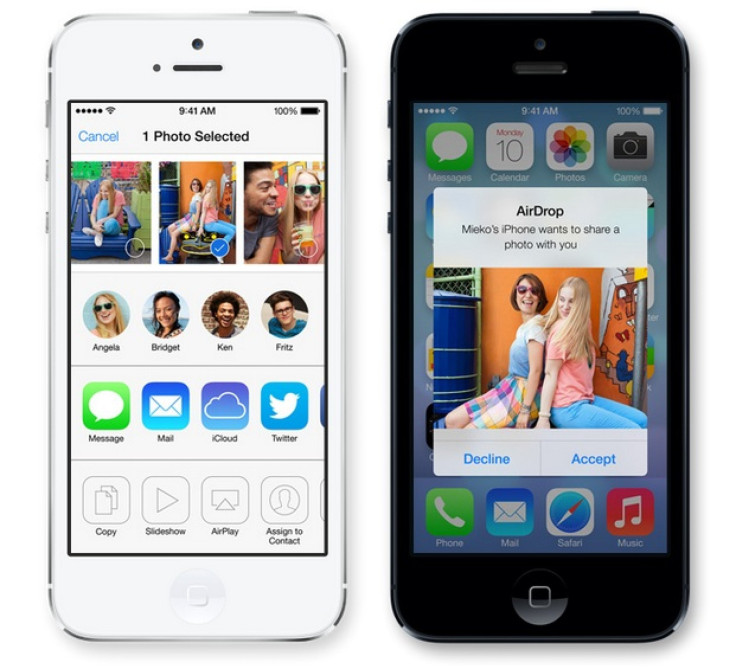 To share photos or documents with others around you, Air Drop in iOS 7 lets users easily see contacts and other users around them, and easily share information with a simple tap. Much better than having to tap someone's phone with yours.
16. iOS 7 - iTunes Radio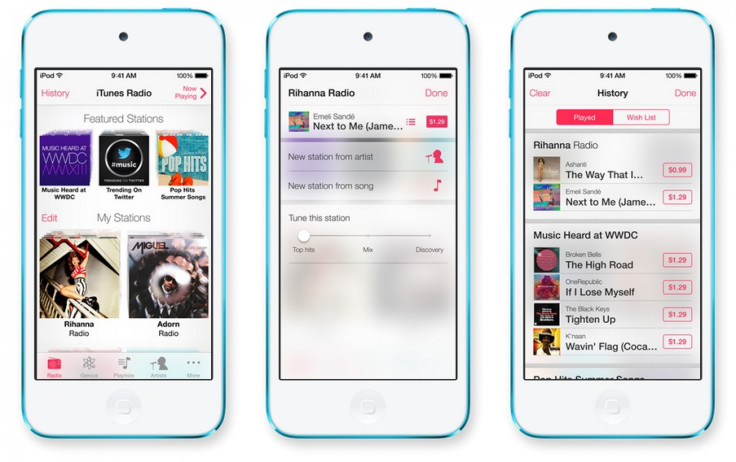 The redesigned iTunes app in iOS 7 includes a new feature called iTunes Radio, which is a new music streaming service that allows users to listen to, create and customize their own music stations. Users can also purchase any song they hear with just a simple tap.
17. iOS 7 - New Camera App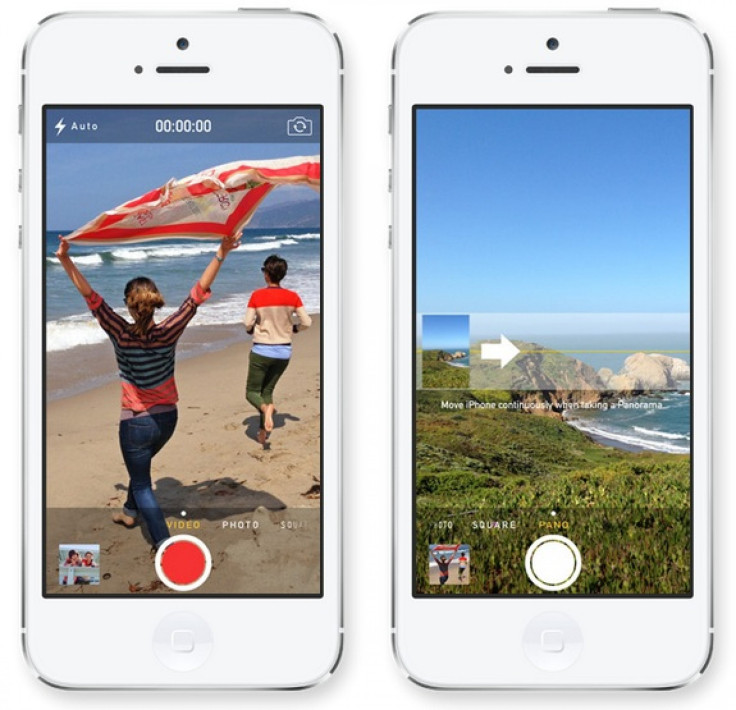 The redesigned camera app in iOS 7 allows users to easily switch between different camera modes, including photos, square photos, videos, and panoramas. iOS 7 also comes with photo filters built in, so users can snap photos with the filter they want instead of applying it later.
18. iOS 7 - New And Improved Siri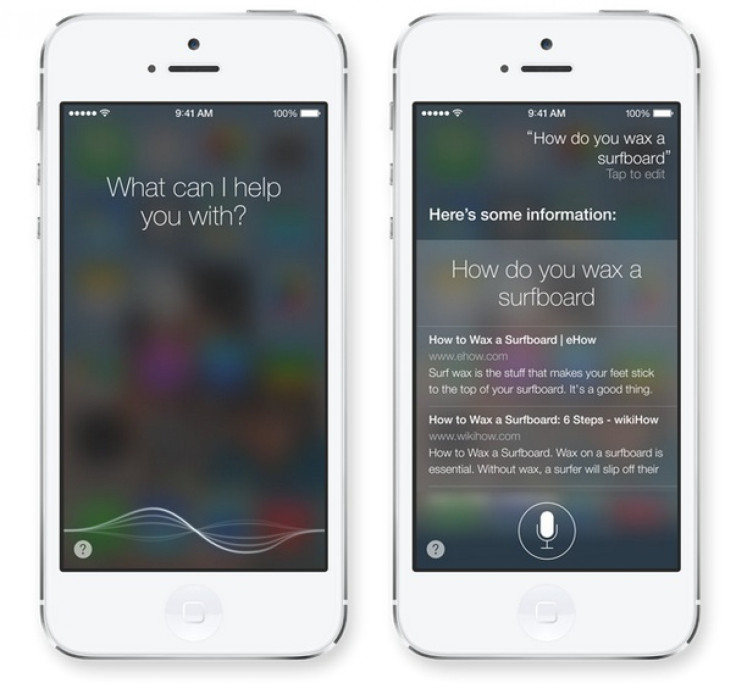 Siri is much improved for iOS 7. Now, web results are listed directly in Siri, so you never have to leave your conversation with your personal AI assistant just to get the information you need.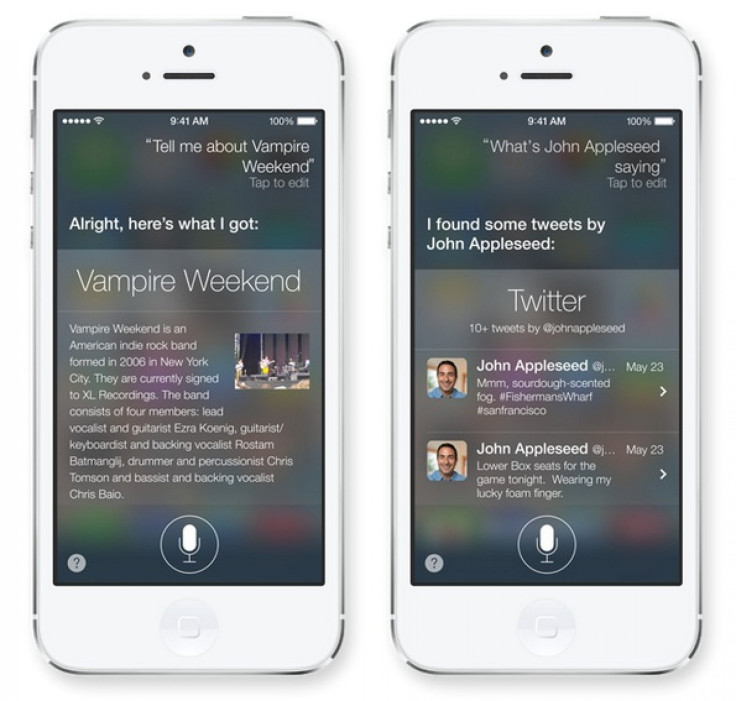 In iOS 7, Siri can also search Wikipedia, Bing and Twitter for the most relevant and timely results.
19. iOS 7 - New Find My iPhone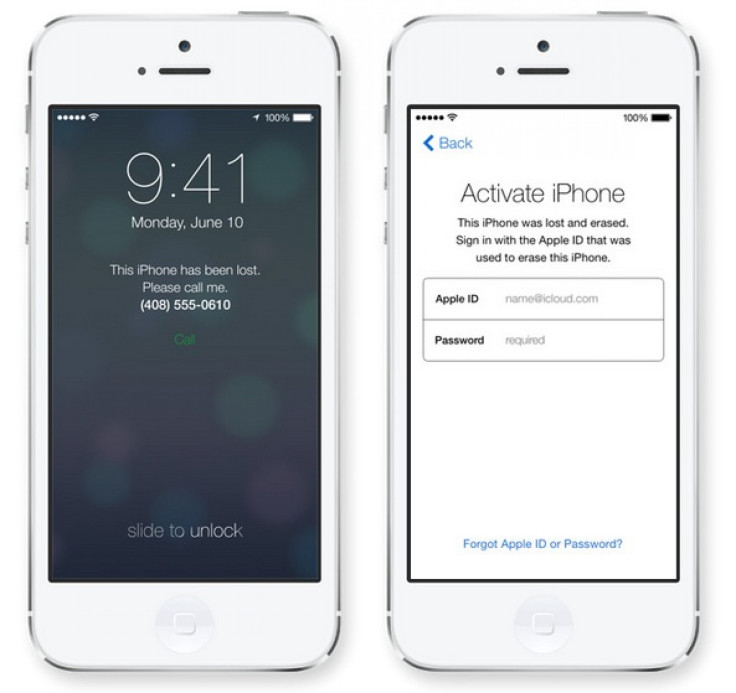 Find My iPhone is now much improved for iOS 7. Users now need their Apple ID and password to turn off Find My iPhone or erase their device completely. Find My iPhone can also display a custom message, even after the device is erased, which again requires one's Apple ID and password for full reactivation.
20. iOS 7 - iOS In The Car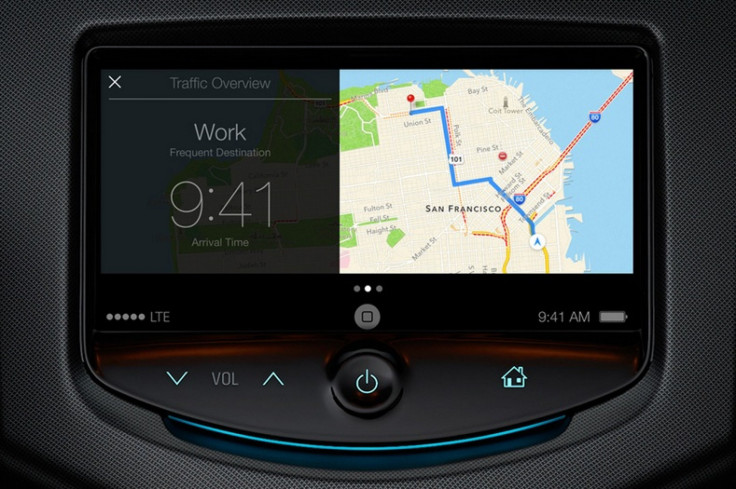 In the new iOS 7 feature "iOS In The Car," Apple users can check out full maps, traffic overviews and destination information directly from their dashboard.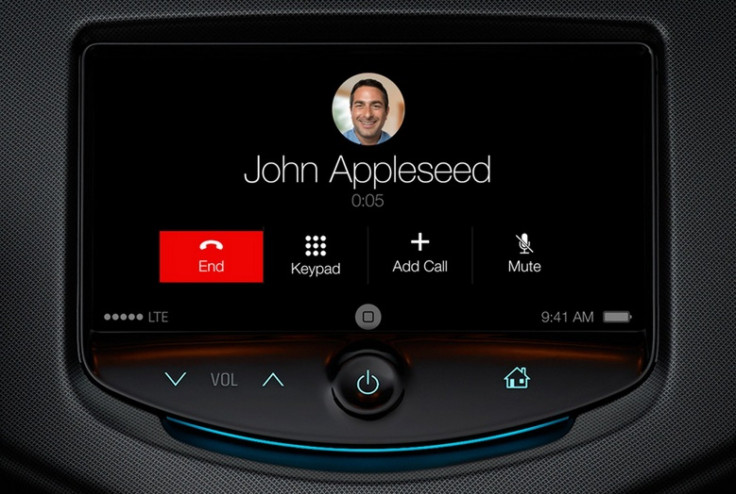 The new iOS 7 feature "iOS In The Car" also lets users control incoming phone calls on the car's display.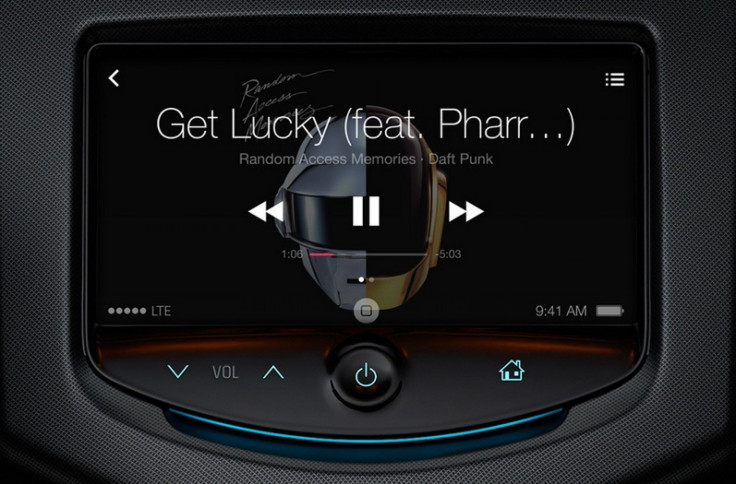 "iOS In The Car" in iOS 7 wouldn't be complete without giving users complete control of their music from the car's display.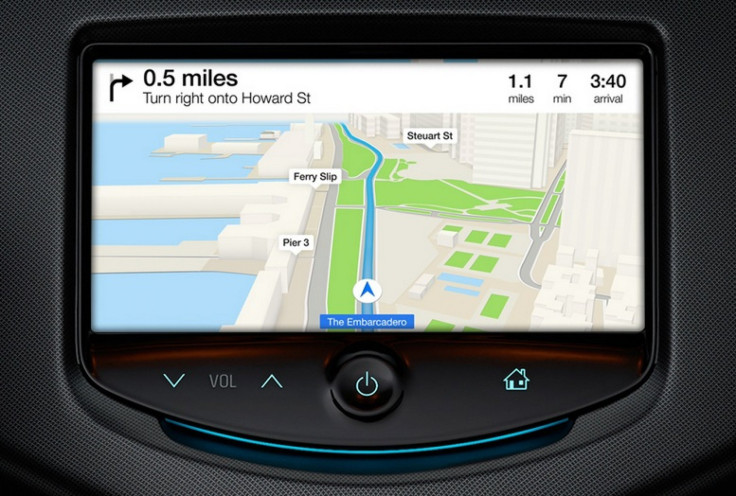 "iOS In The Car" in iOS 7 features Maps for easy navigation with turn-by-turn directions.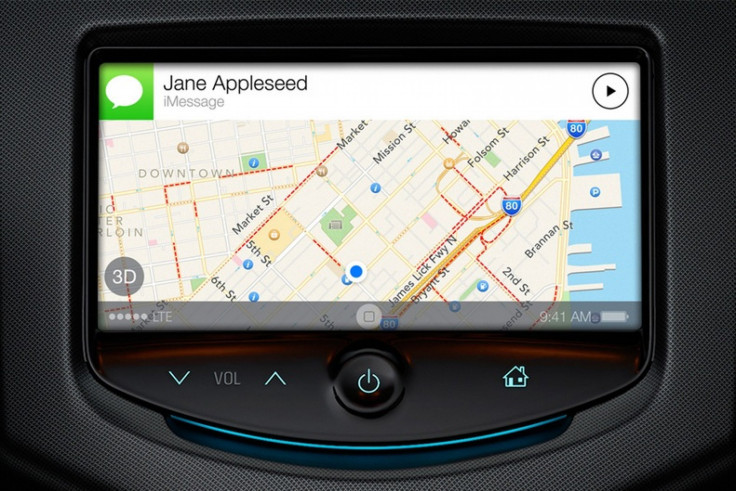 And when driving with "iOS in the Car" with iOS 7, anyone who calls or sends a text can be responded to with Siri, all hands- and eyes-free.
21. iOS 7 - iCloud Keychain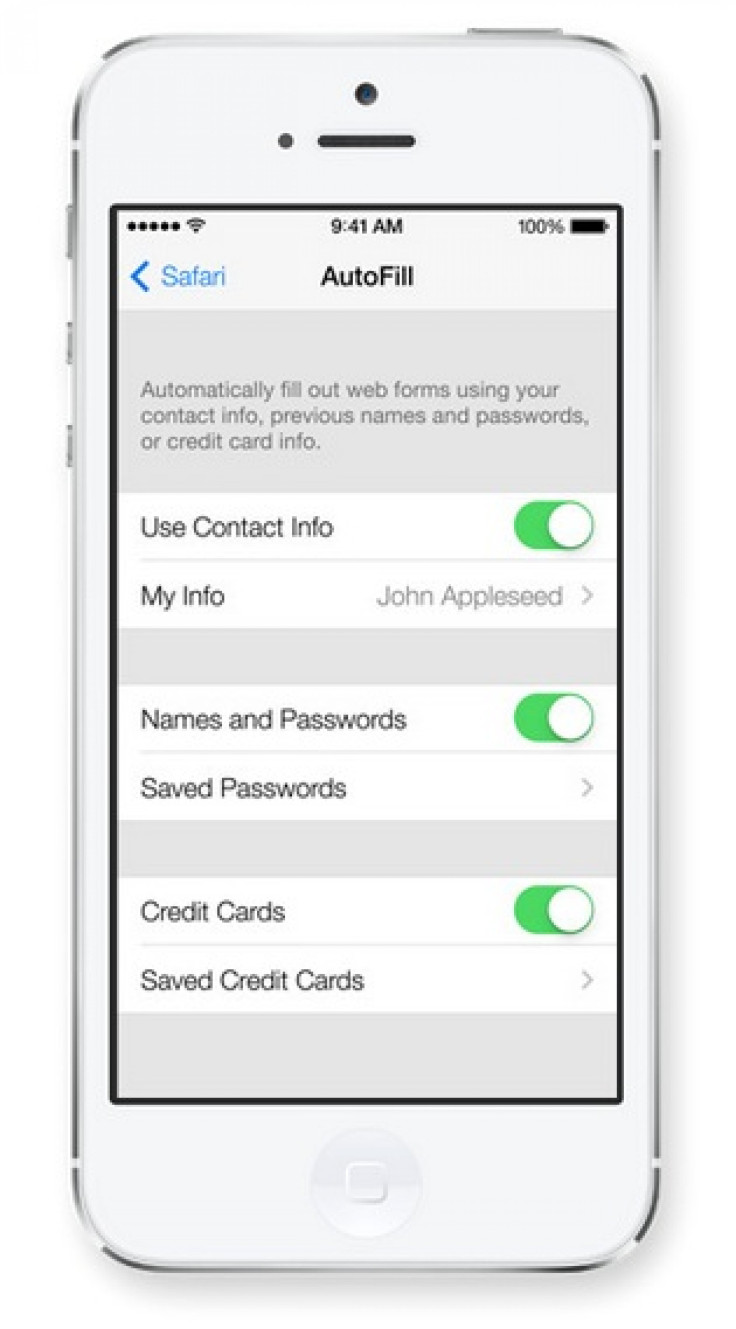 In iOS 7, a new iCloud feature called iCloud Keychain can remember your account names, passwords, and credit card numbers for you. And Safari can enter them automatically whenever you need to sign in to a site or shop online.
Apple says iOS 7 will see its release date later this fall.
FOR FREE to continue reading
✔️ Unlock the full content of International Business Times UK for free
offer available for a limited time only
✔️ Easily manage your Newsletters subscriptions and save your favourite articles
✔️ No payment method required
Already have an account? Log in
© Copyright IBTimes 2023. All rights reserved.