Apple iPad '5' Air Release Date Nears: 3 Reasons Its High Price Is Worth Your Money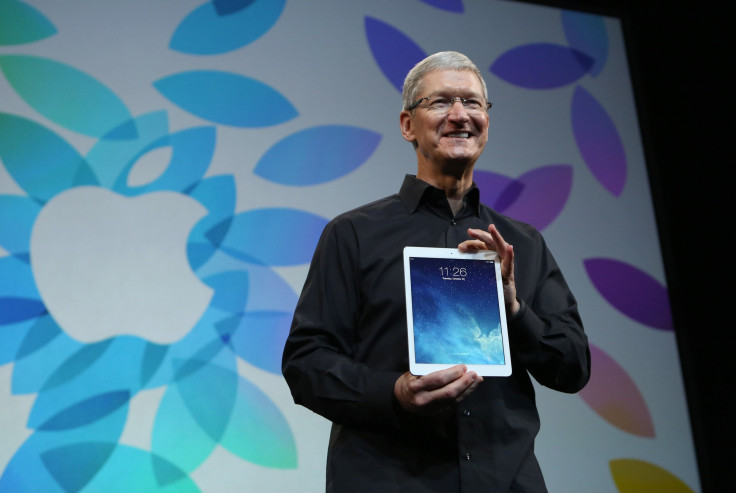 With the holiday season right around the corner, Apple Inc. (NASDAQ: AAPL) on Tuesday announced two new iPad models, but it was the company's fifth-generation iPad, the iPad Air, that stole the show. Apple unveiled the iPad's new form factor, new specs, and an official release date of Nov. 1.
Just 7.5mm wide and weighing one pound, the iPad Air is the thinnest and lightest full-size tablet Apple has ever created. According to Apple SVP Phil Schiller, it's the lightest one of its kind currently on the market. But with little else "new" besides its form factor, is the iPad Air really worth its price, which ranges between $499 and $929? Below, we analyze three different reasons you'll want to purchase the iPad Air when it debuts on Friday.
1. Thinness and lightness really do matter. Whenever Apple seems unable to introduce any meaningful technologies in a new iPhone or iPad release, customers always seem happy when Apple simply makes the product thinner and lighter. Thinner and lighter iPhones are always nice, but the iPad is the one Apple product that needed to be thinner and lighter to be a more usable device. The last-generation iPads weren't heavy per se, they each weighed at least 1.4 pounds, which isn't an issue when you're holding the iPad with two hands; one hand is another story. Apple chose to release the iPad mini last year to offer an iPad that can be held with one hand; with the new iPad Air, Apple will release yet another tablet that can be easily held in one hand, thanks to its lightness and redesigned form factor for an easier grip.
2. That powerful A7 chip introduces next-generation processing to the iPad. Every analysis of Apple's latest system-on-a-chip (SoC) says the A7 is Apple's best chip yet, with incredible technologies built into the billion-transistor chip including 64-bit architecture and greater power efficiency. The A7 is a speed demon on the iPhone 5s, but for the release of the iPad Air, the A7 will similarly bring fast processing to the iPad, which is useful considering all the graphics used by new iPad applications (and iOS 7, obviously) on that power-hungry 9.7-inch Retina display. Within the year, more developers will be optimizing their apps for 64-bit architecture since it opens up possibilities in function and performance, but since apps aren't quite there yet, the iPad Air will be a very good iPad for a long time, arguably making it the most "future-proof" iPad ever made by Apple.
3. The whole package is better than the sum of its parts. Critics of the new iPad Air have lamented the few "new" technologies built into the iPad 5, but customers will quickly realize that the iPad Air doesn't need mind-numbing new technologies to be a great tablet. Like the iPad 2, 3 and 4 before it, the fifth-generation iPad Air won't be impressive due to its number of buttons or features, but because it has everything it needs, and nothing more. Apple cares as much about refinement as it does innovation, and the iPad Air is an embodiment of that concept. Powered by iOS 7 and an ultrafast chipset, the iPad Air will ultimately be a reflection of the apps you use it for, and unlike rival tablets from Google, Microsoft and Amazon, the controls in the iPad won't get in the way of the experience. For the release of the iPad Air, Apple improved all the features it needed to: It made the tablet significantly easier to hold and thus use for long periods of time, it gave the iPad Air stronger connectivity solutions including multiple-input-multiple-output (MIMO) wireless tech for faster uploading and downloading, it improved the cameras and speaker grilles, and it maintains the same ten hours of battery life promised by past iPad releases. In other words, the iPad Air will be able to do everything any other iPad can do, but it can do it much faster, better, and more efficiently. When you focus less on specs and more about the applications (literally and figuratively), the iPad Air is an exciting product brimming with potential: Without featuring any unnecessary technologies, the iPad Air is deeply focused product that redefines how a tablet should behave in practice and feel in the hand.
Apple iPad Air Release Date Nears: More About The Fifth-Generation Tablet
The release of the 9.7-inch iPad Air is the first meaningful design change to the iPad since the March 2011 release of the iPad 2. The new iPad Air better resembles its "mini" counterpart, with its thinner side bezels, symmetrical speaker grilles, aluminum unibody and less-tapered back for a better grip. As we mentioned, this form factor amounts to just 1 pound.
Besides the A7 chip, which will run up to twice as fast as last year's A6x chip featured in the 2012 release of the iPad 4, Apple also chose to release the iPad Air with the company's new M7 co-processor, which helps offload motion-based sensors from the A7 but is likely featured to give the chip a test-run before it powers Apple's upcoming iWatch.
The iPad Air also comes with two new cameras: While the iPad 4 featured a 1.2-megapixel FaceTime HD camera with 720p HD video and a 5-megapixel rear-side camera with 1080p HD video, Apple tweaked both cameras, opting to release the iPad Air with the same 5-megapixel camera with larger pixels (similar to the iPhone 5s) and a slightly improved 1.2-megapixel FaceTime HD camera with 720p HD video.
Apple will also release the iPad Air with faster Wi-Fi and more LTE bands on the cellular model, but both iPad Air models (Wi-Fi and Wi-Fi + cellular) will come in two color options: white with silver, and space grey with black. The basic iPad Air with Wi-Fi starts at $499 for 16 GB and ranges up to $799 for 128 GB. For an iPad Air with Wi-Fi and LTE, models start at $629 for 16 GB and range up to $929 for 128 GB.
While Apple announced a release date for the iPad Air on Tuesday, the company is not accepting pre-orders for its latest iPad. We reached out to Apple's press team for a response, but without the company's input, we believe Apple is removing the pre-order process to place a greater emphasis on the device's public release date. With the general concern that Apple is losing its innovative edge with the iPad Air, Apple likely wants better press for the iPad -- to accomplish this, Apple wants to publicize the iPad Air customers standing in line at its retail stores, and thus emphasize the demand for the product. Offering online pre-orders doesn't have the same umph as keeping the iPad Air away from the public until its wide release date, as it makes the tablet more elusive, and thus more sought after. If Apple has any other reason for removing iPad Air pre-orders before its release date, it's probably because the company will release its quarterly earnings on Monday, and it's possible the company doesn't want to address pre-order figures on its Monday conference call, especially if those figures aren't good.
What do you think of the iPad Air? Do you believe the iPad Air lives up to its "Air" moniker, or do you believe Apple should've called it iPad 5 until it can release an iPad that weighs less than a pound? Do you plan to purchase the new iPad Air when it sees its Nov. 1 release date? Sound off in the comments section below.
FOR FREE to continue reading
✔️ Unlock the full content of International Business Times UK for free
offer available for a limited time only
✔️ Easily manage your Newsletters subscriptions and save your favourite articles
✔️ No payment method required
Already have an account?
Log in
© Copyright IBTimes 2023. All rights reserved.