Apple iPad Mini 2: Why Apple Won't Release A Retina Display Edition Until 2014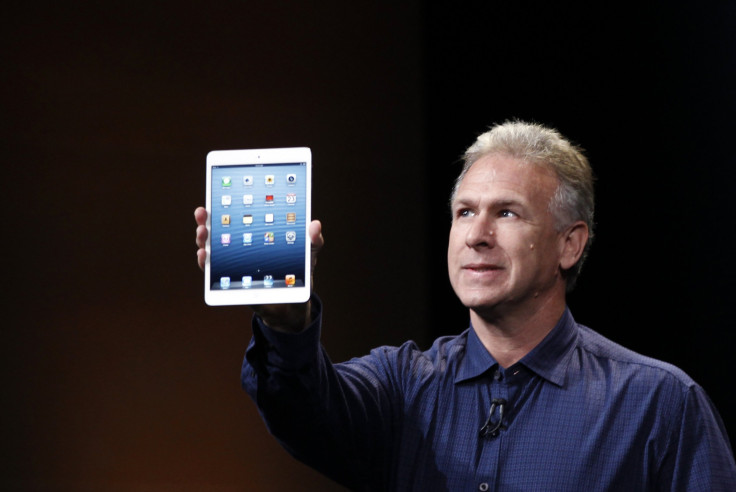 When Apple unveiled the first iPad mini last October, the 7.9-inch tablet received critical praise, but nearly every reviewer bemoaned the lack of a Retina display, which is a display that's so dense that individual pixels cannot be discerned with the naked human eye at any distance.
Apple reportedly started working on the Retina display for an iPad mini sequel almost immediately after the release of the first iPad mini, but even if the tablet is completed and ready to release, that doesn't mean Apple should release such a tablet this year.
Apple CEO Tim Cook has rejected questions of iPad mini sales cannibalizing the iPad, mainly because the iPad mini has two major selling points: It's cheaper, and it's smaller. If Apple hopes to have its full-sized iPad stand out this holiday season (we're expecting a redesign), it makes little sense to advertise a tablet with all the same best-selling features (including the Retina display) at a much lower price.
Apple may be following the pattern of its full-size iPad: Make the second-generation tablet thinner and lighter, and give the third-generation tablet a Retina display. But Apple needs to be careful, especially if it plans to release the third-gen iPad mini less than a year after the iPad mini 2. Consumers were baffled when Apple launched the iPad 4 just seven months after the iPad 3, so to avoid confusion and frustration among customers, Apple may want to keep an 11- to 12-month release pattern to avoid cannibalization and ensure a strong life for each product.
More importantly, however, Apple will need to find ways to distinguish its iPad mini from its full-size iPad, especially if both tablets feature Retina displays at some point in the near future. Apple may have to adjust the pricing structure of the iPad mini, making the Retina versions either more expensive than the current model, or simply dropping the prices of the non-Retina iPad minis when the Retina-ready iPad mini debuts. The basic iPad and iPad mini start at $499 and $329, respectively; should Apple release an iPad mini with Retina display, that tablet may assume the $329 price tag while the non-Retina iPad mini gets a price cut to $300, or maybe even $250.
Will Apple Release A New iPad Mini This Year?
Apple will definitely release an iPad mini with Retina display, but not necessarily in 2014; recent reports are pointing to a different iPad mini unveiling this year, with the Retina-powered iPad mini coming early next year.
Following the first iPad mini release, DigiTimes said in December that Apple was working on an "enhanced display resolution" for the iPad mini 2, and nearly every report believed Apple would release its iPad mini sequel with a Retina display later this year. But after Taiwan's Economic Daily News said a Retina display shortage was forcing Apple to push back the release date for the iPad mini 2 to "early 2014" on Friday, DigiTimes released a new report on Monday saying the next iPad mini coming this fall won't feature a Retina display, but a different model set to release early next year will.
As for this fall's iPad mini release, DigiTimes believes Apple is "revising the design of the chassis to give the next-generation iPad mini an almost bezel-free look," while filling the mini tablet with enhanced specs. In other words, expect the iPad mini 2 to be thinner, lighter and easier to hold -- but don't expect the screen quality will improve just yet. Apple's first-generation iPad Mini features a 1024 x 768 display, the same pixel resolution as the 9.7-inch iPad 2, but the smaller frame creates a slightly higher pixel density of 163 ppi.
A redesigned iPad mini may sate the shopping masses this holiday season, but the third-generation iPad mini is expected to feature a Retina display (like the third-gen full-size iPad), doubling the display resolution of its two predecessors to achieve a 2,058 x 1,536 Retina display, which should come in at 326 ppi. As a point of reference, the Retina displays on the iPad 3 and 4 have display densities of 264 ppi, and the iPhone 5's Retina display is 326 ppi.
The report suggests Apple will end up selling Retina and non-Retina versions of the iPad mini, but it's not clear how Apple would adjust the price of its iPad family to differentiate between the models.
Unlike Apple's iPhone lines, analysts have repeatedly expressed concern over Apple's ability to release its iPad mini with Retina display on time. In April, reliable KGI Securities analyst Ming-Chi Kuo adjusted his timetable for the iPad mini with Retina display, saying "technical challenges" with Retina displays could delay its release date. In May, NPD DisplaySearch analysts claimed Apple would release a non-Retina iPad mini in late 2013 with the Retina update coming in early 2014, but revised the report hours later to say both models would release with Retina displays. In June, the company returned to its original prediction of a thinner iPad mini in 2013 and a Retina iPad mini release in 2014.
© Copyright IBTimes 2023. All rights reserved.