Apple iPhone 5 Release Date: Does Cryptic Invite Mean One New Phone?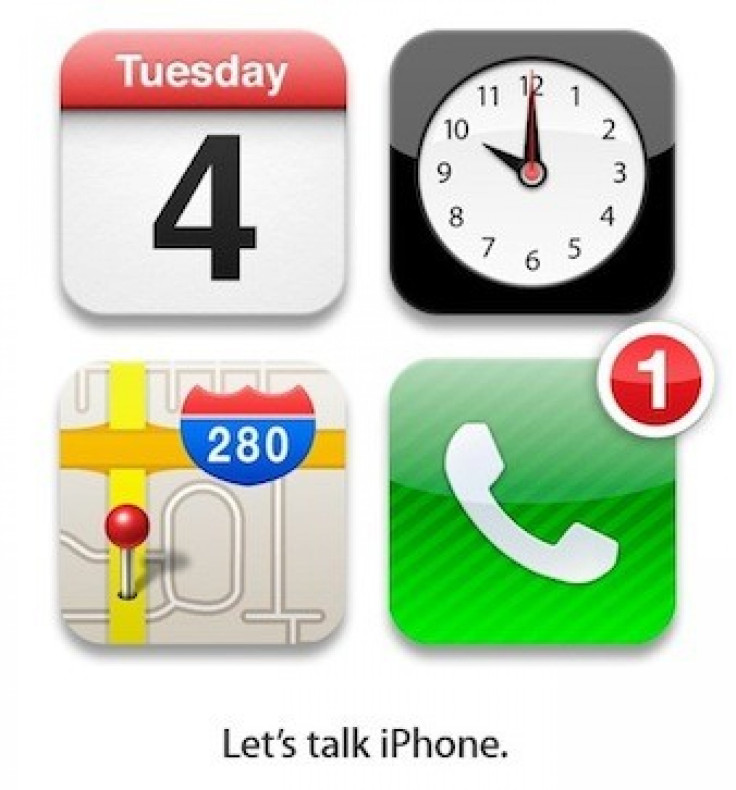 Apple's iPhone 5 release date is nearing, but those thinking the company will unveil two new phones at its Oct. 4 event may be wrong. The hint may very well be in the invitation Apple mailed out for the Oct. 4 on the company's Cupertino, Calif., campus at 10 a.m. PT.
The invitation was displayed in four icons, titled simply, Let's talk iPhone. The four iOS icons show or signify the date, time and location of the event venue -- on Highway 280 displayed via an Apple map icon.
Piper Jaffray anlayst Gene Munster, who covers Apple, said the let's talk tag line is a less-than-subtle hint that Apple may be planning to deliver voice-recognition advances the company has been working on, according to Fortune, since it acquired Siri almost 18 months ago.
In a note to clients, Munster wrote that Apple has in the past used cryptic hints in invitations as to what it might announce at events.
The phrase on this year's invite, 'Let's talk iPhone' may be a simple play on words, but may also refer to new speech-based features for the iPhone, Munster wrote.
Also, one of the icons was Apple's phone icon, with the red number one. Some suspect the red number one signals that Apple won't be unveiling two phones at the event, as some have suspected, but one. If that's the case, it will either be an iPhone 4 with expanded capability including the voice-recognition advances, or an all-new iPhone 5.
The iPhone 5 has been one of the most anticipated consumer products ever. Apple's iPhone, launched in 2007, is the world's most popular smartphone. Google's Android is the world's most popular operating system, but Android is used in many different phones, and there's not one that sells more than Apple's iPhone.
Apple has sold more than 110 million iPhones around the world since it launched the product. Apple is expected to add Sprint as a U.S. sales partner with its new model.
According to the latest from the busy Apple iPhone 5 rumor mill, the new product will include a massive 1GB of RAM and a voice-control system known as the Assistant, according to a report by TUAW. The tech news site quoted an unnamed source for the information, but cited the source as credible.
According to the report, Apple's new iPhone will come with the A5 chip, 1GB of internal memory, and an 8-megapixel camera.
© Copyright IBTimes 2023. All rights reserved.