Apple Pencil Accessory That Will Allow Users To Draw In 3D Space In The Works
KEY POINTS
A new patent shows Apple is working on new Apple Pencil technologies
The new accessory will allow the Apple Pencil to draw in 3D space
There's no release window at the moment
The Apple Pencil is a very useful tool for many users. Creatives use it to draw, sketch, and do more things on their iPads and iPad Pros. It can also be used for other things, such as making notes, annotations and more.
A new patent published by the U.S. Patent and Trademark Office reveals that Apple is looking to add more functionality to the Apple Pencil, and allow it to be used to draw in 3D space – even if the stylus isn't touching the iPad's display. This comes by way of an accessory that can be used to monitor input and track motion in certain 3D space such as AR/VR environments.
According to the patent, the tip of the Apple Pencil can detect contact with a surface by means of sensors. The stylus records or wirelessly transmits the signal to the partner device when the tip detects contact with a surface.
According to the patent, aptly titled "Stylus with input adapter," the Apple Pencil could be able to receive input from the user another way. This could be done via the use of a button in the body of the stylus. This could also happen via use of an adapter that can be attached to, and removed from, the tip of the stylus.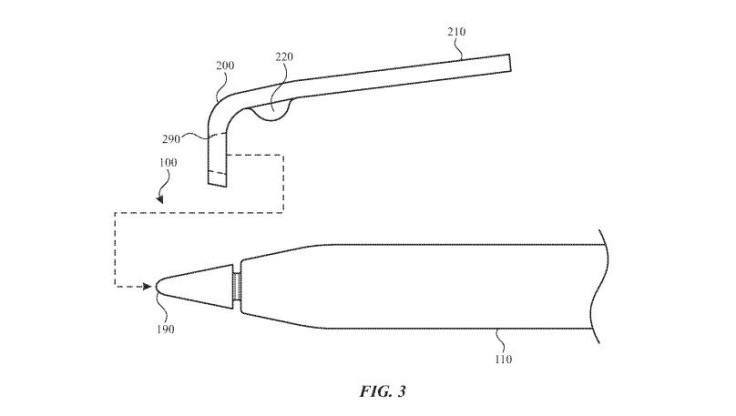 The Apple Pencil, according to some embodiments, will be able to receive user input by detecting force applied to the tip via the adapter. This adapter could have one end directly in contact with the tip, the other end protruding towards the body of the stylus (where the user's fingers are conveniently located while working), and a fulcrum that will serve to convert user input into force.
The stylus will receive the force and nterpret this as user input. The stylus will be able to differentiate this from the force the tip receives whenever it touches a surface. This way, the Apple Pencil will be able to record movement even when it is not touching any surface at all.
This technology will allow the Apple Pencil to be used in more applications, particularly AR/VR apps. Timing to market remains unknown at the moment.
© Copyright IBTimes 2022. All rights reserved.
FOLLOW MORE IBT NEWS ON THE BELOW CHANNELS