Apple TV: 4K, HDR Support Options In HomePod Firmware Leaks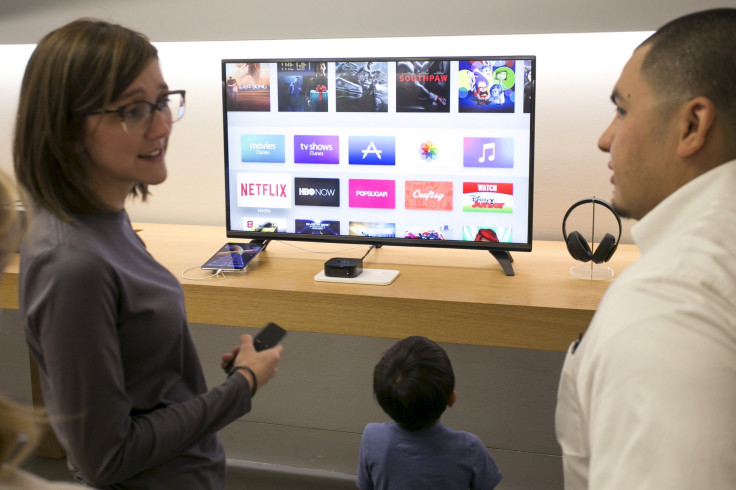 The Apple TV has been the company's flagship set-top box and the latest rumor about its upcoming refresh confirms previous speculation about its potential features.
On Twitter, developer Guilherme Rambo peeked into Apple's firmware for the upcoming HomePod speaker and discovered lines in the package that hint at 4K, high dynamic range and Dolby Vision support for the Apple TV. The current version of the set-top box lacks 4K support.
Read: New Apple TV With 4K, HDR Support In The Works?
At the moment, the potential rumor lines up with previous speculation around the Apple TV. In February, Bloomberg reported that Apple was working on a 4K-capable version of the Apple TV that could release in 2017. In addition, iTunes Store users recently spotted updates to their purchase histories that mention if movies have 4K or high dynamic range support. Apple's teased move also follows similar updates from competitors like Microsoft and Google Play, who have gradually begun to offer 4K content to users.
For Apple, the move would be a small jump starter to the Apple TV. The current fourth-generation version of the Apple TV featured several substantial upgrades over previous models: faster specifications allowed the new Apple TV to run apps and a redesigned remote could be used for games and other applications. But at the time, cost concerns reportedly led Apple to leave out 4K support for the Apple TV upon its release on late 2015.
Additionally, increased competition — along with the Apple TV's high $149 price tag — in the set-top box space have made the Apple TV a modest performer for Apple. Within the past few years, the market has been populated by low-cost hardware or integrated software from providers like Roku or Amazon and buyers have moved towards these options. According to a study from research firm eMarketer last month, Roku leads the set-top box space with an estimated user base of 38.9 million regular users. By comparison, the study estimates Apple's user base in a distant fourth with around 21.3 million users.
Read: HomePod Firmware Leaks More iPhone 8 Specs, Apple Smart Speaker Screen, Processor
Among users, a 4K version of the Apple TV would likely be more of an incremental product refresh than a full-blown new release for the set-top box. Despite its modest sales performance and features — Apple had long been rumored to be working on products like its own TV or set-top box with cable TV support — the Apple TV is still a steady mover for the company's services division, which includes areas like digital rentals and purchases. Plus, 4K support would be an additional way to leverage consumer interest as buyers begin to migrate from standard high-definition TVs to 4K-supporting models.
The HomePod firmware release also unveiled its share of additional news for upcoming Apple products. In the firmware, developer Steven-Troughton-Smith and Rambo found references that hinted at potential iPhone 8 specifications and features including face detection and screen resolution.
© Copyright IBTimes 2023. All rights reserved.