'Are You The One?' Season 3 Cast: Where To Follow The 2015 MTV Stars On Instagram, Snapchat & Twitter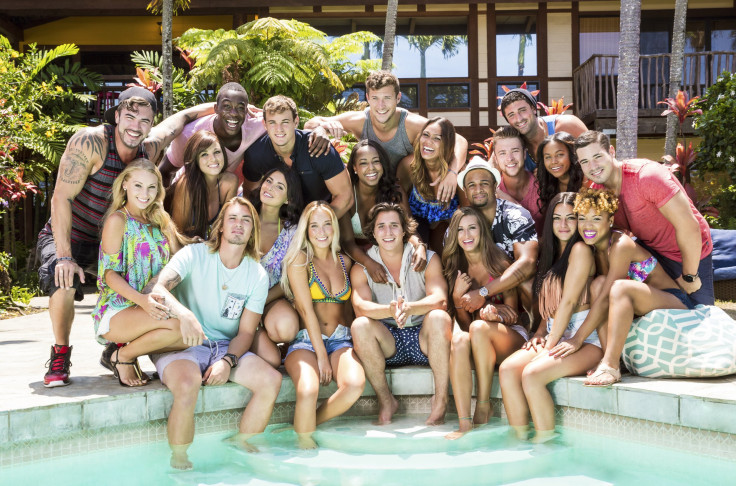 This year's installment of "Are You The One?" will not disappoint. Once again, MTV has wrangled 10 single men and women to live in a house in the quest to find love and win the $1 million grand prize. Will they succeed in finding their perfect matches or will they lose a shot at love and money with the new blackout twist? Viewers will have to wait until Thursday, Sept. 24, to find out! Fans of the matchmaking series can get to know the new cast members before the premiere. Below is your guide on where to follow the show's 2015 stars on Instagram, Snapchat, Twitter and more!
The Girls
If a guy can cook, we go together. _ https://t.co/zXtZsRTEBp

— Are You The One? (@AREUTHE1) September 18, 2015
1. Kiki Cooper, 22, is a outgoing college grad student that hails from Ashburn, Virginia. When she's not busy finding her perfect match and studying, she enjoys snowboarding and coaching others to live a healthy lifestyle. You can follow Kiki on Twitter @KikiMTV and Instagram @kiki_mtv.
2. Rashida Beach, 23, is looking to break away from her cheating exes and find love with someone who treats her right. The Columbia, South Carolina, native has a big personality and an even bigger dream to become a singer. You can hear her belt out a few tunes on "Are You The One?" Season 3. Follow her on Twitter @rashidazakiya, Instagram @mtvrashidakiya and Snapchat @MtvRashidazakiya.
3. Amanda Garcia, 22, is a Westminster, Colorado, girl with a huge appreciation for the Denver Broncos. Not a fan of getting her heart broken, she's known to dump a guy before he can do it first. You can follow her on Twitter @MTV_AMANDAG.
4. Britni Thorton, 24, is looking to fall for a guy who will love her and not just her flirtatious nature. You can follow the Augusta, Georgia, native on Twitter @BritniNicol, Instagram @mtv_britinicol and Snapchat @Britinicol.
5. Chelsey Perkins​, 23, is a smart cookie — she has a PHD in psychology — and she's looking for an equally intelligent man. Her dream man is an athlete as she is "physically driven." You can follow the Orlando, Florida, native on Twitter @BombshellChels and Tumblr.
6. Hannah Rathbun, 22, is a Syracuse, New York, native who is a big fan of shopping and her dog, Avery. She also enjoys One Direction and Justin Bieber. Her relationship problems stem from putting everyone else's feelings before her own. You can follow her on Twitter @_hannahrathbun and Instagram @hannah_rathbunn.
7. Kayla Brackett, 22, is a party girl looking to find love. The Sandy Hook, Connecticut, native is hoping to work through her jealousy issues and find a man who is not controlling. You can follow her on Twitter @Kayyjaybee, Instagram @MTVkayla and Snapchat @Kayyjaybee.
8. Cheyenne Floyd, 22, is from Los Angeles, California. Well-traveled and ambitious, she is looking for a partner who measures up to her standards. Keep note, guys, she has a deep love for roses! You can follow her on Twitter @cheynotshy, Instagram @cheynotshy and Snapchat @sunshineeechey.
9. Melanie Velez, 23, is a dancer and fitness instructor from Franklin Square, New York. She has a history of trust issues. Will she be able to find her perfect match? You can follow the Long Island native on Twitter @schmelllanie, Instagram @mtv_melaniecarmela and Snapchat @melaniecarmela.
10. Stacey Gurnevich, 24, is described as "brash, opinionated, and a total sweetheart" on her MTV profile. While the Staten Island, New York, native may seem like a good catch, her problem lies in keeping a guy around as she frequently bores of a guy before things get too serious. You can follow her on Twitter @staceygurnevich, Instagram @mtvstacey and Snapchat @StaceyGurnevich.
The Guys
The personality traits the #AYTO guys look for are pretty solid https://t.co/PZybDQ90ce

— Are You The One? (@AREUTHE1) September 21, 2015
1. Alec Gonzalez, 22, is a former playboy and "fat kid" looking to find his true match. The Philadelphia native's relationship issue is that he "can't help but judge women based on their physical appearance." You can follow him on Twitter @agonzalez12.
2. Hunter Barfield, 22, is a country gentleman who is serious about finding his perfect match. According to his MTV profile, the Perry, Florida, native was "betrayed by the woman only he has ever loved." You can follow him on Twitter @hbarfield13.
3. Austin Sheets, 22, has "laser focus" when it comes to business, but his love life is seriously lacking. Will the Addison, Texas, native be able to put his "high standards" aside to find love? You can follow him on Twitter @in_my_SHEETS, Instagram @austinsheets and Snapchat @austinsheets12.
4. Chuck Mowery, 26, is described as having a "heart of gold" and a terrible choice in woman. "Getting the girl isn't the problem. The program is the girls he picks," reads his MTV profile. You can follow the Maui, Hawaii, native on Twitter @MTV_Chuckalodon and Facebook.
5. Connor Smith, 25, is a "gentle giant" from Tinley Park, Illinois, who believes he can find his soulmate. The fitness fan's personal motto: "Live your dream!" You can follow him on Twitter @tweetconnor180, Instagram @mtvconnorsmith and Snapchat @totall678.
6. Devin Walker-Molaghan, 26, is party boy who recently had his heart broken. After a series of random hooks up on Tinder, the Northampton, Massachusetts, native says he's ready to find love. His personal motto: "Never give up on love." You can follow him on Twitter @MTVbigD, Instagram @mtvbigd and Snapchat @MTVbigD.
7. Mike Crescenzo, 24, also known as "Magic Mike" due to his stripping career, is looking to find a woman who can look past his occupation and see the real him. You can follow the Stony Brook, New York, native on Twitter @mikecrescenz0, Instagram @mikecrescenzo and Snapchat @shenzo631.
8. Nelson Thomas, 26, is an athlete who has trouble making enough time for his girlfriends. "His drive and ambition is his most attractive quality but, more often than not ends up being the thing that gets in the way of his relationships," reads his MTV profile. You can follow the San Marcos, Texas, native on Twitter @NellyT2013.
9. Tyler Johnson, 25, has been played in the past and he's looking for a real love. The Indianapolis native is described as being "tall, funny, handsome and outgoing," the only catch: he's living "platonically with his cheating ex-girlfriend." You can follow Tyler on Twitter @tee_boogie_ and Instagram @mtv_teeboogie.
10. Zak Longo, 26, has no trouble finding a woman, it's keeping her around that's an issue. Will the Toronto native be able to find a woman he's willing to spend the rest of his life with? You can follow Zak on Twitter, Instagram, Vine and Snapchat @ZAKLONGO.
"Are You The One?" Season 3 premieres Thursday, Sept. 24, at 11 p.m. EDT on MTV. The following episodes will air Wednesdays at 10 p.m. EDT. Check out the Season 3 trailer below:
© Copyright IBTimes 2023. All rights reserved.