Armed Forces Day Quotes 2015: 15 Inspirational Sayings That Honor The Sacrifices Made By US Troops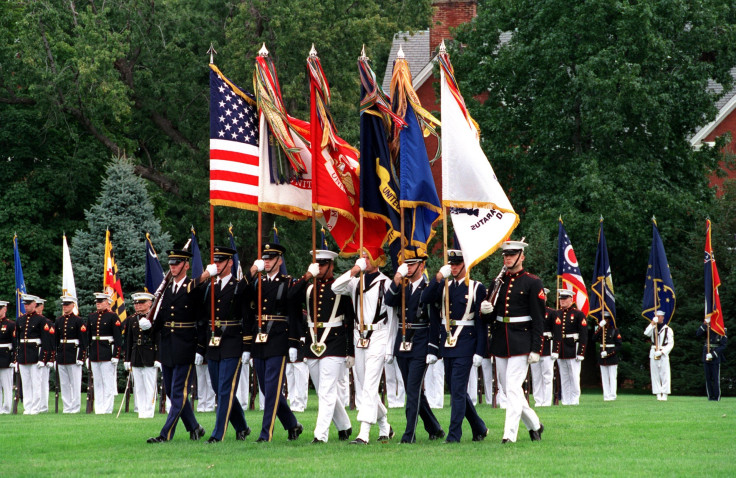 Armed Forces Day honors the men and women who are currently serving the U.S. at home and abroad. The day, which falls on the third Saturday in May, is typically marked by events and ceremonies that observe the sacrifices made by those in uniform.
The day was first observed in 1950 following the creation of the Department of Defense in 1949, which put all of the branches of the Armed Forces – the Air Force, Army, Coast Guard, Marine Corps and Navy - under one department. In a speech announcing the first Armed Forces Day, President Harry Truman said the day "marks the first combined demonstration by America's defense team of its progress…towards the goal of readiness for any eventuality. It is the first parade of preparedness by the unified forces of our land, sea, and air defense."
Armed Forces Day events Saturday include large parades, motorcycle rides with a "Support the Troops" theme, music and military air shows. Here are 15 quotes and sayings that celebrate Armed Forces Day.
1. "He loves his country best who strives to make it best." -- Robert G. Ingersoll
2. "This nation will remain the land of the free only so long as it is the home of the brave." -- Elmer Davis
3. "How important it is for us to recognize and celebrate our heroes and she-roes!" -- Maya Angelou
4. "No man is entitled to the blessings of freedom unless he be vigilant in its preservation." -- Gen. Douglas MacArthur
5. "American soldiers in battle don't fight for what some president says on T.V., they don't fight for mom, apple pie, the American flag…they fight for one another." -- Lt. Col. Hal Moore
6. "What counts is not necessarily the size of the dog in the fight – it's the size of the fight in the dog." --President Dwight D. Eisenhower
7. "My heroes are those who risk their lives every day to protect our world and make it a better place - police, firefighters and members of our armed forces." -- Sidney Sheldon
8. "The patriot's blood is the seed of freedom's tree." -- Thomas Campbell
9. "Bravery is being the only one who knows you're afraid." -- David Hackworth Li
10. "We often take for granted the very things that most deserve our gratitude." -- Cynthia Ozick
11. "In war, there are no unwounded soldiers." -- José Narosky
12. "No duty is more urgent than that of returning thanks." -- James Allen
13. "The brave die never, though they sleep in dust: Their courage nerves a thousand living men." --Minot J. Savage
14. "The cost of freedom is always high, but Americans have always paid it. And one path we shall never choose, and that is the path of surrender, or submission." -- John F. Kennedy
15. "The dead soldier's silence sings our national anthem." -- Aaron Kilbourn
© Copyright IBTimes 2023. All rights reserved.
FOLLOW MORE IBT NEWS ON THE BELOW CHANNELS