Arnold Schwarzenegger A Better President Than Donald Trump? 'Governator,' 'Apprentice' Host Proposes Job Swap After Trump Attack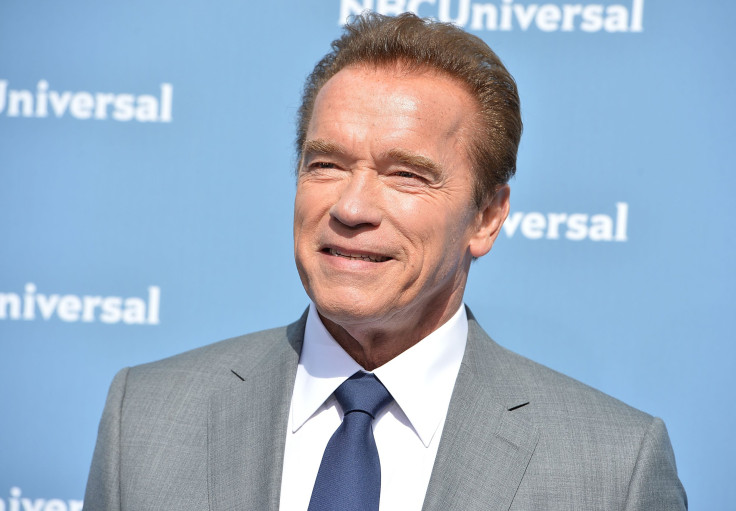 Following the latest attack on him and his ratings as host of "Celebrity Apprentice" by President Donald Trump, Arnold Schwarzenegger has made a novel proposal: that the two men swap jobs.
The former California governor replaced Trump as host of the reality show this year after NBC opted to sever ties with the billionaire real estate mogul in 2015 amid his presidential bid and a string of controversial comments. Trump has since refused to let the matter rest. Last month, he took to Twitter to claim that Schwarzenegger had been "destroyed" in the ratings by comparison to his own record on the show. And he continued his barbs in what many saw as the inappropriate setting of the National Prayer Breakfast.
Claiming that he had "tremendous success" on the show and that it was his decision to leave, Trump took another shot at his replacement.
"They hired a big, big movie star, Arnold Schwarzenegger, to take my place and we know how that turned out," he said at the start of his speech before faith, political and business leaders. "The ratings went right down the tubes, it's been a total disaster. I want to just pray for Arnold if we can for those ratings."
As he did on Twitter last month, Schwarzenegger immediately responded, this time in video form.
"Hey, Donald, I have a great idea: why don't we switch jobs, you take over TV, since you're such an expert in ratings and I take over your job and then people can finally sleep comfortably again, hmm?"
The proposed switch is of, course, pure fantasy. For one thing, Schwarzenegger was born outside of the United States, in Austria, and, as Trump is well aware, that makes him ineligible to lead the country.
Still, his proposal would appear to have considerable support. Within 40 minutes of Schwarzenegger posting the video, it had received more than 10,000 retweets and 16,000 likes. While much of that may be down to Trump's own historically low approval ratings and widespread protests against his presidency, Schwarzenegger, unlike Trump, would enter the White House with some political experience to his name.
During the initial stages of his campaign for president, many saw similarities with Schwarzenegger's successful gubernatorial bid in 2003. Both were larger-than-life entertainment figures with no previous political or public-sector experience.
Unlike Trump, though, the star of the "Terminator" movies began his tenure with high approval ratings. A few months into his first term as governor, Schwarzenegger was viewed favorably by 65 percent of Californians, a stark contrast from the average of around 40 percent with which Trump entered the White House.
Also unlike Trump, Schwarzenegger, while a fiscal conservative, was more of a moderate on social issues, supporting gay rights, abortion rights and gun control. He also was also not afraid to admit his own failings, notably, conceding that he had learned his lesson after a string of initiatives he introduced for a 2005 special election were defeated.
The following year, Schwarzenegger won re-election, something Trump will hope to do in 2020. However, things eventually turned sour for the former bodybuilder and he left office with an approval rating of just 23 percent.
© Copyright IBTimes 2023. All rights reserved.