Asian Oscars Jokes: Stereotypes In Academy Awards Telecast Prompts Sharp Response From Asian-Americans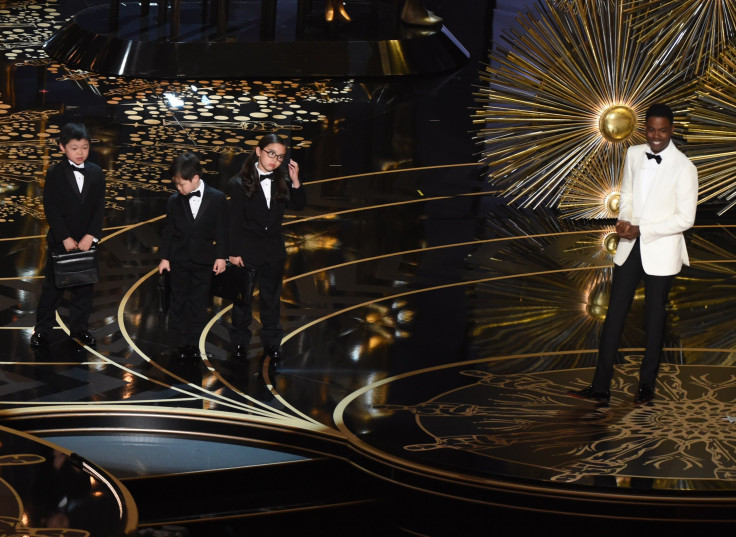 Elizabeth OuYang has never forgotten how she felt when her younger brothers were teased and targeted by a neighborhood bully because of their race. The OuYangs, the only Chinese-American family in their Rochester, New York, neighborhood, had been the target of racially insensitive comments, she said.
OuYang, now a 51-year-old civil rights attorney, was again reminded of her youthful experiences when she watched the 88th Academy Awards telecast Sunday. The show's host, comedian Chris Rock, used much of his opening monologue to blast Hollywood and its exclusion of African-Americans, before using Asians and Asian stereotypes in a joke about math proficiency and child labor in the tech-manufacturing industry.
"It's these kinds of portrayals that lead to taunting and bullying against Asians in this country," OuYang said in a phone interview Tuesday. "If anything, the Oscars demonstrated the need for diversity in the arts, as well as in nontraditional fields for Asians."
Amid reaction to Sunday night's telecast, in which racial diversity was a major theme, advocates for Asian-Americans said they were tired of being the butt of jokes that they claim are a double standard. As the fastest-growing racial group in the U.S., Asians have not traditionally had the clout to push back on dangerous stereotypes and racism in the media. But that may be changing, as the demographic increasingly leverages its achievements in academia, sports and politics to seek inclusion in the diversity discussion.
"Even though Asian-Americans have been in this country for hundreds of years, we are always seen as the perpetual foreigners," said Stephanie Cho of the group Asian-Americans Advancing Justice, a civil and human rights advocacy group headquartered in Washington, D.C. Cho is executive director of the organization's Atlanta office.
"This perpetual foreigner perception has sort of made it okay for others to discount the Asian-American voice," Cho, who is Korean-American, said in a phone interview. "They will be quiet; they are submissive, but they will do your taxes for you," she added, rattling off several prevailing stereotypes.
On Sunday, Rock, the Oscars host, trotted out the "model-minority" stereotype by introducing Asian and Jewish children as "Oscar accountants" from the accounting firm PricewaterhouseCoopers, which tabulates award votes. "If anybody's upset about that joke, just tweet about it on your phone that was also made by these kids," Rock quipped in an apparent reference to smartphone manufacturing in China.
The joke sparked an almost immediate reaction from Asian social media users. Many said Rock's remarks undercut the message he sent about the Oscar acting nominations being all-white for the second year in a row. That message also left out the fact that Asians are the least represented racial minority in Hollywood, despite their growing population.
It was also noted by some of Rock's critics that a double standard exists in who it's okay to deride. Blacks, Jews, the LGBT community and Latinos have advocacy groups like the NAACP, the Anti-Defamation League and GLAAD that stand ready to respond when dangerous stereotypes are trotted out about their respective demographics. But when Asians are the target of the jokes, an equally vigorous response is hard to find.
Advocates have said increasing Asian representation in movie and TV roles could help dismantle certain stereotypes. However, a recent damning report by the University of Southern California's Annenberg School for Communication and Journalism found that about 50 percent of the 414 films and TV series in recent years did not cast an Asian or Asian-American character.
The Census Bureau estimates that are at least 15 million Asian-Americans in the U.S., with another 3 million living here as noncitizen residents. In 2014, 12.7 million Asians were foreign-born. And in 2010, Asians overtook Hispanics as the fastest growing racial group, according to the Pew Research Center.
With the Oscars broadcast to tens of millions in the U.S., the anti-Asian jokes prompted reactions from Asian athletes, actors and members of Congress. "I just feel like sometimes the way people perceive Asians or Asian-Americans today can be disappointing in the way they view them," Jeremy Lin, a Taiwanese-American basketball player for the NBA's Charlotte Hornets, told the Associated Press Tuesday morning. "Even Asian-American masculinity or whatever you want to talk about, just a lot of the ways that Asians are perceived, I don't always agree with," he added.
During Lin's breakout tenure on the New York Knicks in 2012, an African-American sports journalist made a crude sexual joke when discussing how Lin would celebrate his success. At Sunday night's Oscars, the British actor Sacha Baron Cohen seemed to make a similar joke about "very hard-working, little yellow people with tiny dongs," a tongue-in-cheek reference to Disney/Pixar's "Minions" film.
U.S. Rep. Judy Chu of California, who is chair of the Congressional Asian-Pacific American Caucus, was one of many who took umbrage at the anti-Asian Oscar jokes. "It is not right to protest the exclusion of one group by making jokes at the expense of another," Chu said in a statement released Monday. "Reinforcing stereotypes of Asians as good at math or child laborers runs counter to multicultural understanding and inclusion. It's time for Hollywood to see Asians as more than just punchlines."
OuYang, the civil rights attorney in New York, said prevailing stereotypes about Asians have inspired her work with minority youths to prevent hate crimes and discrimination. In a recent workshop, she found that some African-American participants thought the Asian-American participants didn't want to partner with them because they perceived the Asians students as smarter, OuYang remembered.
"What was portrayed in the Oscars sets back the important work that we're trying to do to share with each other," she said.
© Copyright IBTimes 2022. All rights reserved.
FOLLOW MORE IBT NEWS ON THE BELOW CHANNELS