Asian Stock Markets Fall On Growth Fears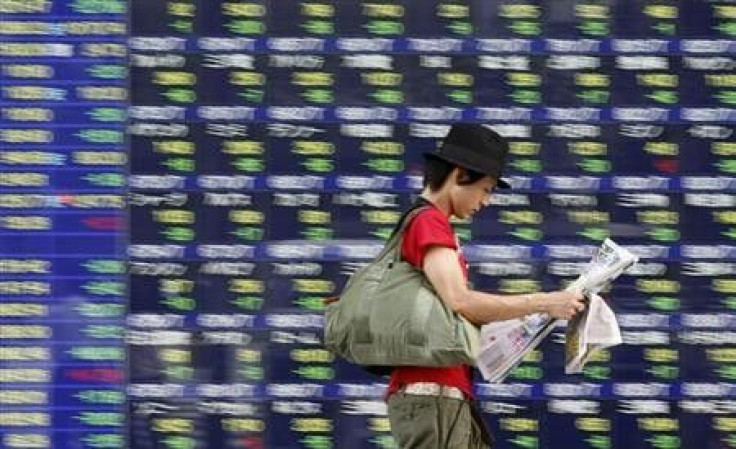 Asian stock markets mostly declined Monday as fears of a further global slowdown and economic headwinds from the euro zone continued to weigh on the sentiment.
The Japanese benchmark Nikkei fell 0.72 percent or 63.73 points to 8,734.62 and South Korean KOSPI plunged 1.19 percent or 22.01 points to 1,825.38. Hong Kong's Hang Seng declined 0.51 percent or 97.68 points to 18,897.45 and Chinese Shanghai Composite plunged 1.63 percent while Indian benchmark BSE Sensex gained 0.65 percent.
A slew of soft manufacturing reports last week dampened hopes for a global economic recovery. Business activity in the euro zone region declined for the fifth straight month and Chinese manufacturing activity continued to shrink for the eighth straight month while factory activity in the Mid-Atlantic region unexpectedly slumped to -16.6 in June from -5.8 in May, suggesting regional contraction in manufacturing activity.
Meanwhile, investors are opting for caution ahead of the European Union (EU) leaders' two-day meeting in Brussels where Greek leaders will attempt to negotiate better deal on its bailout. Greek leaders would be pushing for more time to implement the bailout conditions which have become mandatory for the release of the second bout of rescue package from the EU and the International Monetary Fund (IMF).
The three party leaders have already asserted their willingness to renegotiate some of the bailout terms and in particular to extend the deadline to meet fiscal targets by 2 years (i.e. to 2016) as well as to reduce the pace of austerity in other areas such as job cuts in the public sector. However, the EU and the IMF look unlikely to make anything else than marginal concessions at this stage, said a note from Credit Agricole.
Japanese stocks fell led by declines oil companies' shares. Inpex Corp plunged 3.98 percent and JX Holdings fell 1.22 percent. Among the exporters, Sharp Corp plunged 3.53 percent and Canon Inc declined 2.46 percent while Honda Motors declined 0.93 percent.
Panasonic Corp. advanced 0.64 percent after the company stock was upgraded to buy' rating from neutral rating at Citigroup.
The Chinese Shanghai Composite dropped 0.44 percent or 9.88 points to 2251. Hong Kong's Hang Seng marginally rose 0.20 percent or 38.74 points to 19033.87. Major losers were China Coal Energy Co (2.94 percent China Shenhua Energy Ltd (1.34 percent) and Sands China Ltd (1.22 percent).
Hong Kong shares declined for the third day as weakness in Chinese banking and energy companies' shares weighed. China Shenhua Energy Co Ltd declined 1.72 percent and China Coal Energy Co fell 2.79 percent in Hong Kong.
South Korean shares plunged to a three-week closing low, led by declines from exporters after more brokers cut their profit estimates for Samsung Electronics, Reuters reported.
Samsung Electronics plunged 4.23 percent and SK Hynix slumped 4.36 percent after Taurus Securities lowered Samsung's second-quarter profit outlook by 240 billion won, citing a weak chip sector.
LG Display Co declined 2.71 percent and Samsung Electro Mechanics fell 2.88 percent while POSCO slipped 1.35 percent.
© Copyright IBTimes 2023. All rights reserved.