Assange Faces Arrest For Violating Bail, Seeks Ecuador Asylum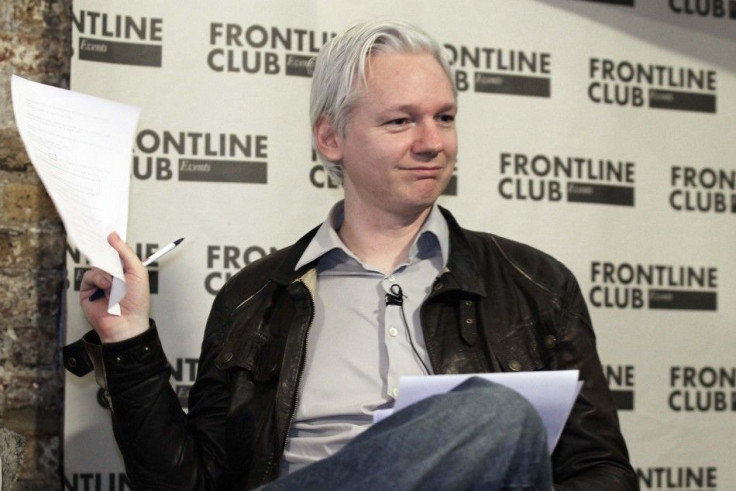 WikiLeaks founder Julian Assange faces arrest for violating the terms of his bail after entering the Ecuadorean Embassy in London, where he is seeking political asylum to avoid possible extradition to Sweden for questioning on allegations of sexual misconduct.
Ecuador's deputy foreign minister, Marco Albuja, said Wednesday night that President Rafael Correa would reveal his decision Thursday, the BBC reported.
The national government is considering its position and the president will give us his instructions tomorrow, he told the Australian Broadcasting Corp.
Earlier, Foreign Minister Ricardo Patino said Ecuador is considering Assange's request, a move that could frustrate the U.S. government rather than Sweden's, as Assange was behind a 2010 leak of thousands of classified documents regarding the U.S.-led wars in Iraq and Afghanistan.
It is a very delicate matter and I believe that it is important the government of Ecuador analyzes, evaluates and studies the application, Patino said Wednesday.
For over a year-and-a-half, Assange, an Australian national, has remained in the UK under house arrest at the residence of a supporter, pending his extradition to Sweden, which was expected to occur within the coming days.
Assange has denied allegations of rape and sexual assault by two Swedish women and former WikiLeaks volunteers, saying their sexual encounters were consensual. He has also said the extradition attempt is politically motivated and that the U.S. would more easily be able to extradite him once he is in Swedish custody.
In general, small countries are more easily coerced and bullied by the U.S., and Sweden in particular has a demonstrated history of acceding to U.S. demands when it comes to individuals accused of harming American national security, wrote Glenn Greenwald, a former constitutional and civil rights lawyer, in a column for Salon magazine.
Neither the U.S. nor Sweden has formally indicted Assange on any criminal charges, though he has referenced the possibility that he could face the death penalty if convicted of espionage in the U.S.
Assange's decision to seek asylum in Ecuador no doubt is encouraged by the fact that the country's extradition agreement with the U.S. does not include persons wanted on political charges.
The leftist Correa has taken an oppositional stance to Washington, praising Assange for the work of WikiLeaks.
In April 2011, Correa expelled U.S. Ambassador Heather Hodges following a WikiLeaks release of various government correspondences that included statements by Hodges that were critical of Correa.
Last month, Assange interviewed Correa via video-link for Russia Today, a government-funded Russian news outlet. Assange praised Correa's leadership and the two seemed to bond over their mutual status as international pariahs in the eyes of the U.S.
Cheer up. Welcome to the club of the persecuted, Correa told Assange at the end of the interview.
© Copyright IBTimes 2023. All rights reserved.
FOLLOW MORE IBT NEWS ON THE BELOW CHANNELS