Asteroid In 2040 Will Miss The Earth, NASA Officials Say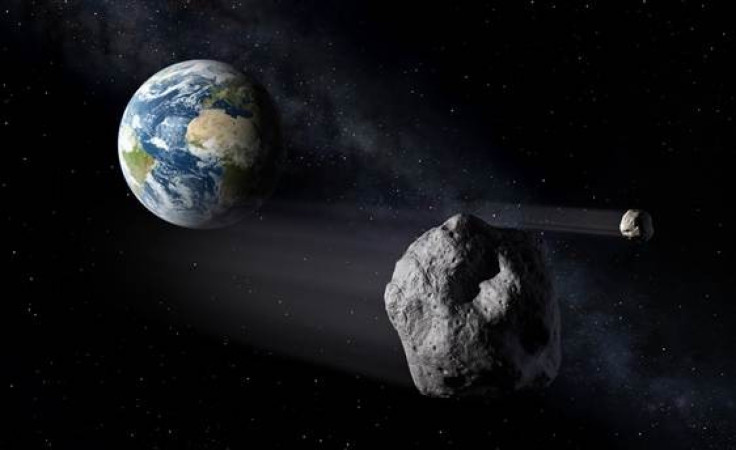 Scientists have been keeping a close eye on the asteroid known as 2011 AG5 since discovering it last year, for fear it might hit the earth in 2040, but according to a new study, the asteroid is no longer considered a threat.
Scientists first spotted the 460-foot-wide asteroid last year during the Catalina Sky Survey, a NASA-funded project based at the University of Arizona that focuses on finding new comets and asteroids. After initially monitoring the asteroid's orbital path, scientists estimated that the asteroid had a 1-in-500 chance of hitting earth.
That scenario has now been ruled out by astronomers at the University of Hawaii at Manoa, who observed the asteroid using a Gemini 8-meter telescope in Mauna Kea, Hawaii. The astronomers declared that the asteroid will glide past the earth in 28 years, but their conclusion did not come easily to them. According to Space, astronomers had a difficult time monitoring the asteroid's path earlier in the year because it was beyond Mars' orbit, on the opposite side of the sun during the daytime sky.
Despite acknowledging that the likelihood of a collision with 2011 AG5 was very low, NASA called on other organizations to assist in monitoring its orbit.
"While there is general consensus there is only a very small chance that we could be dealing with a real impact scenario for this object, we will still be watchful and ready to take further action if additional observations indicate it is warranted," said Lindley Johnson, program executive for the Near-Earth Object (NEO) Observation Program at NASA's headquarters in Washington, in a statement on June 15.
On Friday, NASA announced that the University of Hawaii's findings reduced the orbit uncertainties by a factor of over 60, placing the asteroid out of harm's way in 2040.
"These were extremely difficult observations of a very faint object," said Richard Wainscott, a member of the observation team at the University of Hawaii, in a statement. "We were surprised by how easily the Gemini telescope was able to recover such a faint asteroid so low in the sky."
© Copyright IBTimes 2023. All rights reserved.