'Attack On Titan' Season 4, Episode 6 Live Stream: How To Watch Online, With Spoilers
KEY POINTS
Eren's Titan form wreaks havoc at the venue
Reiner is shocked to see Eren in Liberio
"Attack on Titan" Season 4, Episode 6 (or Episode 65) is scheduled to release Sunday
An uninvited guest appears as Willy Tybur declares war on Paradis Island. "Attack on Titan" Season 4, Episode 6 (or Episode 65) brings Eren Jaegar right in front of the War Hammer Titan.
As Willy concludes his speech on a high note by declaring war on the enemy, Reiner Braun and Falco witness horror unfold inside the underground room.
The upcoming episode showcases the aftermath of the carnage by Eren. The preview released after Episode 5 shows the warriors and cadets gathering at the scene to rescue survivors. However, it is confirmed that countless people lost their lives as the Titan roars.
"Willy Tybur declares war to [sic] Paradis in his speech. Then, as the place becomes noisy, an uninvited guest appears," the short summary for "Attack on Titan" Season 4, Episode 6 read, as tweeted by Spytrue.
In the previous episode, Willy gets ready to address the crowd. People of Liberio have assembled to hear Willy's declaration. Before the announcement, he talks about the Eldian empire and how they ruled the world using the power of the Titans.
In the underground room, Reiner sees an old nemesis, Eren. They are reuniting after four years and Reiner looks uncomfortable being in the same room as Eren. He knows what Eren is capable of. Meanwhile, Falco can sense the awkwardness but remains confused.
Later, in the episode, Eren apologizes to Falco and reveals the letters he posted on his behalf were addressed to his allies. Toward the end, Eren holds Reiner's hand and transforms into a Titan ripping apart the stage sending shockwaves at the venue.
"Attack on Titan" Season 4, Episode 6 will be available for live streaming on Crunchyroll, Funimation, and Hulu. The sixth episode, which is titled "The War Hammer Titan," of the final season is releasing Sunday.
The cast of "Attack on Titan," which is also called "Shingeki no Kyojin," includes Yuuki Kaji as Eren Jaeger, Yui Ishikawa as Mikasa Ackermann, Yoshimasa Hosoya as Reiner Braun, Takehito Koyasu as Zeke, Marina Inoue as Armin Arlelt, Natsuki Hanae as Falco Grice, Manami Numakura as Pieck, Ayane Sakura as Gabi Braun, Toshiki Masuda as Porco Galliard, Yumi Kawashima as Zofia, Ayumu Murase as Udo and Masaya Matsukaze as Colt Grice.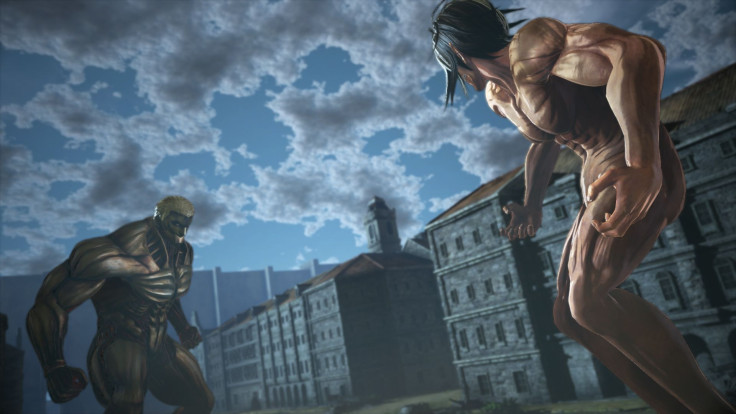 © Copyright IBTimes 2023. All rights reserved.