Australia Election 2013: Tony Abbott Wins, Kevin Rudd Loses In Blow To Labor Party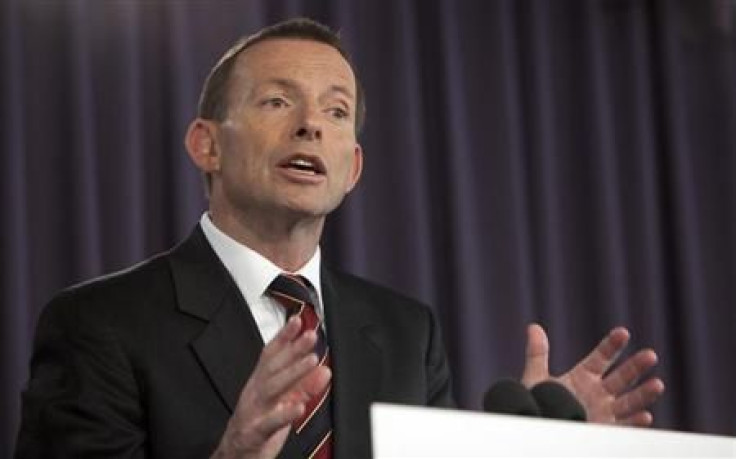 Is it morning in Australia yet?
Tony Abbott, the conservative politician who some say wants to be Australia's Ronald Reagan, is on track to become the country's new prime minister following parliamentary elections on Saturday. The 55-year-old Liberal Party leader, once dubbed "unelectable" by pundits, is known for his occasional cringe-worthy gaffes, including referring to abortion as a "question of the mother's convenience" and calling climate change "absolute crap."
With more than 80 percent of the votes counted, Abbott's party was leading in 88 seats of the House of Representatives, compared to the Australian Labor Party's 56 seats, according to Sky News.
Abbott has already given a victory speech, telling Australians, "I now look forward to forming a government that is competent, that is trustworthy, and which purposely and steadfastly and methodically set about delivering on our commitments."
He added: "Australia is again open for business," as the Guardian reported.
Incumbent Prime Minister Kevin Rudd has conceded, appearing in Brisbane late Saturday evening, where a crowd chanted his name. The Labor Party politician will step down after six on-again/off-again years as prime minister.
Abbott's win is not exactly coming as a surprise. According to a poll published by The Australian early Saturday, Labor stands to lose as many as 32 parliamentary seats, with a particularly heavy loss in western Sydney.
The election is largely seen as a referendum on Rudd and the Labor Party. Many left-leaning Australians have become frustrated by disputes within the party, punctuated by a protracted battle between Rudd and Julia Gillard, his former deputy, who ousted him in 2010 only to be ousted by Rudd again in 2013.
The London-born Abbott was a senior minister for former Prime Minister John Howard, Rudd's predecessor, who was in office for 11 years until 2007.
© Copyright IBTimes 2023. All rights reserved.
FOLLOW MORE IBT NEWS ON THE BELOW CHANNELS