Australia Is World's Biggest Lithium Producer - IBT Graphics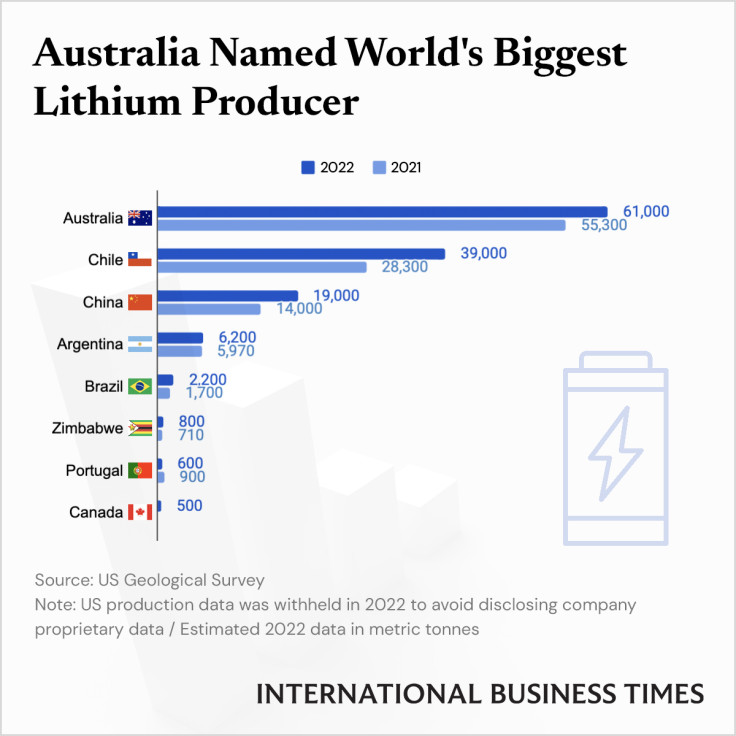 Countries are becoming increasingly interested in lithium, considering its important role in lithium-ion batteries that power electric vehicles (EVs). More than 80% of the globally produced lithium is used in the production of EV batteries.
The total worldwide lithium production (excluding the U.S.) increased by 21% from 107,000 metric tons (MT) in 2021 to 130,000 MT content last year "in response to strong demand from the lithium-ion battery market and increased prices of lithium," according to data from the United States Geological Survey
Australia emerged as the world's leading lithium producer, extracting the chemical element directly from hard rock mines. The country produced 61,000 MT of lithium content last year, a potential rise from 55,300 MT the year before. Chile, China and Argentina are also among top producers. However, Chile extracts its lithium from brine deposits.
While lithium production in China is relatively low, it is among the largest consumers of the element, owing to its growing EV industry and electronics manufacturing.
Notably, the global lithium-ion battery market was valued at $52 billion in 2022. It is expected to reach $194 billion in 2030.
© Copyright IBTimes 2023. All rights reserved.