Author Cristina Alger Unveils 'The Darlings' of the Financial Crisis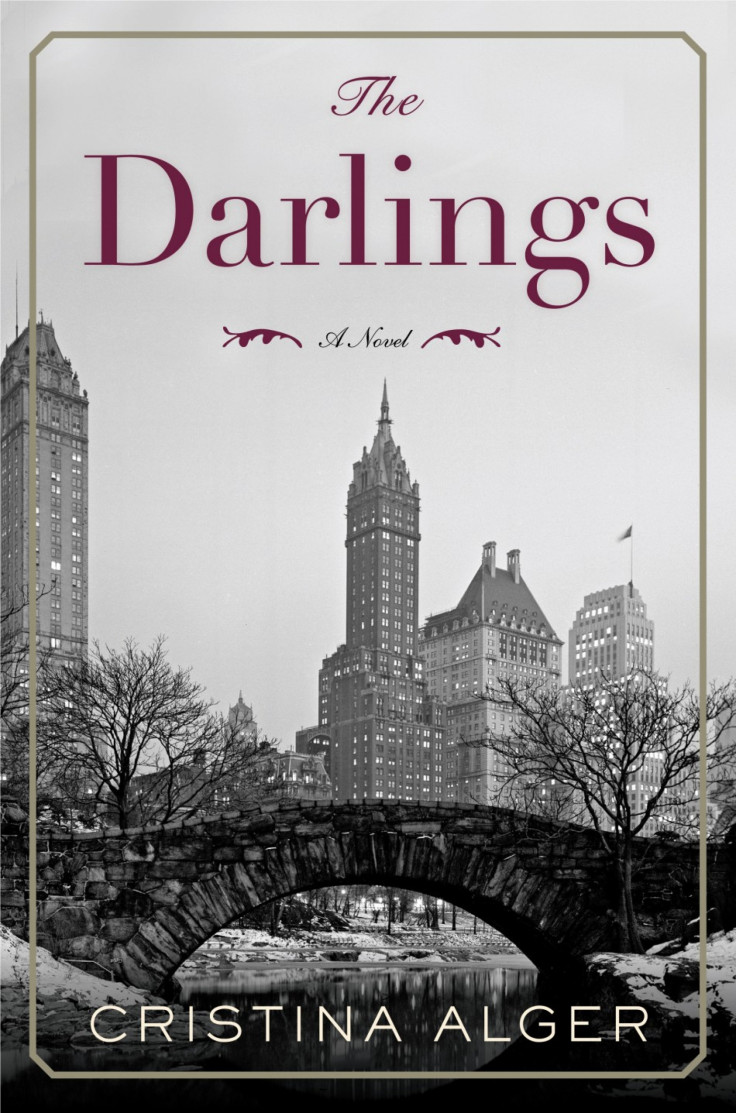 New York City native Cristina Alger saw it all during the financial crisis.
The former Goldman Sachs' analyst-turned-lawyer-turned-writer observed the 2008 collapse from various points of view as the U.S. economy seemingly went into a tailspin virtually overnight, devouring the lavish lifestyles and huge fortunes of the super wealthy.
That wrenching pain gave birth to the The Darlings, a stunning debut novel about a well-to-do New York City family embroiled in a financial scandal. The novel from Penguin Group is out in stores and available as an e-book.
It may seem inconceivable to feel sorry for anyone who went from having a whole lot to having less, but Alger's novel, with its various sympathetic characters, shows what we've known deep down all along: Money doesn't ensure happiness or stability, and the realization of that can be quite terrifying.
Alger, 31, recently talked about keeping her book reader-friendly for the non-financially savvy, the joys of editing, and being a reluctant debutante.
Tell us a bit about your background. I grew up in New York City in the Upper East Side. I went to high school here and then I went to Harvard for college. After that I worked at Goldman Sachs for two years as an analyst in investment banking and from there I went to law school at NYU. I worked at a law firm here in the city as a corporate attorney.
Did you write The Darlings with the intention to publish?
I started writing for fun in 2008. My work was really intense at that point so it was a fun side project. Now I write full time. There was a period where I working and writing, which is very hard to do. My hat is off to those who can do both.
You started practicing law right before the financial crisis hit.
I joined the corporate department and I was working primarily on mergers and acquisitions. I very quickly turned into a distressed M&A attorney and then a bankruptcy attorney, which was happening to a lot of corporate lawyers at the time. When I left law school, M&A was a very popular area and within a year bankruptcy was the most popular area to join. It was interesting to see how radically things changed.
The sisters in your book, Merrill and Lily Darling, have had very privileged lives. Did your upbringing resemble theirs?
It was less fancy but it did. I went to an all-girls private school in the Upper East Side and I spent summers in the Hamptons. I also grew up around a family business which was an integral part of my upbringing. My dad ran a mutual fund and worked with a lot of family members. I think that influenced the way I crafted their childhood.
Did you do the debutante thing?
There may have been a deb ball. I was a reluctant debutante. I was 18. It was my freshman year of college. It was a big fight with my parents and I lost. I thought the whole thing was a little bit ridiculous and I wasn't into having my hair done and that kind of thing. It seemed silly but I have to say it was a really fun party.
A generic question that must be asked: How exactly did you come up with the idea for this book?
There was a period of time right after Lehman Brothers collapsed. There was a string of bankruptcies and the market was crashing. New York City was changing very rapidly. A lot of my Harvard friends were working in finance and people were losing jobs left and right. I remember thinking that someone should write about this in a fictional way and how it was affecting people in New York City, as opposed to just focusing on the technical side of what was happening to the economy.
Your book is a fictional take on the financial crisis, but it's also easy for the non-financial reader to comprehend. Did you keep such readers in mind when writing the book?
Yes. I wanted to make sure it would feel real to someone who works in the financial industry and that it wasn't dumbed down in any way. I also think of The Darlings primarily as a family drama, so I didn't want readers to get bogged down with financial terms. It's a little tricky because I'm a lawyer and I spent most of my days engaged with people who are well-versed in this stuff. I had to run a lot of things by friends who don't work in finance to make sure they understood it. And my editor was great. The first draft of the book came back with a lot of question marks. We had a back and forth about using financial terms and making sure they were defined. It's a tough balance but it's also really fun. You have to be very clear in your own mind about how the plot unfolds and how the elements of the financial crimes hang together.
One of your characters, Paul, became sick with worry at the possibility of not being able to maintain a wealthy lifestyle. You must have seen this fear quite a bit during the collapse.
New York is so expensive. There are many people here who make a lot of money but they also spend a lot of money and their overhead is very high. One of the things I saw with people I knew professionally and personally is that it's very hard to cut back quickly. Having to make quick decisions was weighing heavily in the minds of people who knew they had a high cost of living. I thought that made it a stressful time in New York City. People didn't really know how to unwind their lifestyles. Even on smaller scales, I think a lot of people in New York struggle with that regularly because it does take a lot of money to live here.
Lily Darling is a New York City It Girl, and she seems like the type who is groomed to marry a rich guy.
New York is competitive in so many different ways. Some of the most intelligent and beautiful women in the world are here. There's a very high bar set for what's expected. Lily's strength is her beauty and that's been reinforced from a young age. She is to some extent being groomed for a social existence and she's a tragic character because of that. You read her inner monologue. She doesn't think she's smart. She doesn't think she can accomplish anything more than being pretty and it's sad. It's left her feeling empty.
The story has quite a twist at the end!
I wanted to leave it open. One of the fun parts about The Darlings for me is that it takes place over a short period of time. It's hard for things to be resolved in five days. But what I thought was interesting was how much can fall apart in five days too. At that period you were seeing these firms declare bankruptcy over a weekend and you realize how quickly things can fall apart, so I wanted to capture that.
So are you working on a sequel?
It's more of a follow-up than a sequel. It's about Bill Robertson. He's the attorney general in The Darlings. I thought he was a really fun, very interesting character. He's not a big character in the book but he does have a role at the end.
You can't read a book like The Darlings without thinking about the major financial crooks of our time such as, say, disgraced Ponzi schemer Bernie Madoff. How did stories such as that one influence the book? What I found so intriguing about that story in particular was that you come away from it wondering How could this have happened? It was such a massive failure of regulatory oversight. I think it's easy to point fingers at Madoff, but then you also wonder Where were the accountants and the lawyers and the SEC? How did this go on for so long? One of the things I highlight in The Darlings is that this is not just one person behaving badly. There are lawyers who should be acting better. There are government officials who should be on the ball and following up. I think there are elements of that in the book. It's a widespread failure as opposed to an individual person just going rogue.
Any words of wisdom for aspiring writers?
If you write something that you personally enjoy and feel you'd pick off of the shelf, then you can't go wrong with that. At the end of the day you've had a fun experience and you have a product that you enjoy, as opposed to trying to write for anyone else. I think one of the strange blessings of writing this book for me is that it wasn't my full time job. I started it off as a fun side project and it was enjoyable just to write it. I didn't feel any pressure at all to write for a particular audience or make it commercial.
Writers tend to hate having their worked edited, but you actually enjoyed that process. Why?
I have a very thin skin so seeing a red pen is devastating for me. But it was also fun because Pamela Dorman, my editor, is well-regarded and she's worked with a lot of debut novelists. This was also my novice attempt at publishing, so I think I was a lot more open to criticism and feedback than I might have been in my law firm life. I wanted the advice of people who were more experienced than I was. Writing can also be a solitary existence. Then editing starts and all of a sudden you have this dialogue with other people and you feel like you're part of a team. That for me was a really cool transition.
© Copyright IBTimes 2023. All rights reserved.
FOLLOW MORE IBT NEWS ON THE BELOW CHANNELS